NFL Sunday Combine Musings: Simple Seattle ways tough to follow
There is an idea that simplicity will come to the defenses now after Seattle won a Super Bowl that way, but league personnel say to slow down on that thinking.
More Draft: NFL Mock Drafts | Prospect Rankings | NFL combine workout results
INDIANAPOLIS -- There is a notion going around the league that the complicated looks of NFL defenses will be streamlined some after the Seattle Seahawks won a Super Bowl playing what many termed simple defensive schemes.
That's a bunch of garbage.
"Yeah, you can do it when you have their players on defense," said one NFC coach. "You can do what you want when you have players. They have so much talent, which is why they can get away it."
Seattle didn't use a lot of exotic looks on defense last season, and they ended up tops in the league and that unit carried them to a Super Bowl victory over Denver. 
During Super Bowl week, the Seattle front was highlighted plenty and we know the secondary -- the Legion of Boom -- got loads of attention.
But the aspect that many of the coaches I talked to here at the scouting combine that is one of the biggest reasons they can get away playing simple schemes is the linebacker group. Better yet, the speed of that group.
"They cover so much ground," one AFC assistant said. "They fly to the ball. They get into their drops so fast on defense to take away a lot of the things you try to do with your passing game. They are so fast."
When you can pressure with four, have speed at linebacker and have the big corners and a rangy center fielder in Earl Thomas, it makes it easy to play defense. Few teams have that.
That doesn't make attacking with different looks and blitzing from all angles a must. Seattle blitzed a handful of times in their Super Bowl dismantling of the Broncos. And yet they got pressure in Peyton Manning's face. 
Their linebackers took away some of the things he could usually do because of their speed.
"It meshed so well together," the AFC assistant coach said. "We'd all like to do that, but that's not reality. Not with a cap. Not with so much money tied up at other positions. They can do that because their quarterback (Russell Wilson) is cheap."
So don't expect simplicity to rule on the defensive side of the ball just because this is a copycat league. Talent dictates what you do, and when you have it like Seattle it's a luxury to be able to play those simple schemes.
• One of the things the Atlanta Falcons want to do this offseason is get tougher and stronger on both lines. They've had big-time problems in that area at times during the tenure of coach Mike Smith. So look for that to be addressed. "We're in a spot right now where we know that we have to run the ball and we have to stop the ball," Falcons general manager Thomas Dimitroff said "We understand that we have certain skill positions that we believe we can go toe-to-toe with anyone. We need to continue to protect No. 2 (Matt Ryan). That's going to be very big part for us continuing to be a prolific offense and an elite type of team. That's important for us. We have some work to do to get ourselves back there, we understand that. There is an element of ruggedness that we know we need to ramp up to get it back to the next level and take it to another level." Ryan took way too many shots last season. But the Falcons staff actually thinks he might have been better last season than in 2012 when they came 10 yards from Super Bowl. They said he tried to do too much in three games, but played well the rest of the season.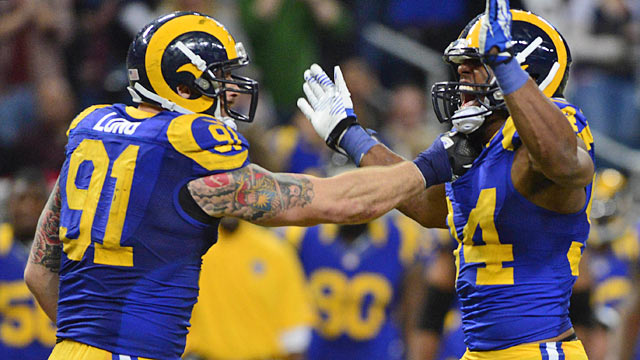 • The Rams had high hopes that defensive tackle Michael Brockers would have a big breakout season. But he was just solid -- not special -- playing next to end Robert Quinn, who was special. But part of the problem was Brockers was doubled inside more than the year before and had trouble adjusting initially. The Rams think he will be much better prepared to handle it this season. 
• Speaking of Quinn, who I think is the best defensive player in the league not named J.J. Watt, he is already back at the team facility working out on his own. He can be scary good. 
• I love all the hype about 40 times. Just remember, it's how fast you play not how fast you run the 40. I've seen many a player over the years run blazing 40 times and not play to that speed. And we've seen many players not run so fast on the track and then play fast.  
• I also love all the hype Sunday about Johnny Manziel's 40 times. I will just say this: Peyton Manning and Tom Brady wouldn't crack 5.3 right now. And they've been OK.
• Oh, I forgot. The game is changing. You need runners and mobile passers. They've been saying that for years.  Not happening. Sorry. 
• All three of the top quarterback prospects impressed the teams that talked to them. Manziel was much more serious than many expected. I am not surprised. He seems like a football head. But all three -- Teddy Bridewater and Blake Bortles were the others -- seemed to impress in their interviews. 
• The receivers stole the show Sunday with all the speed being shown off. Like I said, that position is now a glamour spot and a must position to have on your roster. And this is a deep class. I liked LSU's Odell Beckham Jr. coming into the combine, and I like him more now after watching him work out. 
• Talked some with Broncos offensive coordinator Adam Gase this weekend, and he's still trying to figure out what went wrong in the Super Bowl. Gase, who is one of the rising, young stars of the coaching profession, spent the past couple of weeks beating himself up for that game, trying to understand how the league's top-ranked scoring offense could never get untracked. One thing about Gase, he will work non-stop to figure it out. He's that way.
• Look for the Bengals to try and get a corner early in the draft. Age is an issue some outside with Leon Hall, Terence Newman and Adam Jones.  I wouldn't be shocked to see them use a first-round pick on a corner. 
• There are a lot of personnel people who think Clemson quarterback Taj Boyd could go undrafted. I don't think so, but you never know. Scouts are down on him. 
• With all the hype about the big receivers, two smaller guys I like are South Carolina's Bruce Ellington and Oklahoma's Jalen Saunders. They look like natural slot receivers. Both had good days Sunday. 
• Don't worry about South Carolina defensive end Jadeveon Clowney only doing 21 reps of 225 here. He's plenty strong enough. 
Show Comments
Hide Comments
Four defensive backs are picked in the final five spots of the first round in Rob Rang's final...

The last version of Will Brinson's 2017 NFL Mock Draft sees the Chiefs land their new franchise...

Character has become such a concern for draft prospects that scouts spend a majority of their...
Also, expect Haason Reddick to go higher than expected and Reuben Foster to be taken on Th...

Plus the Cowboys and Steelers find new cornerbacks late in the first round in Dane Brugler's...

The league appears fully prepared if the Browns decide to pull off a few unexpected trades