NFL switching back to yellow penalty flags after one week of pink
The NFL is dumping pink penalty flags after only one week. The league is switching back to yellow penalty flags beginning in Week 6.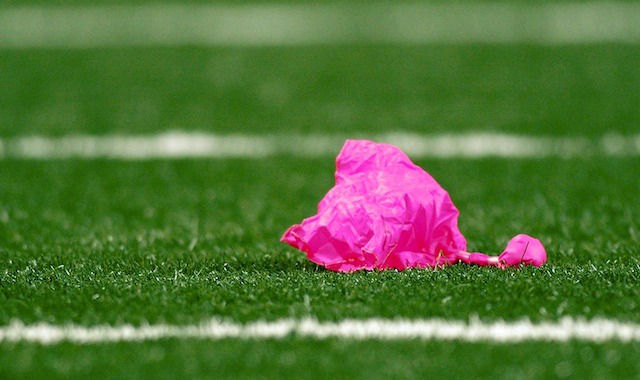 If you liked the pink penalty flags NFL officials were using in Week 5, hopefully you got your fill of them because they're not coming back. An NFL spokesman has confirmed to USA Today that yellow flags will be returning in Week 6. 
The NFL used pink flags in Week 5 as part of its annual breast cancer awareness initiative, but combined with all the other pink things on the field, the flags were hard to keep track of on television. 
During the league's breast cancer awareness initiative from Weeks 5 thru 7, players are allowed to wear pink cleats, gloves, wristbands, sideline towels, pretty much pink anything they want. The sideline towels and quarterback towels were causing the most confusion because when they ended up on the field, they looked like a penalty flag.
The pink flags are the only thing being tossed by the NFL, all players are still allowed to wear pink thru Week 7.  
Monday's game between the Jets and Falcons will be the final pink flag game of 2013, so remember to cherish the pink flags every time a penalty's called.
The pass rusher thinks he is being misused by Kansas City

The legendary Rams running back wants to see Sean Mannion play instead of the No. 1 pick

A 911 call from the Uber driver sounds pretty terrifying
The Falcons quarterback thinks more checks and balances could have helped Atlanta

The HOF will not stop the Juice from showing up at the ceremony to honor the new inductees

Raiders fans are probably going to be jealous of Tiger's pool table