NFL Week 10 Injury Roundup: Jay Cutler, Jake Locker both injured
It was a rough day for quarterbacks: Jay Cutler, Jake Locker, Seneca Wallace, Peyton Manning and Terrelle Pryor were all banged up on Sunday.
For more injury news and notes from around the league, be sure to check out CBSSports.com's NFL Rumors blog.
Season is likely over for Tennessee Titans QB Jake Locker
Losing to the Jacksonville Jaguars is bad, but it wasn't the worst news of the day for Tennessee. That would be the the potentially season-ending injury that quarterback Jake Locker suffered in the second quarter against Jacksonville. Locker was injured on an option play where he was hit by Jacksonville linebacker  Russell Allen . According to the Tennessean, Locker has a Lisfranc injury in his foot and the Titans believe the injury will end his season. 
Broncos QB Peyton Manning to have MRI on Monday
Late in the fourth quarter of the Broncos 28-20 win over the Chargers on Sunday, Peyton Manning took a hard hit below the waist. Manning stayed in the game, but he had a noticeable limp for the rest of the fourth quarter. After the game, Manning said he'll have an MRI on Monday, "I'm pretty sore," Manning said. "They kind of got me twice in the lower area... get an MRI tomorrow and will know more then."
Oakland Raiders QB Terrelle Pryor says he has 'sprained MCL'
Raiders quarterback Terrelle Pryor injured his knee against the Philadelphia Eagles last week and it appears he re-injured the knee in Oakland's 24-20 loss to the New York Giants . After the game against New York, Pryor said he had a sprained MCL and was was 'very sore.' Raiders coach Dennis Allen said he noticed during the game that Pryor seemed hobbled, but he said Pryor seemed fine during practice this week, "I think we could all watch from the sideline and tell that it didn't look like he had the same explosiveness," Allen said, via the San Francisco Chronicle. "But that wasn't something that was noticed into the week." Pryor struggled against the Giants, going 11 of 26 for 122 yards. 
Green Bay Packers QB Seneca Wallace injures groin against Eagles 
The Seneca Wallace-era didn't last long in Green Bay. Wallace started for the Packers on Sunday, but only lasted one series before injuring his groin. Wallace may not get another chance to start in Green Bay either: Backup quarterback Scott Tolzien came in and threw for 280 yards, leading coach Mike McCarthy to name Tolzien the starter for the Packers Week 11 game against the Giants.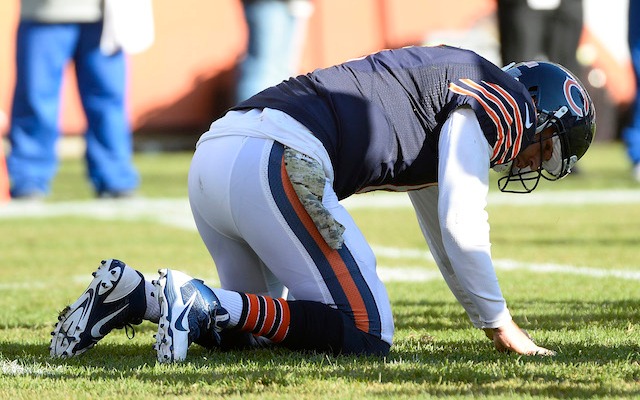 Chicago Bears QB Jay Cutler injures ankle in loss to Detroit Lions
Bears quarterback Jay Cutler was dealing with a groin injury going into Sunday's game against Detroit, but it was ankle injury that eventually forced him out of the game in the fourth quarter. After the game, Cutler told NFL.com that his ankle is 'fine.' Cutler also had X-rays done on the ankle and those X-rays came back negative, according to the Chicago Sun-Times. It's likely the severity of Cutler's sprain won't be known until Monday. Cutler threw for 250 yards and a touchdown in the Bears 21-19 loss to Detroit. 
Buffalo Bills WR Stevie Johnson suffers groin injury against Pittsburgh Steelers
It's been an injury-filled season for Bills wide receiver and Week 10 was no different. Johnson injured his groin in the fourth quarter against the Steelers. Johnson was one of the few bright spots for the Bills offense, catching three passes for 48 yards against the Steelers. Johnson was the only Bills receiver with more than 30 yards on Sunday. 
Seattle Seahawks CB Brandon Browner goes down against Atlanta Falcons
Groin injuries were everywhere in the NFL on Sunday. Besides Seneca Wallace and Stevie Johnson, there was also Seahawks defensive back Brandon Browner. Browner was injured in the first half of Seattle's 33-10 over Atlanta and was ruled out of the game almost immediately. After the game, Seahawks coach Pete Carroll said he was unsure how serious Browner's injury was. 
Two San Francisco 49ers suffer concussions
The 49ers offense struggled on Sunday. Part of that was because the of the Carolina Panthers defense and part of that was because Colin Kaepernick was missing one of his favorite targets: tight end Vernon Davis . Davis suffered a concussion in the second quarter and the 49ers didn't score on any offensive drives after Davis left the game. Safety Eric Reid also left the game early with a concussion. Reid was injured in the third quarter after banging helmets with Panthers running back Mike Tolbert . 
Trio of San Diego Chargers injured in San Diego loss
San Diego was hit hard by injuries on Sunday, the Chargers lost a total of three players during their 28-20 loss to the Denver Broncos . Left tackle King Dunlap left the game early with a concussion, fullback LeRon McClain injured his ankle and linebacker Larry English injured his bicep. The Dunlap injury probably hurt the most because San Diego only dressed seven offensive lineman for the game. 
Show Comments
Hide Comments
Jones tore his Achilles tendon during Washington's pro day in March

Plus, actors, players, service members, and more will announce picks from other locations

Watson and Trubisky are considered two of the draft's top QB prospects
The former Patriots running back has been sitting on the open market all offseason

Maccagnan's family friends were killed in a domestic violence murder-suicide several years...

Foreman's son died less than two months after he was born