NFL Week 10 Picks: Lions over Bears, Buccaneers get first win
The Lions will be in first place in the NFC North after Week 10 and the Buccaneers will pick up their first win of the season.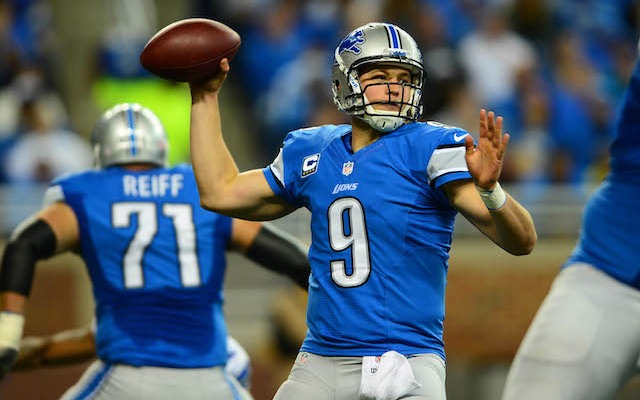 Before I get to my Week 10 picks, I need to talk about what I learned in Week 9 and here's what I learned in Week 9: I learned that an overtime walk-off safety was the most normal thing that happened in the NFL last week.
After that, things just got crazy. 
Denver Broncos coach John Fox was taken to the hospital on Saturday, Houston Texans coach Gary Kubiak had a mini-stroke at halftime of Houston's loss to the Indianapolis Colts on Sunday night. Then Aaron Rodgers suffered a shoulder injury in the Green Bay Packers loss to the Chicago Bears on Monday night.
You know it was a crazy week because I've already written two paragraphs and I haven't even mentioned Richie Incognito or the fact that the Miami Dolphins set the unofficial NFL record for most statements released by a team in one day when they released three statements in 15 hours on Sunday.  
I think what I'm trying to say is that Nick Foles pretty much picked the worst week ever to tie the NFL-record for touchdown passes thrown in a game. Peyton Manning wasn't relegated to the back page when he tied the NFL-record in Week 1. To add insult to injury, Philadelphia Eagles coach Chip Kelly hasn't even committed to starting Foles against the Packers on Sunday. 
Could Foles beat the Packers? Maybe. Can he throw seven more touchdown passes? Probably not, but lets get to the picks. 
If you want to make fun of me for all of the wrong picks I made last week or if you just disagree with my Week 10 picks below, be sure to let me know in the comment section or on Twitter. If you want to talk me out of picking the Tampa Bay Buccaneers , please do that on Twitter also. I'm looking for any reason not to pick them to win this week. Seriously, if you took your kids trick-or-treating in Mike Glennon 's neighborhood and he gave out Raisinets, just tell me, that's reason enough for me to not pick the Buccaneers. 
If someone with a Buccaneers license plate cut you off at a stop sign four years ago in Orlando, just tell me, that seems like a good enough reason to switch my pick away from Tampa Bay. Anything. Just talk me out of this pick. 
Anyway, lets get to the picks. And don't forget, you can check out the weekly picks from every CBSSports.com NFL expert here.
Week 10 Picks
Philadelphia (4-5) at Green Bay (5-3), 1 p.m. ET: The Packers haven't lost two straight home games since 2008, so they seem like the logical pick here. But picking Green Bay to win means picking Seneca Wallace to win and I really don't want to do that. Wallace is 1-8 in his last nine starts and hasn't won a game since 2010. I don't expect Aaron Rodgers to play, but if he does I'll change this pick. Right now it's Eagles 27-24 over the Packers. 
Detroit (5-3) at Chicago (5-3), 1 p.m. ET: The last time the Bears and Detroit Lions played each other this late in the season with first place in the division on the line was in Week 10 -- of 1991. In that game, the 6-2 Lions lost 20-10 to the 6-2 Bears at Soldier Field. How long ago was that? Current San Francisco 49ers coach Jim Harbaugh threw two touchdown passes for Chicago. The Lions have waited 22 years to get revenge. Also, in the 'Jay Cutler coming off a serious groin injury vs. the Lions defensive line' matchup, I really like the Lions defensive line. If Cutler doesn't play, I also don't like Josh McCown's chances. Detroit 24-20 over the Bears. 
Carolina (5-3) at San Francisco (6-2), 4:05 p.m. ET: Carolina's on a four-game winning streak, but that streak has come against teams that are a combined 6-27. What that tells me is that the Carolina Panthers are good at beating bad teams. Unfortunately for Carolina, the 49ers aren't a bad team. San Francisco 30-24 over the Panthers. 
Dallas (5-4) at New Orleans (6-2), 8:30 p.m. ET: Here's a list of the quarterbacks that have thrown for over 400 yards on the Dallas Cowboys defense this season: Peyton Manning, Eli Manning , Matthew Stafford , Philip Rivers and Drew Brees . OK, Brees isn't on the list yet, but he will be after this week. Also, if that seems like a lot of 400-yard passers against one team, it is. The 2013 Cowboys have given up more 400-yard passing games (four) than any other defense in NFL history. This is a season record we're talking about and it only took the Cowboys eight weeks to set. Before this year, the most 400-yard games against any team in one season was three. Bottom line: Drew Brees throws for 771 yards and the New Orleans Saints win 38-31 over the Cowboys.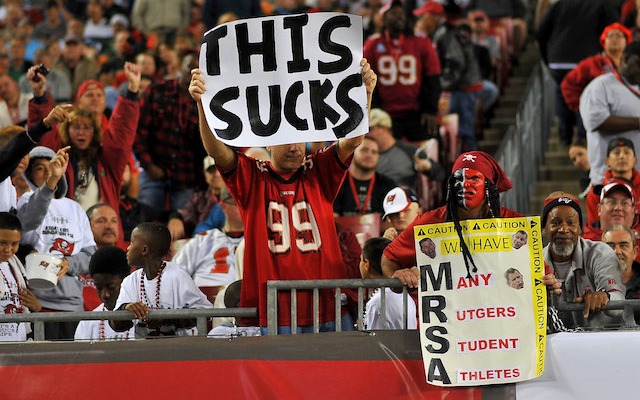 Miami (4-4) at Tampa Bay (0-8), 8:30 p.m. ET (Mon.): This game needs a name and I've decided on three candidates: the Unwatcha-Bowl. Obviously, because the game will be unwatchable. The Sham-Bowl. Because both locker rooms seem to be in shambles. Or the Unbeara-Bowl, because the game's going to be unbearable to watch. We could also call it the K-Bowl because I'm going to cancel my cable so I don't have to watch it. Whatever we call it, I see Tampa Bay winning it. Unless you talk me out of it. Buccaneers 23-20 over the Dolphins.  
NFL Week 10 Picks: All the rest
Washington Redskins 27-20 over Minnesota Vikings
Cincinnati Bengals 24-17 over Baltimore Ravens
New York Giants 20-13 over Oakland Raiders
Seattle Seahawks 27-17 over Atlanta Falcons
Texans 24-21 over Arizona Cardinals
Tennessee Titans 30-17 over Jacksonville Jaguars
Colts 31-24 over St. Louis Rams
Pittsburgh Steelers 20-17 over Buffalo Bills
Broncos 34-27 over San Diego Chargers
Byes: Cleveland, Kansas City, New England, NY New York Jets
Last Week
Best Pick: Ha! Best pick. There shouldn't even be a best pick section this week. I could probably write 11,000 words on all of my worst picks from last week, but I'm not going to do that because my fingers will start to cramp and you'll get bored 3,431 words into it and then I'll have typed with cramped fingers for nothing and I hate typing with cramped fingers. Anyway, my best pick last week was picking the Titans to beat the Rams by seven. It was the ugliest game I've ever seen that didn't involve the Jaguars, but the Titans did beat the Rams by seven. 
Worst Pick: I don't mind picking games and getting them wrong -- I mean, no one gets them all right -- but what I hate is when the team I pick to win gives up THE MOST TOUCHDOWN PASSES IN NFL HISTORY. I picked the Raiders to beat the Eagles last week and then Nick Foles did that thing where he threw an NFL-record tying seven touchdown passes in Philadelphia's 49-20 win. I picked the Raiders to win by seven, so every time Foles threw a touchdown pass, a part of my soul died. That's seven parts of my soul. I'm not sure how many parts of a soul everyone gets, but I really hope it's more than seven. 
Straight up: 7-6
SU overall: 86-47
Against the spread: 5-8
ATS Overall: 60-73
---
Follow John Breech on Google+
Show Comments
Hide Comments
Brett Hundley was apparently on the block during Day 2 of the draft

The Bills fired their GM Sunday morning, then cleaned house

Get ready to start hearing a lot about Sam Darnold and Josh Rosen
College players who didn't get drafted are now free to sign with any team in the NFL

Benjamin has had weight issues going back to college

As one exec put it, 'We don't know what the hell they were doing'