NFL Week 14 Injury Roundup: Wes Welker suffers concussion
Broncos wide receiver Wes Welker suffered his second concussion in four weeks on Sunday. Welker will only have four days to heal if he wants to play on Thursday against San Diego.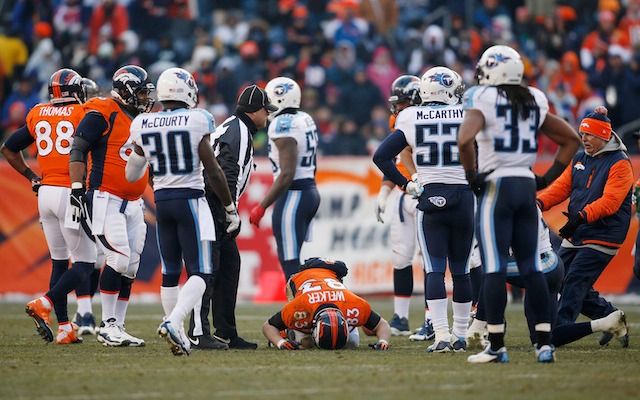 For more injury news and notes from around the league, be sure to check out CBSSports.com's NFL Rumors blog.
Wes Welker suffers second concussion in three weeks
Wes Welker's day ended early on Sunday after Welker took a jarring hit from Titans safety George Wilson late in the second quarter. Welker was diagnosed with a concussion and was ruled out for the rest of the game. This is the second concussion Welker has suffered in three weeks, Welker was also diagnosed with a concussion after the Broncos Week 11 win over Kansas City. The veteran wide receiver caught five passes for 61 yards and a touchdown before leaving the game against the Titans. With two concussions in three weeks, it's hard to imagine Welker playing in Week 15, especially since the Broncos only have four days until hosting San Diego on Thursday. 
Patriots TE Rob Gronkowski reportedly has a torn ACL
Rob Gronkowski suffered an ugly injury against the Browns on Sunday, an injury that will likely end his season. During the third quarter, Gronkowski was attempting to make a catch when he was hit low by Browns safety T.J. Ward. As you can see below, Gronk's knee bent awkwardly and he had to be carted off the field. According to FoxSports.com, the Patriots believe that Gronkowski suffered a torn ACL on Sunday. 
Honey Badger reportedly suffers ACL tear
Rob Gronkowski wasn't the only player to reportedly tear his ACL on Sunday, Cardinals safety Tyrann Mathieu might be out for the season too. Following a safety in the third quarter, Mathieu was the Cardinals returner for the Rams free kick. After being tackled on the return, Mathieu tried to jog off the field, but his knee couldn't hold his weight and he fell to the ground. After the game, coach Bruce Arians said that the belief is that Mathieu has a torn ACL. 
I KNOW MY BROTHERS GOT MY BACK.. #Birdgang ! I'm with y'all every step of the way !

— Tyrann Mathieu (@Mathieu_Era) December 8, 2013
Vikings RB Adrian Peterson injures ankle against Baltimore
Adrian Peterson didn't even make it to halftime against the Ravens. The Vikings running back injured his ankle in the second quarter against Baltimore and was taken to Minnesota's locker room. After the game, Vikings coach Leslie Frazier said Peterson had a mid-foot sprain. Peterson will have an MRI done on Monday and at that point, the Vikings will know the extent of the injury. Peterson must have been frustrated by the injury because he took to Twitter after the game to complain about everything from the officiating to the Ravens fan base. 
Lions RB Reggie Bush sits out after pregame injury
It was a rough day for Lions running back Reggie Bush, who got injured before the game even started. While warming up in snowy Philadelphia, Bush slipped on the field and aggravated a calf injury. Bush slammed his helmet down after the incident and didn't play in Detriot's 34-20 loss to Philadelphia. 
Show Comments
Hide Comments
Our Latest Stories
The Vikings said they knew Murray would have the procedure before they signed him

Plus, two USC prospects tackle agility drills and two small-schoolers look to make their m...

The Steelers signed Brown to a record contract this offseason
Let the annual Brett Favre comeback rumors begin!

Jones' attorney says he plans to plead not guilty to three misdemeanor charges

It might involve a more centralized replay system and a play clock after extra points