NFL Week 14 picks: Carolina will take advantage of Saints' short week
Will the Saints be fully recovered from last Monday night? Josh Katzowitz examines that and a few other notable games in Week 14's picks.
• 3 min read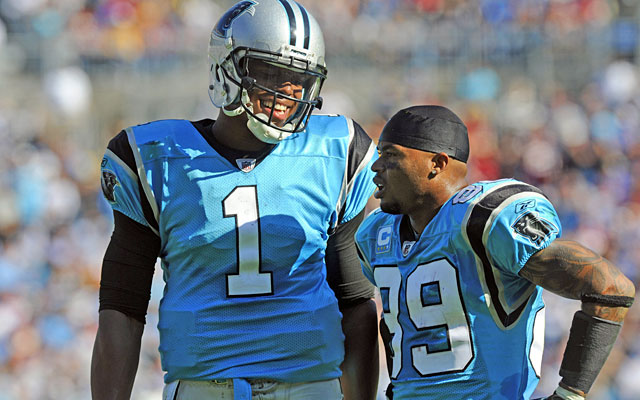 Each week, we'll take the best -- and most clever -- odds collected by Bovada for the upcoming week and give our take. This is important stuff, perhaps the most important post you'll read all week. Because if you can't lose money while watching a game in which you have absolutely no effect, what's the point of watching sports at all?
Note: Home team is listed first in Against the Spread.

Game One:

New Orleans Saints

-3.5 vs.

Carolina Panthers


Sunday, 8:30 p.m. ET, NBC
2013 Against The Spread

Overall: 6-5-1
Overall: 8-4
Home: 5-0-1
Home: 5-1
Away: 1-5
Away: 3-3
2013 Team Rankings


Pass offense: 3rd
Pass defense: 6th
Rush offense: 23rd
Rush defense: 2nd
Pass defense: 4th
Pass offense: 27th
Rush defense: 16th
Rush offense: 9th
Verdict: The Saints are coming off a bad loss in Seattle on Monday night, so they're already at a slight disadvantage vs. the Panthers because of the short week. A couple weeks ago, I stated that I wasn't a believer in the Panthers, but I am now, especally with that fantastic defense. In two of the next three games, these two squads will face off, and the NFC South division title will hang in the balance. At this point, I like Carolina's defense a little bit more than I like New Orleans' offense. I go with the Panthers. 
Game Two:

Philadelphia Eagles

-2.5 vs.

Detroit Lions


Sunday, 1 p.m. ET, FOX

2013 Against The Spread

Overall: 6-6
Overall: 6-6
Home: 1-5
Home: 3-3
Away: 5-1
Away: 3-3
2013 Team Rankings


Pass offense: 9th
Pass defense: 26th
Rush offense: 2nd
Rush defense: 3rd
Pass defense: 32nd
Pass offense: 2nd
Rush defense: 19th
Rush offense: 15th
Verdict: As I wrote about earlier this week, I like the Lions in this one. Simply put, I expect the Lions offense to bash the Eagles defense, and I think the Lions front-four will cause enough pressure on Philadelphia quarterback Nick Foles to force him into a few mistakes. And maybe, for the first time this season, force Foles into some interceptions. 
Game Three (largest spread of week):

Denver Broncos

-12.5 vs.

Tennessee Titans


Sunday, 4:05 p.m. ET, CBS
2013 Against The Spread

Overall: 7-5
Overall: 6-4-2
Home: 4-2
Home: 1-3-2
Away: 3-3
Away: 5-1
2013 Team Rankings


Pass offense: 1st
Pass defense: 7th
Rush offense: 13th
Rush defense: 17th
Pass defense: 29th
Pass offense: 21st
Rush defense: 7th
Rush offense: 14th
Verdict: If there are problems with the Broncos, they mostly occur because of the team defense. In their two losses, Denver has allowed 73 total points to the Indianapolis Colts and New England Patriots , and last week vs. the Kansas City Chiefs , the Broncos gave up 28 points to a team where offense isn't necessarily Kansas City's strength (it was just the fourth time this season the Chiefs scored at least that many points). Can the Titans offense be expected to be good enough to beat Denver this week? Probably not. But I still like Tennessee to stay within 12 points.
PROP BET
How many rushing yards will the Chicago Bears allow Week 14 vs. the Dallas Cowboys ? (Note: The Bears have allowed 504 yards rushing the last two games)     
Over/Under   115½
Times are not great in Chicago. It looks like the Bears probably will miss the playoffs (a huge disappointment since the Green Bay Packers without Aaron Rodgers could have given Chicago an opening), and the Bears have lost two winnable games in the past two weeks vs. the St. Louis Rams and Minnesota Vikings . Luckily for Chicago, the Cowboys have one of the worst rushing games in the league, so the Bears should hold Dallas to the under. But as for winning the game, I still like the Cowboys.
Will Nick Foles break Peyton Manning 's record of throwing 20 TD P passes before throwing an interception to start a season?     
Yes   -250 (2/5)
No   +175 (7/4)
Foles is at 19 touchdowns right now, so he needs one to tie Manning's record from earlier this season and two to break it. I think Detroit will force him into mistakes this week, and Foles will end up tossing his first pick Sunday.

Last week: 1-2 against the spread; 0-1 on prop bets. Overall this year: 21-18 against the spread, 13-14 on prop bets. Last two years: 47-53 against the spread; 47-31-1 on prop bets.
See my picks and all the CBSSports.com experts here.

Follow Josh Katzowitz on Google+
Show Comments
Hide Comments
The former Patriots running back has been sitting on the open market all offseason

Maccagnan's family friends were killed in a domestic violence murder-suicide several years...

Foreman's son died less than two months after he was born
The future Hall of Fame running back is joining the Saints

The Notre Dame coach clarifies his earlier comments about his former quarterback

The Cowboys owner says he's better now than ever