NFL Week 14 picks: Lions offense will bash Eagles defense
Here are three reasons why the Lions will cover the +2.5-point spread vs. the Eagles.
• 2 min read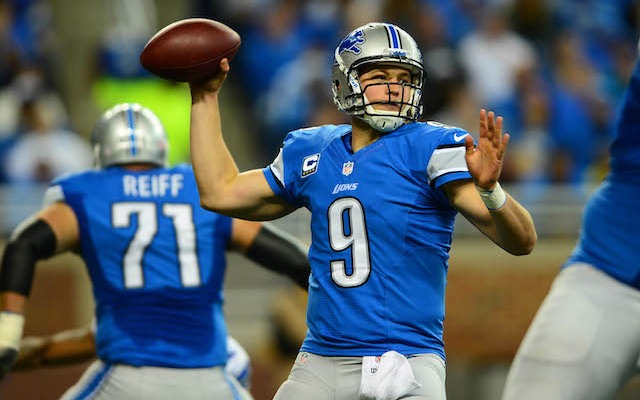 At first glance Sunday night, the Eagles were giving 3 points heading into their home showdown vs. the Lions this week, but that line has adjusted to Philadelphia -2.5. Still, I like the Lions this week. Not only to cover but to win (I asked one of the Lions beat writers on Monday what he/she thought about that, and truth be told, he/she didn't think much about my prediction).
Still, I move forward and present to you the three reasons why Detroit, at the very least, will cover the +2.5-piont spread vs. Philadelphia.
1) The Lions offense is too strong and will overwhelm Philadelphia. Detroit ranks No. 2 in the league in offense, and why not? Matthew Stafford has the potential to be a top-five quarterback, Reggie Bush and Joique Bell strike a nice 1-2 punch in the running game, and receiver Calvin Johnson is one of the best in the league. Combine that with the Eagles 31st-ranked defense, and it'll be tough for Philadelphia to keep up if this game gets into a shootout.
2) Nick Foles can't possibly keep this up, right? On the season, the Eagles quarterback has recorded 19 touchdowns against zero interceptions. As a reminder, with the exception of Peyton Manning this season, nobody has ever done that before. The Lions cornerbacks haven't played particularly well this season, and the team ranks 26th in the league in pass defense. But Detroit's front four is perhaps the best in the league, and the Lions should put enough pressure on Foles to force him into a mistake or two in the passing game. You saw that last Sunday when Foles, under attack, threw a bad ball into traffic that was intercepted by the Cardinals. But the play was erased with a penalty. If Detroit can get to Foles, that interception-less streak should end.
3)The Eagles seem to have a lack of a so-called "killer instinct." You saw that in the first game of the season when they dominated the Redskins in the first half only to watch Washington come back in the second. And in the last two games, Philadelphia entered the fourth quarter with double-digit leads, and in both, the Eagles barely won the game. Will this play a factor vs. the Lions? Depends on if Philadelphia's offense can keep pace with Detroit's.  But if I had to choose between the Eagles offense and Lions quarterback Matthew Stafford leading my team to a win in the fourth quarter of the game, I'm going with the latter.
Follow Josh Katzowitz on Google+
Show Comments
Hide Comments
The top three-technique prospect in the draft could see his name not called at all

The former Florida football player was expected to be a second-round pick in the NFL Draft

This much is certain: The Browns desperately need a quarterback
The man who signed Romo is happy to see him move on from playing the game

Roger Goodell typically announces all the first-round picks, but he'll make an exception this...

NFL teams find out their schedule on the same day you do