NFL Week 15 as told by Twitter: Dallas implodes in epic fashion
Nothing blows up Twitter like a classic Cowboys choke job. Thanks to Tony Romo and the Dallas defense, Christmas came early for Twitter users.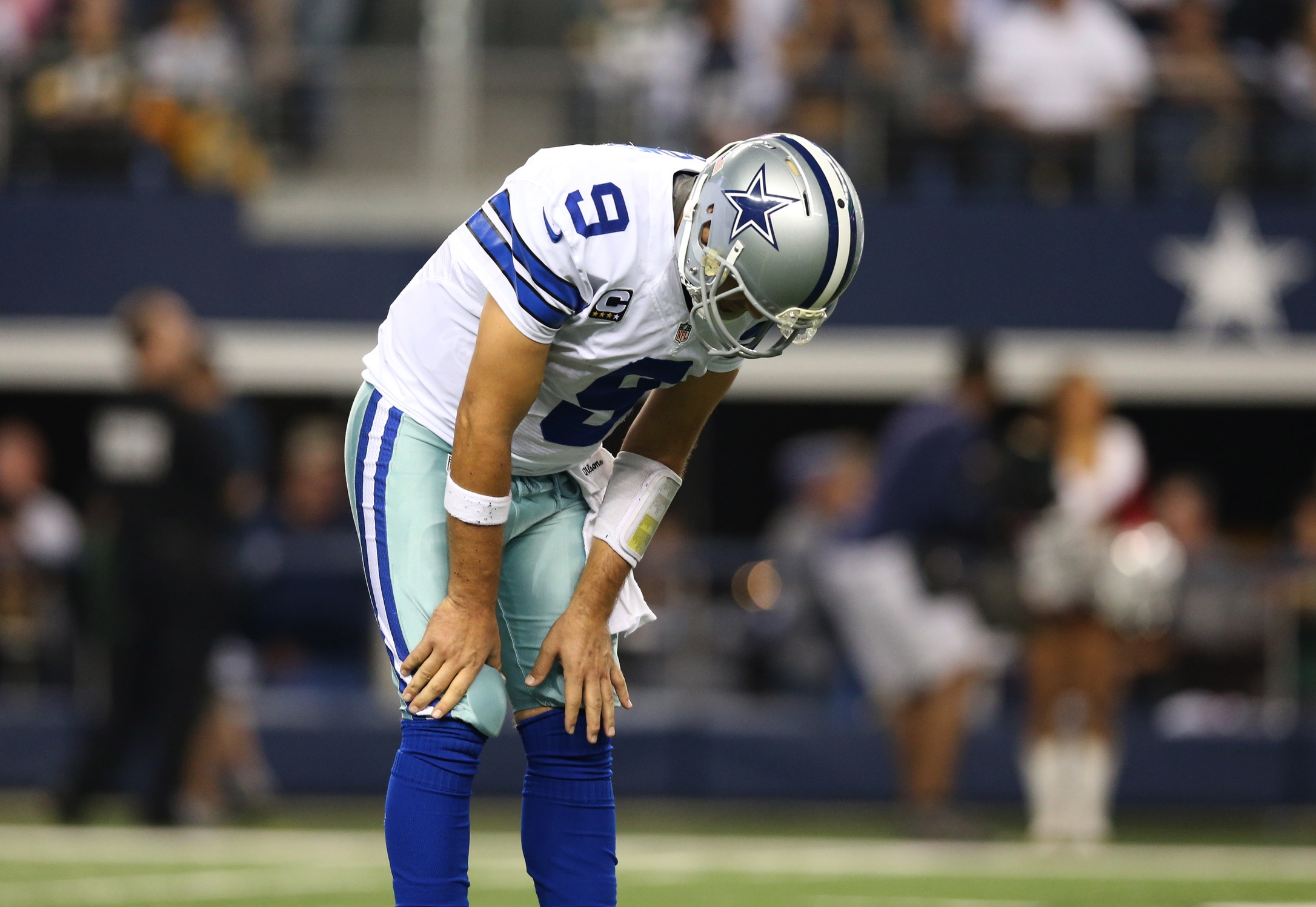 Oh Tony Romo and the Cowboys, where should we begin? Maybe the first interception?
Never. Count out. The Narrative.

— Bobby Big Wheel (@BobbyBigWheel) December 16, 2013
One of those rare times when the Cowboys wish Romo would have just taken the sack.

— Josh Katzowitz (@joshkatzowitz) December 16, 2013
There's your fourth-quarter Tony Romo pick. An angel just got its wings.

— Luke Thomas (@SBNLukeThomas) December 16, 2013
Had to make sure that Twitter is OK after that Romo pick. Whew. Carry on.

— Brady McCollough (@BradyMcCollough) December 16, 2013
"On the first day of Christmas Tony Romo gave to me, a blown 4th quarter lead."

— World of Isaac (@WorldofIsaac) December 16, 2013
Or the second interception?
I know Tony. I know. pic.twitter.com/hthD1rsReF

— NFL Jesus (@NFLJesus) December 16, 2013
That is an interception & the latest chapter in the Tony Romo Narrative.

— Matt Clapp (@sharapovasthigh) December 16, 2013
My god. The most Romo. All the Romo. Every Romo. The full set of Romo. HE WENT FULL ROMO.

— SportsPickle (@sportspickle) December 16, 2013
That's a pick and ho ho ho ho ho ho ho the Romo narrative is loose on Twitter like Godzilla.

— Mark Ennis (@Mengus22) December 16, 2013
"Hold on to that feeeeeling..." #Romo

— Jimmy Traina (@JimmyTraina) December 16, 2013
Is there such a thing as an SI curse about being cursed? This is stunning, even for Romo.

— Travis Haney (@TravHaneyESPN) December 16, 2013
Dez Bryant didn't help.
I walked back to the locker room because I was emotional...it had nothing to do with my teammates we had it... We fought and didn't finish

— Dez Bryant (@DezBryant) December 16, 2013
Dez Bryant doesn't do post-game handshakes. pic.twitter.com/6OBBfiNV4q

— BuzzFeed Sports (@BuzzFeedSports) December 16, 2013
And Dez Bryant has left the building #teamplayer

— Alex Riethmiller (@AlexRiethmiller) December 16, 2013
Pissed at the number of Packer fans there. Also, dying to say something awful. "Dez Bryant is in the tunnel. Game isn't over..." SAY IT.

— sarah sprague (@sarah_sprague) December 16, 2013
Dez Bryant is more unpredictable than a blacked out Roger Sterling on day 3 of a binge.

— Tim Ryan (@TheSportsHernia) December 16, 2013
But back to the jokes. There's just too many jokes to be made.
If Tony Romo needs advice in late-game situations, we know a guy he can call... pic.twitter.com/VrfP2NovAm

— Atlanta Hawks (@ATLHawks) December 16, 2013
Updated NFC East standings: pic.twitter.com/NDl51T093x

— Jesse Spector (@jessespector) December 16, 2013
Hopefully Jerry Jones' lenses were too dirty for him to see this.

— SportsPickle (@sportspickle) December 16, 2013
Breaking: Mike Shanahan shuts down Tony Romo for the season

— Reese Waters (@reesewaters) December 16, 2013
Tony Romo may want to stay off the internet for the next week or so. Or forever.

— John Breech (@johnbreech) December 16, 2013
Death, Taxes, and Tony Romo.

— Rush the Court (@rushthecourt) December 16, 2013
If you watch the Cowboys vs Packers game in reverse, Tony Romo has two incredible interceptions at the end of the game. #CowboysNation

— Jerry Jones (@notjjones) December 16, 2013
Let's get a little serious for a moment.
"This is going to go down as one of the worst defeats in the history of the Dallas Cowboys." - @Buck

— Dan Levy (@DanLevyThinks) December 16, 2013
This is the worst loss I've seen and I have been covering the Cowboys since 1997..

— Clarence Hill (@clarencehilljr) December 16, 2013
The Cowboys just lost back-to-back games against backup quarterbacks and terrible defenses. Like...that's indefensible.

— Peter Bukowski (@BukoTime) December 16, 2013
Tony Romo throws away a Cowboys victory (the defense didn't help either) as Green Bay wins in comeback fashion 37-36. http://t.co/pEcvNuhJVP

— CBSSports.com (@CBSSports) December 16, 2013
Show Comments
Hide Comments
The Cowboys' draft picks since 2002 have been to 17 more Pro Bowls than the next closest t...

The Cardinals, however, don't sound enthused about his return

According to NFL Network's Michael Silver, the Browns might want to trade up to draft a franchise...
The projected top-20 pick could fall out of the draft with teams having little time to gather...

Bryant will have his progress reviewed again before the coming season

From Jadeveon Clowney to Odell Beckham, here's the option year prognosis for each 2014 first-round...