NFL Week 15: Cardinals at Titans tickets going for under $5
The lowest ticket price of the 2013 regular season can be found in Tennessee this week where you can see the Titans host the Cardinals for under $5.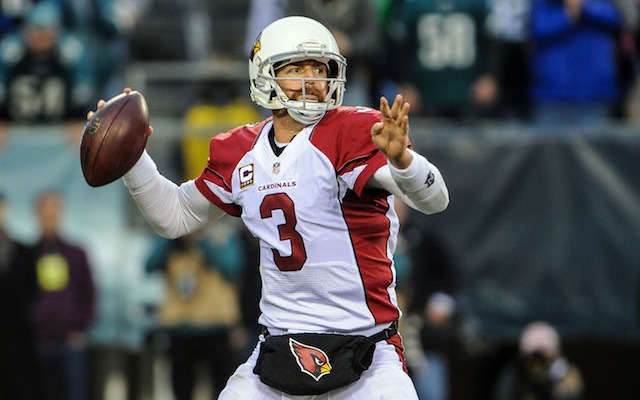 If you've been avoiding going to an NFL game this season because tickets are too expensive, then you might want to reconsider this week. If you have a dollar, six quarters, three dimes and four nickels, you can literally afford to go to an NFL game on Sunday. 
If you don't feel like doing that math, that adds up to $3, which is all you need to get into the Arizona Cardinals game at Tennessee this week. THREE DOLLARS.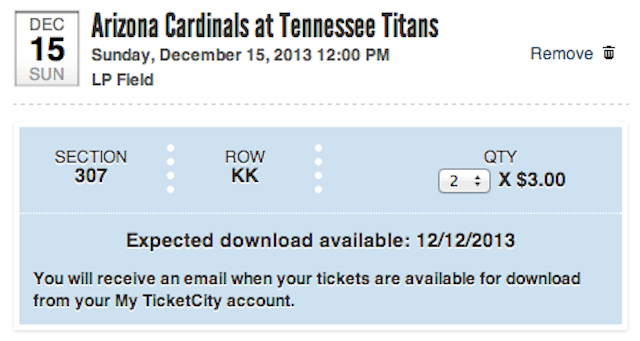 Here's a list of things that cost more than a ticket to the Cardials-Titans game: A Big Mac, contact solution, a toothbrush, a $5 footlong, a Carson Palmer Bengals jersey, a gallon of gas, a movie ticket, a family-sized box of Trix and a checkers board. I could go on for six more paragraphs, but I think you get the point.
Maybe you want the $3 tickets, but you don't live in Nashville. That's a solvable problem. For slightly more money, you can see the Bears play in Cleveland ($5) or the Texans play in Indianapolis ($9). That's three NFL games this week that are all under $10.
Before Week 15, there had only been four games all season where tickets went for under $10, now we have three games in one week.
Last week, the most expensive game to get into was the Seahawks-49ers, where the cheapest ticket was going for $250. This week, there's no $250 game or $200 game or $150 game. As a matter of fact, there's only one game that costs over $100 to get into this week and that game is barely over $100. 
If you want to see Tom Brady and the Patriots try and clinch the AFC East in Miami, it will cost you $101 to get into the game. This week is basically the NFL's version of Black Friday. 
The best deal of the week though is in Atlanta where it will only cost you $24 to watch the Redskins season continue to implode. Maybe Dan Snyder fires Mike Shanahan at halftime? Who knows, but a ticket to Redskins-Falcons would definitely have the potential to be the best $24 you've ever spent.  
Here's the lowest ticket price on Ticket City for each Week 15 game as of 4:30 a.m. ET on Thursday. The second price is the lowest price on the NFL ticket exchange run by Ticketmaster. Keep in mind, ticket prices change often.
1. New England at Miami: $101 -- $148
2. Green Bay at Dallas $99 -- $112
3. San Diego at Denver: $82 -- $60
4. San Francisco at Tampa Bay: $74 -- $75
5. Seattle at NY Giants: $50 -- $85
6. NY Jets at Carolina: $44 -- $44
7. Baltimore at Detroit: $41 -- $47
8. Oakland at Kansas City: $38 -- $43
9. Washington at Atlanta: $24 -- $35
10. Philadelphia at Minnesota: $22 -- $10
11. Cincinnati at Pittsburgh: $19 -- $66
12. Buffalo at Jacksonville: $18 -- $35
13. New Orleans at St. Louis: $17 -- N/A
14. Houston at Indianapolis: $9 -- $50
15. Chicago at Cleveland: $5 -- $19
16. Arizona at Tennessee: $3 -- $38
---
Follow John Breech on Google+ or you can even sometimes find him on Twitter
Show Comments
Hide Comments
Four defensive backs are picked in the final five spots of the first round in Rob Rang's final...

The last version of Will Brinson's 2017 NFL Mock Draft sees the Chiefs land their new franchise...

Character has become such a concern for draft prospects that scouts spend a majority of their...
Also, expect Haason Reddick to go higher than expected and Reuben Foster to be taken on Th...

Plus the Cowboys and Steelers find new cornerbacks late in the first round in Dane Brugler's...

The league appears fully prepared if the Browns decide to pull off a few unexpected trades