NFL Week 15 Picks: Dolphins over Patriots, Lions beat Ravens
With no Rob Gronkowski, the Patriots are going to have a difficult time beating the Dolphins in Week 15.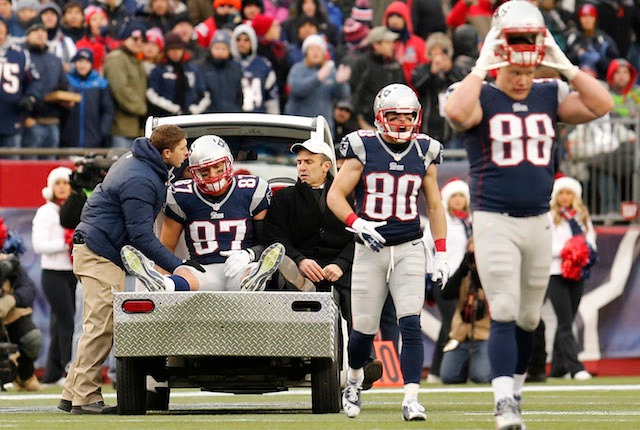 Before I get to my Week 15 picks, I need to talk about what I learned in Week 14 and here's what I learned in Week 14: I learned that I want every NFL game to be played in the snow. Actually, I don't just want every NFL game to be played in the snow, I want everything to be played in the snow.
Play soccer in the snow. Play baseball in the snow. Play chess in the snow. Lets all eat dinner in the snow. Everything in the snow. Snow makes everything better. For once, I actually felt like I was getting my money's worth on my HD TV because snow looks amazing in Hi-Def. If the Super Bowl ends up looking like the Philadelphia Eagles - Detroit Lions game, then I'll love every second of it and I'll vote to put the next Super Bowl in Northern Canada. 
The other thing I learned in Week 14 is how to read a probability chart and that's mainly because I can't stop staring at the one from the Baltimore Ravens - Minnesota Vikings game. The two teams combined to score five touchdowns in the final 2:07 of the game. That kind of scoring spree leads to a jumbled mess of a probablilty chart that looks like this:
A visual look at the changes in win probability during the 4th qtr of the Vikings-Ravens game (note final 2:07) pic.twitter.com/QsahmQPzIB

— ESPN Stats & Info (@ESPNStatsInfo) December 9, 2013
The only thing more exciting than five touchdowns in two minutes is five laterals in 20 seconds, which the Pittsburgh Steelers did on the final play of the game against Miami Dolphins . Unfortunately for the Steelers though, they needed 79 yards on their miracle play and only got 67 after Antonio Brown stepped out of bounds. You'd think the Steelers would have the whole sideline thing figured out after what happened with Mike Tomlin on Thanksgiving, but I guess not.  
Enough talking about the Steelers and their sideline problems though. Let's get to the picks.
If you want to make fun of me for all of the wrong picks I made last week or if you just want to tell me you saw the Hunger Games sequel and didn't think it was as good as the first one, be sure to do it in the comment section or on Twitter. Also, if you were at the Washington Redskins game and you stayed for the second half, I'd like to personally congratulate you because apparently, only 11 people stayed for the second half of Washington's loss to Kansas City. 
Anyway, lets get to the picks, and don't forget, you can check out the weekly picks from every CBSSports.com NFL expert here.
Week 15 NFL Picks
New England (10-3) at Miami (7-6), 1 p.m. ET: The most important player on the New England Patriots roster this season is Tom Brady . It will always be Tom Brady. No one will argue with you that it's not Tom Brady if you tell them it's Tom Brady. The second most important player on the Patriots roster this season is Rob Gronkowski . However, there's one problem, Gronkowski isn't actually on the active roster anymore because he tore his ACL and now he's on injured reserve. Can the Patriots win without Gronkowski? Yes. Do I think they'll win this game? No. Dolphins 27-24 over the Patriots.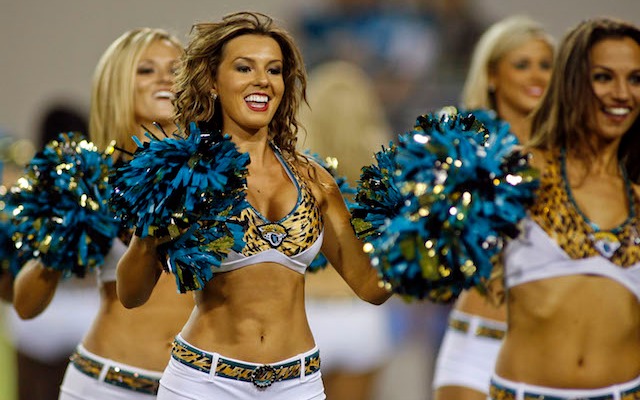 Buffalo (4-9) at Jacksonville (4-9), 1 p.m. ET: On the surface, it seems like this game means nothing, but it actually means everything because the loser will be eliminated from the AFC playoff race. And let me tell you, it's not easy to get eliminated from the AFC playoff race. Through 14 weeks, only one team has been eliminated so far: the Houston Texans .  The plucky Jaguars have won over America's heart by winning four of their past five games and I wouldn't dare pick against America's heart. Jaguars 31-27 over the Buffalo Bills . 
NY New York Jets (6-7) at Carolina (9-4), 4:05 p.m. ET: If you watched the Jets game last week against the Oakland Raiders and you thought Geno Smith looked good, you're not crazy. Geno Smith did look good -- but that's only because the Raider defense peed down its leg. Those aren't my words. Those are Charles Woodson 's words. Seriously. He said that. Click here if you don't believe me. Anyway, I don't think the Carolina Panthers ' No. 2-ranked defense will have any urination issues. Panthers 27-17 over the Jets. 
Green Bay (6-6-1) at Dallas (7-6), 4:25 p.m. ET: This pick is going to be a tease because I'm going to make a pick, but I'm not going to commit to it. I hate committing to things. I can't even use the same toothbrush more than three days in a row. The bottom line here is if Aaron Rodgers plays, then I think the Green Bay Packers win. Rodgers could probably play left-handed and still carve up the Dallas Cowboys secondary. If Aaron Rodgers plays: Packers 30-24 over the Cowboys. If Aaron Rodgers doesn't play: Cowboys 20-17 over Packers.  
Baltimore (7-6) at Detroit (7-6), 8:30 p.m. ET (Mon.): If you feel like every Ravens game has gone down to the wire this season, you're not completely crazy. Of Baltimore's past 10 games, eight have been decided by three points or less and two have gone to overtime. I think what I'm trying to say here is that this game is going to be decided by three points or less and might even go into overtime. The Lions are undefeated at Ford Field on Monday nights, so I'm going to take them. Actually, that would be a horrible reason to take them because Ford Field's only hosted one Monday night game ever since opening in 2002 and that's not a large enough sample size. But I'm still picking Detroit and I'm expecting a big game from Matthew Stafford , who won't have to deal with 19 feet of snow like he did in Philadelphia. Lions 30-27 over the Ravens.  
NFL Week 15 Picks: All the rest
Denver Broncos 34-24 over San Diego Chargers
Atlanta Falcons 20-17 over Redskins
Chicago Bears 23-20 over Cleveland Browns
Indianapolis Colts 30-24 over Texans
Eagles 31-24 over Vikings
Seattle Seahawks 30-17 over New York Giants
San Francisco 49ers 24-20 over Tampa Bay Buccaneers
Kansas City Chiefs 24-17 over Raiders
Arizona Cardinals 30-20 over Tennessee Titans
New Orleans Saints 34-17 over St. Louis Rams
Cincinnati Bengals 20-17 over Steelers
Lions 30-27 over Ravens
Last Week
Best Pick: Last week I picked the Bears to beat the Cowboys and the Bears beat the Cowboys. It was a moral victory for the Cowboys, and what I mean by that is that it wasn't a moral victory at all. The Cowboys defense had no answer for Chicago's offense. The Bears had zero punts in a regular season game for the first time since 1972. I wasn't even alive in 1972. You know who was though? Mike Ditka. I'm bringing him up for two reasons: because he had his jersey retired at halftime on Monday and because I think a team of mini-Ditka's could have beaten the Cowboys too. 
Worst Pick: Since Sept. 16, guess which team in Houston has more wins: the Astros or the Texans? Trick question. The answer is neither because both teams are horrible and both teams have zero. The point here is that I picked the Texans to win last week and not only did they not win, but they played so bad that their coach got fired. Speaking of fire, I'll set my apartment on fire before I pick the Texans to win any more games this season. 
Straight up: 11-5
SU overall: 133-74-1
Against the spread: 12-4
ATS Overall: 102-106
---
Follow John Breech on Google+ or you can even sometimes find him on Twitter
Show Comments
Hide Comments
Brett Hundley was apparently on the block during Day 2 of the draft

The Bills fired their GM Sunday morning, then cleaned house

Get ready to start hearing a lot about Sam Darnold and Josh Rosen
College players who didn't get drafted are now free to sign with any team in the NFL

Benjamin has had weight issues going back to college

As one exec put it, 'We don't know what the hell they were doing'