NFL Week 16 Injury Roundup: Tony Romo injures back, calls it a 'tweak'
Tony Romo 'tweaked' his back Washington, but it shouldn't keep from playing in the Cowboys season finale next week against the Eagles, according to Dallas owner Jerry Jones.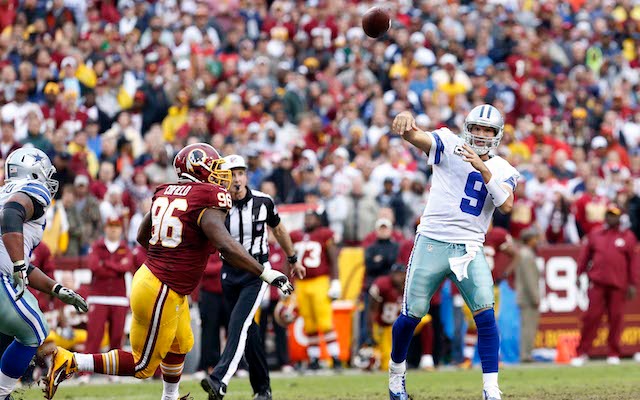 For more injury news and notes from around the league, be sure to check out CBSSports.com's NFL Rumors blog.
Jerry Jones says Tony Romo has an injured back, Jason Garrett disagrees
Tony Romo was injured against the Washington Redskins , but at first, it wasn't clear what exactly he injured. Dallas Cowboys owner Jerry Jones told ESPN.com that Romo strained his back. Cowboys coach Jason Garrett said after the game that Romo suffered a foot injury. Jones later clarified and said that Romo had the back issue all week and that he aggravated it against Washington. Romo confirmed after the game that it was a back injury and not a foot injury, "I tweaked it in the game and then for whatever reason then, the twist or whatever it was, definitely just made it not feel comfortable," Romo said. 
Carolina Panthers lose WR Steve Smith to knee injury
The Panthers were able to beat the New Orleans Saints 17-13 despite the fact that wide receiver Steve Smith didn't play in the second half. Smith left the game in the second quarter after injuring his knee. After the game, Smith said that he felt something pop in his knee. The Panthers wide receiver will have an MRI on Monday, "I am told that it is nothing, but it doesn't feel like nothing," Smith told the Associated Press. 
St. Louis Rams OL Jake Long likely has a torn ACL
Including Sunday's game against Tampa Bay, Rams left tackle Jake Long has started in all 15 of the team's games this season. That streak will likely end next week though because the Rams fear Long has a torn ACL. Long was injured in the first quarter of St. Louis' 23-13 win over the Tampa Bay Buccaneers and had to be carted off the field. After the game, Rams coach Jeff Fisher said the team was anticipating the worst. 
Saints safety Kenny Vaccaro reportedly broke his ankle
Kenny Vaccaro went down with a leg injury in the second quarter against the Panthers and had to be carted off the field. Fox sideline reporter Pam Oliver reported later during the broadcast that the rookie suffered a broken left ankle. If that's the case, Vaccaro's season will be over whether the Saints make the playoffs or not. 
Denver Broncos LB Von Miller injures left knee against Houston Texans
Von Miller's day was over almost as soon as it started. Miller injured his left knee in the first quarter against Houston and was ruled out of the game almost immediately. Miller will undergo tests on Monday to determine the extent of the injury, "[It's] in the medical people's hands right now," coach John Fox said after the Broncos 37-13 win. "Anything, until we get all the tests, will be purely speculation. We'll just wait until we here something definitive."
Texans CB Johnathan Joseph suffers foot injury vs. Broncos
Slowing down Peyton Manning is difficult enough, slowing Manning down without your best cornerback is almost impossible. The Texans found that out on Sunday when they lost Johnathan Joseph to a foot injury in the first quarter and didn't return to the game. Manning ended up throwing for 400 yards and four touchdowns against Houston. The four touchdown passes gave Manning 51 for the season, breaking Tom Brady 's single-season record.  
Clay Matthews appears to have re-injured his surgically repaired thumb
Green Bay Packers linebacker Clay Matthews continues to have problems with his right thumb. Matthews originally injured the thumb in Week 5 against the Detroit Lions and then missed the Packers following four games. The linebacker appeared to re-injure the thumb in the second quarter against the Pittsburgh Steelers . Matthews sacked Ben Roethlisberger on a third down play and then had to leave the game. Green bay later announced that Matthews wouldn't return. 
Even a ref got hurt
Umpire Butch Hannah was injured during the Cleveland Browns - New York Jets game. Late in the first half, Hannah's face it Antonio Cromartie 's shoulder pad. Hannah then fell over Jets defensive lineman Muhammad Wilkerson . Hannah was diagnosed with a concussion after the game, according to the Akron Beacon Journal. 
Show Comments
Hide Comments
Jones provided Cowboys tickets and travel accommodations to officers and their families

Romo played DJ at a charity event and got Ezekiel Elliott on stage for 'O.P.P.'

Kaepernick has spent much of his offseason helping others and now supporters will return the...
Beast Mode led a bicycle parade through his hometown and apparently didn't even have to pe...

The NFL won't punish Revis, who remains on the market as a free agent

The NFL is playing the long game on L.A., but it's taking a serious hit in the short term