NFL Week 17 picks: Aaron Rodgers will lead Packers to playoffs
Will the Bears and Jay Cutler have a chance to stop Green Bay? Josh Katzowitz examines that and a few other notable games in Week 17's picks.
• 3 min read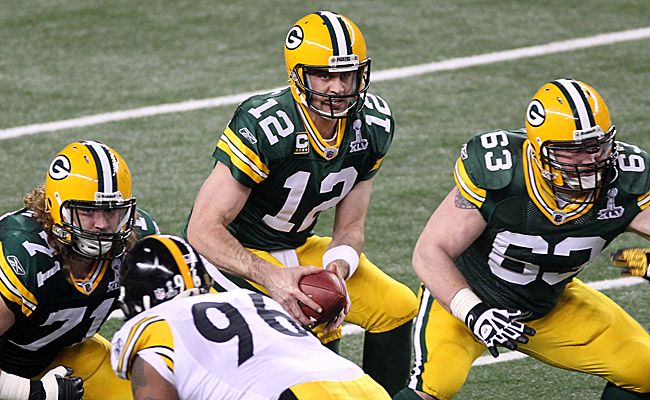 Each week, we'll take the best -- and most clever -- odds collected by Bovada for the upcoming week and give our take. This is important stuff, perhaps the most important post you'll read all week. Because if you can't lose money while watching a game in which you have absolutely no effect, what's the point of watching sports at all?
Note: Home team is listed first in Against the Spread.

Game One:

Chicago Bears

+3.5 vs.

Green Bay Packers


Sunday, 4:25 p.m. ET, FOX
2013 Against The Spread

Overall: 4-8-2
Overall: 5-9
Home: 1-4-2
Home: 3-4
Away: 3-4
Away: 2-5
2013 Team Rankings


Pass offense: 5th
Pass defense: 21st
Rush offense: 18th
Rush defense: 26th
Pass defense: 14th
Pass offense: 8th
Rush defense: 32nd
Rush offense: 7th
Verdict: This line originally was Bears -3.5. That, of course, was before the news broke about Aaron Rodgers playing. As Kevin Bradley, sports book manager of Bovada, says, "With Aaron Rodgers taking first team reps this week but still being listed as questionable, the team here at Bovada had to make two different spreads for the Packer-Bears game on Sunday. First, we made the line if Rodgers was not playing and we came up with a point spread of Bears -4. Then we made the point spread with Rodgers starting for the Packers and we came up with Packers -3. Basically, Rodgers is worth a whole touchdown when it comes to the point spread of this game and changed the Packers from underdogs to favorites as soon as he was confirmed the starter." So yeah, easy call. Go with Green Bay.
Game Two:

Dallas Cowboys

+6.5 vs.

Philadelphia Eagles


Sunday, 8:30 p.m. ET, NBC

2013 Against The Spread

Overall: 8-6
Overall: 7-7
Home: 4-3
Home: 2-5
Away: 4-3
Away: 5-2
2013 Team Rankings


Pass offense: 14th
Pass defense: 30th
Rush offense: 24th
Rush defense: 12th
Pass defense: 31st
Pass offense: 9th
Rush defense: 27th
Rush offense: 1st
Verdict: As I mentioned earlier this week, I would have taken the Cowboys if the Eagles still were giving their original line of about 3 points. But with the news that Tony Romo is out for the season after undergoing back surgery on Friday, I have no choice but to take Philadelphia in this one. The Eagles offense is too good, and new Cowboys quarterback Kyle Orton hasn't started a game since 2011. And if heaven forbid, he has to leave the game, that would leave the Cowboys' fate in the hands of Jon Kitna, who hasn't thrown an NFL pass in 27 months. If that were to happen, man, Dallas would really be screwed. As it is, the Cowboys are only kind of screwed right now -- screwed enough, though, where they won't cover the spread. 
Game Three (largest spread of week):

Oakland Raiders

+12.5 vs.

Denver Broncos


Monday, 4:25 p.m. ET, CBS
2013 Against The Spread
| | |
| --- | --- |
| | |
| Overall: 8-6 | Overall: 8-6 |
| Home: 3-4 | Home: 5-3 |
| Away: 5-2 | Away: 3-3 |
2013 Team Rankings


Pass offense: 24th
Pass defense: 28th
Rush offense: 8th
Rush defense: 8th
Pass defense: 26th
Pass offense: 1st
Rush defense: 11th
Rush offense: 14th
Verdict: The Raiders have decided to go back to starting Terrelle Pryor at quarterback, and despite Pryor's agent's assertion that Oakland is setting him up to fail, I'd be more confident with Pryor starting rather than Matt McGloin . We all knew Denver's offense is one of the best in league history, but the Broncos still have plenty of questions to answer on defense. Oakland could make this a little closer than Denver would prefer. Go with the Raiders to cover. 
PROP BETS
Total passing yards -- Aaron Rodgers     
Over/Under   290½
I think it'd be naive not to expect Rodgers to show rust vs. the Bears. After all, he hasn't played since Week 8. I think Green Bay will look to use running back Eddie Lacy to pound Chicago and then complement him with Rodgers (Chicago, after all, has the worst run defense in the league). Rodgers will throw for less than 290 yards but still help lead his team to victory and the playoffs.

How many Head coaches will be fired before the 1st NFL Playoff game kicks off?      
Over/Under   4½
Go over. I think Detroit's Jim Schwartz, New York Jets ' Rex Ryan, Washington's Mike Shanahan, Minnesota's Leslie Frazier and Tennessee's Mike Munchak will be pink-slipped some time next week.

Last week: 1-2 against the spread; 0-0 on prop bets. Overall this year: 24-24 against the spread, 15-15 on prop bets (Two unresolved future prop bets: Miami Dolphins to win the No. 6 postseason seed; Eli Manning to go over 28 interceptions on the season). Last two years: 50-59 against the spread; 49-32-1 on prop bets.
See my picks and all the CBSSports.com experts here.

Follow Josh Katzowitz on Google+
Show Comments
Hide Comments
It's reportedly a five-year deal that has a clause to turn it into an eight-year deal

Though Gronk has dealt with injuries, he's the Patriots' most important weapon when health...

The Bengals coach says he doesn't understand why the NFL wants to give in to individual ce...
It's possible the Patriots could push their quarterback squeeze to 2019, but Garoppolo must...

Another offseason, another suspension for the Cowboys

Raiders owner Mark Davis called the approval 'a big step'