NFL Week 5 Picks: Bengals over Patriots, Seahawks fall to 4-1
Bengals quarterback Andy Dalton has won four games in a row against Super Bowl winning quarterbacks. Can he make it five in a row against the Patriots and Tom Brady?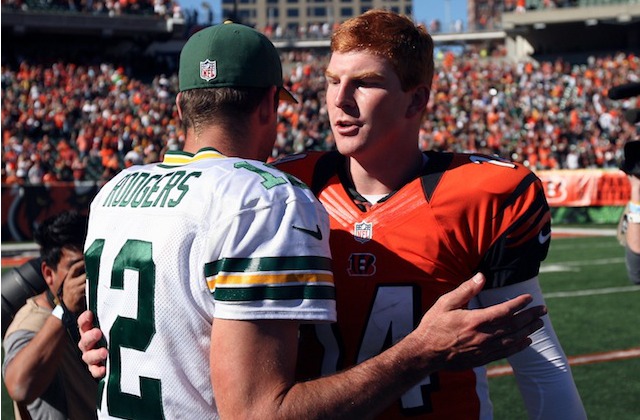 Before I get to my Week 5 picks, I need to talk about what I learned in Week 4 and here's what I learned in Week 4: Cleveland's  Brian Hoyer is the best quarterback in the AFC North. OK, that might be a slight exageration, but he was last week. Andy Dalton , Ben Roethlisberger and Joe Flacco combined to go 0-3 and throw seven interceptions. Hoyer combined with himself to go 1-0 and throw no interceptions. 
The other thing I've learned is to not write off the New York Giants . I mean, I've already written them off, but safety Antrelle Rolle hasn't. Rolle says the Giants can win their final 12 games and finish 12-4. I'm going to have to say that's about as likely as Josh Freeman  being named starting quarterback for life in Tampa Bay. 
Enough talking, lets get to the picks.
If you want to make fun of me for all of the wrong picks I made last week or if you just disagree with my Week 5 picks below, be sure to let me know in the comment section or on Twitter. Also, feel free to tweet me if you want to tell me your theory about how the government shutdown's going to affect Tony Romo 's play on Sunday. I'll listen. I promise. I always love a good Romo-government shudown theory.
Anyway, lets get to the picks. And don't forget, you can check out the weekly picks from every CBSSports.com NFL expert here.
Week 5 Picks
New England (4-0) at Cincinnati (2-2), 1 p.m. ET: I'm not sure how or when this happened, but Andy Dalton is kryponite to Super Bowl winning quarterbacks. Dalton can't beat the Brian Hoyers of the world, but put him on the field with a Super Bowl winner and the Cincinnati Bengals win. You don't believe me? The Bengals are 4-0 in their last four meetings against Super Bowl winning quarterbacks, beating Eli Manning , Aaron Rodgers and Ben Roethlisberger twice. I have no clue what this all means other than that Tom Brady has won a Super Bowl -- three Super Bowls to be exact -- and he's next on the schedule. Bengals 31-27 over the New England Patriots .
New Orleans (4-0) at Chicago (3-1), 1 p.m. ET: This is the fourth time in franchise history the New Orleans Saints have started 4-0 and in the previous three times, New Orleans turned its 4-0 record into 5-0. Of course, I'm not basing my pick on that historical fact, I'm basing it on the fact that I like Drew Brees one billions times more than Jay Cutler . That's billion, with a B. Saints 30-24 over the Chicago Bears .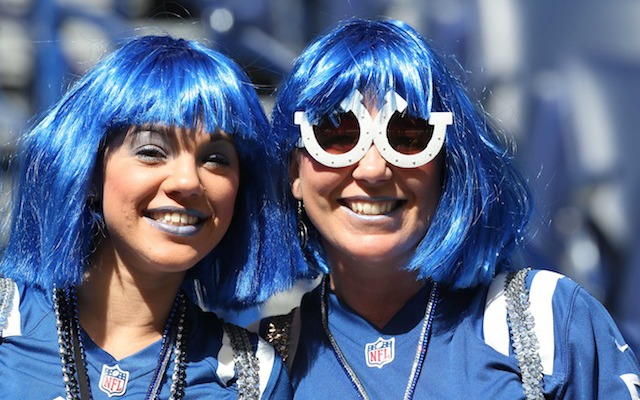 Seattle (4-0) at Indianapolis (3-1), 1 p.m. ET: It's a good thing Starbucks is headquartered in Seattle because the NFL is practically begging Seattle Seahawks fans to buy coffee this year. This week will mark the second week in a row that the Seahawks play at 10 a.m. PT and the third time this season. But wait, there's more: the Seahawks still have two more 10 a.m. PT games left after Sunday's game against the Indianapolis Colts . Enough coffee talk though, Seahawks fans will probably want another beverage to drown their sorrows in after Indianapolis pulls off the upset. Colts 27-24 over the Seahawks. 
Denver (4-0) at Dallas (2-2), 4:25 p.m. ET: The Dallas Cowboys are going to try and beat the Denver Broncos on Sunday with the NFL's 28th ranked pass defense, which to me is kind of like trying to win a marathon in flip flops while holding a baby. Dallas needs to come up with something fast to figure out how to stop Peyton Manning . I don't recommend shouting 'Papa John's' at Peyton either, ask the Philadelphia Eagles what happened when they did that. They lost by 32, that's what happened. Broncos 45-31 over the Cowboys.
Houston (2-2) at San Francisco (2-2), 8:30 p.m. ET: The San Francisco 49ers and Houston Texans have only played each other twice since Houston joined the NFL in 2002. The series is tied 1-1 and both games were decided by exactly three points with the home team winning each time. What I'm trying to say here is, I don't feel like arguing with history, so I'm going to take the home team by three. 49ers 23-20 over the Texans. 
Week 5 Picks: All the rest
Cleveland Browns 20-17 over Buffalo Bills
St. Louis Rams 17-13 over Jacksonville Jaguars
Miami Dolphins 27-20 over Baltimore Ravens
Eagles 30-24 over NY Giants
Green Bay Packers 34-27 over Detroit Lions
Kansas City Chiefs 24-20 over Tennessee Titans
Carolina Panthers 20-13 over Arizona Cardinals
San Diego Chargers 27-17 over Oakland Raiders
Atlanta Falcons 30-20 over NY New York Jets
Byes: Minnesota, Pittsburgh, Tampa Bay, Washington
Last Week
Best Pick: I didn't have a best pick last week, they were all horrible and I blame Ben Roethlisberger. If Big Ben would've told me last week that the Pittsburgh Steelers are the 'worst team in the league,' then I would've picked the Minnesota Vikings to win and that would've been my best pick. As it is, we'll say Lions over Bears was my best pick, but I'm not proud of it. 
Worst Pick: I don't know what in the name of Greg Schiano I was thinking when I picked the Tampa Bay Buccaneers to win last week, but I did and they lost. Not only did they lose, they managed to blow a 10-point lead with 12 minutes left in the fourth quarter. I'm never picking them to win again. If you're keeping track, that means there are now two teams on my list of teams I'm never picking to win a game again this year: Tampa Bay and Jacksonville. Both teams are dysfunctional, but for completely different reasons. For instance, I bet Gus Bradley's never leaked anyone's confidential medical information to the media. I like Gus Bradley. 
Straight up: 7-8
SU overall: 40-23
Against the spread: 7-8
ATS Overall: 32-31
---
Follow John Breech on Google+
Show Comments
Hide Comments
The Cowboys' draft picks since 2002 have been to 17 more Pro Bowls than the next closest t...

The Cardinals, however, don't sound enthused about his return

According to NFL Network's Michael Silver, the Browns might want to trade up to draft a franchise...
The projected top-20 pick could fall out of the draft with teams having little time to gather...

Bryant will have his progress reviewed again before the coming season

From Jadeveon Clowney to Odell Beckham, here's the option year prognosis for each 2014 first-round...