NFL Week 7 Picks: Broncos over Colts, Eagles on top in NFC East
Peyton Manning's return to Indianapolis won't go so well for the Colts and the Eagles will be the only team above .500 in the NFC East after Week 7.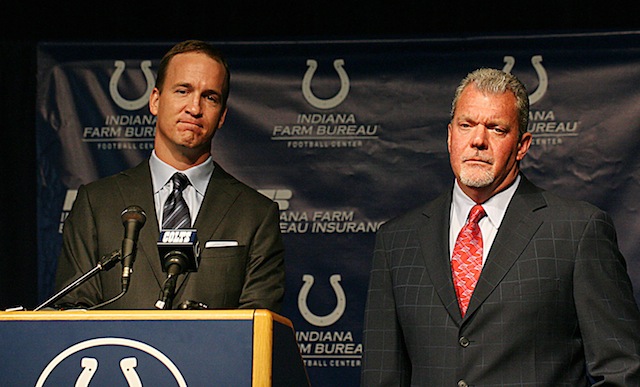 Before I get to my Week 7 picks, I need to talk about what I learned in Week 6 and here's what I learned in Week 6: I learned who Thad Lewis is. If you don't know who he is, there's no need to remember his name, you'll probably never use it again after this week, but let's talk about him anyway. 
Down 24-10 to the Cincinnati Bengals with less than 11 minutes left in the game, Lewis led the Buffalo Bills to two fourth quarter touchdowns to send the game to overtime. It was all for nothing though, because the Bills lost. 
In Week 6 I also learned to never pick up Chinese take-out with 2:16 left in the fourth quarter of a game Tom Brady 's trailing by four points.
That's right. I wrote Brady off.
In Week 5, I saw Brady blow it with a pivotal fourth quarter interception against the Bengals. Then I saw him throw another pivotal interception late in the fourth quarter against the New Orleans Saints . So instead of watching the rest of the game, I went to pick up my Chinese food. Moral of the story: I'm never eating Chinese food again. 
I did watch Brady's winning touchdown pass on DVR, it just wasn't the same though. I hate DVR. Unless I'm watching Walking Dead.
Enough DVR talk, lets get to the picks. 
If you want to make fun of me for all of the wrong picks I made last week or if you have a tuna casserole recipe you think I should know about, be sure to let me know in the comment section or on Twitter. Also, feel free to tweet me if you want to yell at me for not picking your team this week. Although you can't technically yell on Twitter, but you could make a YouTube video of you yelling at me about not picking your team, then you could tweet me the link.
Anyway, lets get to the picks. And don't forget, you can check out the weekly picks from every CBSSports.com NFL expert here.
Week 7 Picks
Dallas (3-3) at Philadelphia (3-3), 1 p.m. ET: The Dallas Cowboys will likely be missing two big weapons against the Philadelphia Eagles in defensive end DeMarcus Ware and running back DeMarco Murray . That's good news for Tony Romo , because now when the Eagles win, Cowboys fans can blame those personnel losses and not the fourth quarter interception that Romo will inevitably throw. Eagles 31-27 over the Cowboys. 
Cincinnati (4-2) at Detroit (4-2), 1 p.m. ET: If you're looking for a dance choreographer for your wedding, you might want to call Joseph Fauria . The Detroit Lions rookie tight end seems to be good at two things: catching touchdown passes and dancing after he catches those touchdown passes. If Fauria gets to the end zone against the Bengals, he should do the Ickey Shuffle -- or if he wants to lose fans, he could do the Macarena. Fauria might score three touchdowns against the Bengals, but Cincinnati's still going to win. Bengals 27-24 over the Lions. 
St. Louis (3-3) at Carolina (2-3), 1 p.m. ET: Now, I know what you're thinking, 'no one outside of St. Louis or Charlotte cares about this game' -- and that's probably right, but I felt we needed to talk about this game anyway. Mainly because both of these teams won by 25 points last week. I don't think either team is even going to score 25 points this week. Carolina Panthers 23-20 over the St. Louis Rams .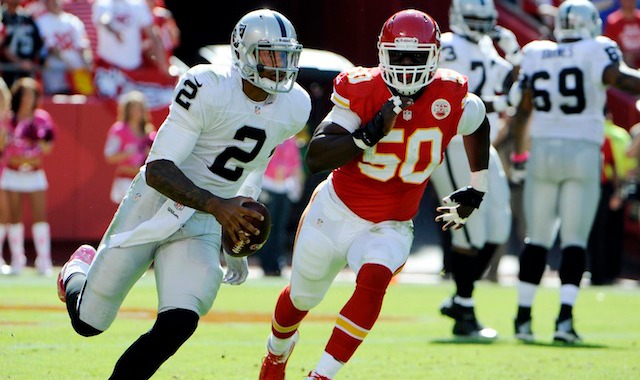 Houston (2-4) at Kansas City (6-0), 4:25 p.m. ET: Houston Texans quarterback Matt Schaub might be playing slightly injured on Sunday, which is good news for the Kansas City Chiefs because if Schaub plays bad when he's not injured, things are probably only going to be worse if he is injured. More good news for the Chiefs: if Schaub can't start, then T.J. Yates or Case Keenum will. More good news for the Chiefs: In the past five games, Texans quarterbacks have thrown as many touchdown passes to their team as they have to the opposing team (5). More good news for the Chiefs: I'm picking them. Chiefs 23-17 over the Texans. 
Denver (6-0) at Indianapolis (4-2), 8:30 p.m. ET: Is this a Peyton Manning revenge game? Does Peyton Manning even want revenge? If Peyton does want revenge, who does he want it against? Jim Irsay? The city of Indianapolis? The Papa Johns guy who brought him a pepperoni pizza instead of a sausage pizza that one time? There are so many questions and they'll all be answered on the field. Indianapolis Colts fans never got to give Peyton a proper good-bye, so they'll probably enjoy his performance on Sunday -- until he throws his fifth touchdown pass. If Peyton Manning's playing in a big regular season game, the pick is always Peyton. Denver Broncos 38-30 over the Colts. 
NFL Week 7 Picks: All the rest
Seattle Seahawks 27-17 over Arizona Cardinals
Atlanta Falcons 24-17 over Tampa Bay Buccaneers
Miami Dolphins 27-20 over Bills
New England Patriots 24-13 over New York Jets
Chicago Bears 24-20 over Washington Redskins
San Diego Chargers 20-14 over Jacksonville Jaguars
San Francisco 49ers 23-13 over Tennessee Titans
Green Bay Packers 20-13 over Cleveland Browns
Pittsburgh Steelers 20-17 over Baltimore Ravens
New York Giants 20-17 over Minnesota Vikings
Byes: Oakland, New Orleans
Last Week
Best Pick: I picked the 49ers to beat the Cardinals 30-20 last week and it almost happened. As a matter of fact, if Carson Palmer had any mobility at all it would have happened. The 49ers won the game 32-20, but it would have been 30-20 if Palmer hadn't been sacked for a safety. Although to be fair, I knew Palmer was immobile, so I probably should've figured he was going to be safetied at least once when I predicted the score.  
Worst Pick: For some reason I picked a 2-3 team to go on the road and beat a 5-0 team. Yes, I picked the Oakland Raiders to beat the Chiefs. I would say that was my worst pick of the season, but that would be a complete lie because it wasn't my worst pick of the season. Picking the Buccaneers to beat the Patriots in Week 3 was my worst pick of the season. My family de-friended me on Facebook after I made that pick. And I deserved it. Also Chiefs fans, you didn't tell me you were going to be setting Guinness World Records at the game. I never pick against a team that sets world records, ask the Seahawks. 
Straight up: 9-6
SU overall: 59-33
Against the spread: 4-11 (My cat went 5-10 this week)
ATS Overall: 43-49
---
Follow John Breech on Google+
These seven players aren't household names, but don't be surprised if they make noise in 2...

Bell certainly looks like he'll be ready for the 2017 season

Whether Beckham is at OTAs or not, he remains one of the league's best players
The Chiefs were one of the league's winningest teams during Dorsey's tenure as GM

Aaron Rodgers, Matt Ryan, Kirk Cousins and others have new deals on the horizon

The star receiver said he would put his collection up against anyone in any sport.