NFL Week 8 Picks: Bengals over Jets, Lions over Cowboys
Can Geno Smith and the Jets beat a top-10 defense? Will the Cowboys be able to stop Calvin Johnson? There's plenty of questions to answer heading into Week 8.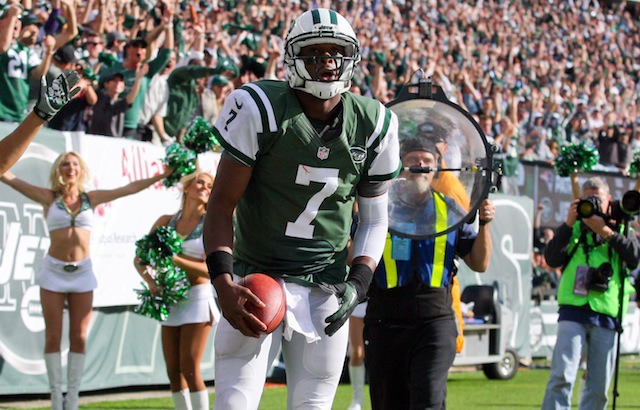 Before I get to my Week 8 picks, I need to talk about what I learned in Week 7 and here's what I learned in Week 7: I finally learned that Hazmat suits serve a purpose in football, at least when you're playing the Tampa Bay Buccaneers . The Atlanta Falcons hired a company to disinfect Tampa Bay's locker room after Atlanta's home win over the Bucs.
If you're going to a Bucs game and would like to wear your own hazmat suit, you can buy one for $852.19. I know nothing about hazmat suit prices, but that seems like a deal. 
The other thing I learned is that not only are the Indianapolis Colts good, but they might be my new to pick to earn home field advantage in the AFC. Indianapolis has a bye in Week 8, but after that, the Colts only play two teams over .500 ( Kansas City Chiefs , Cincinnati Bengals ) over their final nine games and one of those games is against the Jacksonville Jaguars , which is like an extra bye week. 
Alright, time for the picks. 
If you want to make fun of me for all of the wrong picks I made last week or if you just disagree with my Week 8 picks below, be sure to let me know in the comment section or on Twitter. Also, feel free to tweet me about the World Series, but keep in mind that I probably won't answer because I only like to talk about football and celebrity engagements on Twitter. OMG, did you hear about Kim and Kanye?
Kanye West proposed to Kim Kardashian at AT&T Park in San Francisco tonight and I live in SF, so now I might move http://t.co/Ul8DgPsfF6

— John Breech (@johnbreech) October 22, 2013
Anyway, lets get to the picks. And don't forget, you can check out the weekly picks from every CBSSports.com NFL expert here.
Week 8 Picks
Cleveland (3-4) at Kansas City (7-0), 1 p.m. ET: In the past two weeks, the Kansas City defense has totaled 15 sacks in wins over Oakland and Houston. Oakland Raiders quarterback Terrelle Pryor , who's arguably 91 times more mobile than Brandon Weeden , was sacked 10 times by the Chiefs. What I'm trying to say here is that I don't like Weeden's chances against Kansas City and if for some reason Jason Campbell starts for Cleveland, I don't like his chances either. Chiefs 20-13 over the Cleveland Browns . 
Miami (3-3) at New England (5-2), 1 p.m. ET: The last time the New England Patriots played two straight games against division opponents and lost them both was -- never. At least since Tom Brady took over as the team's starting quarterback in 2001 it's never happened. New England has lost consecutive games before, just not consecutive games to division opponents. There's a reason for that and I'd like to think it has a lot to do with Brady and Bill Belichick. Patriots 30-20 over the Miami Dolphins .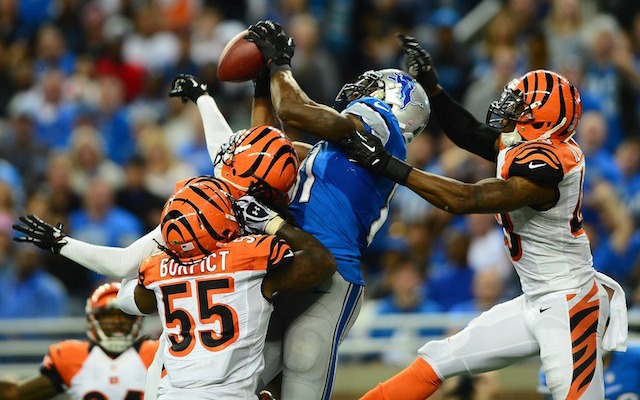 Dallas (4-3) at Detroit (4-3), 1 p.m. ET: It's Big D versus Little D in a big game on Sunday in Detroit. Does anyone actually call Detroit Little D or am I making that up? Anyway, the Dallas Cowboys  have been impossible to predict this year: one week they're scoring 48 points and losing, the next week they're scoring 17 and winning. One thing Dallas has been consistent with though is not stopping the pass, which means  Matthew Stafford  might throw three more touchdown passes to  Calvin Johnson  on Sunday, even if he is triple-covered.  Detroit Lions  30-24 over the Cowboys.
NY New York Jets (4-3) at Cincinnati (5-2), 4:05 p.m. ET: The Bengals are 2-0 against AFC East teams this season and they've won those games by an average of five points, so I'm going to pick them to win by five. Actually, no I'm not, because no one ever wins by five. Through seven weeks and 107 games this season, only one game has been decided by exactly five points: Seattle beat Carolina 12-7 in Week 1. But I'm still picking the Bengals to win, mainly because I don't like Geno Smith 's chances against a top-10 defense. Smith's seen two of them this season (Pittsburgh, Tennessee) and the Jets lost both games. Bengals 27-20 over the Jets. 
Pittsburgh (2-4) at Oakland (2-4), 4:05 p.m. ET: This game matches up the NFL's fourth-most disliked player -- Ben Roethlisberger -- against a Raiders team that hasn't won a game coming off a bye since 2002. Just in case you think I mistyped that, because I thought I mistyped that, I didn't. The Raiders haven't won a game coming off a bye since Sept. 29, 2002, that's over 11 years ago. Also, I feel it's worth mentioning that if the Jets lose to the Bengals, the winner of the Raiders- Pittsburgh Steelers game will be ONE GAME out of the final Wild Card spot in the AFC. That tidbit is for Terrelle Pryor because he pretty much guaranteed a Raiders playoff berth before the bye. Anyway, Roethlisberger will be the first most disliked person in Oakland after Sunday. Steelers 23-17 over the Raiders. 
NFL Week 8 Picks: All the rest
Carolina Panthers 24-17 over Buccaneers 
New Orleans Saints 34-24 over Buffalo Bills
Philadelphia Eagles 27-21 over New York Giants  
San Francisco 49ers 38-13 over Jaguars
Denver Broncos 34-27 over Washington Redskins
Falcons 23-20 over Arizona Cardinals
Green Bay Packers 30-17 over Minnesota Vikings
Seattle Seahawks 34-13 over St. Louis Rams
Byes: Chicago, Tennessee, Indianapolis, San Diego, Baltimore, Houston
Last Week
Best Pick: Last week got pretty weird for me, I picked the Bengals to beat the Lions 27-24 and the Bengals beat the Lions 27-24. You really can't get more right than that. It's almost like I had Marty McFly's copy of Gray's Sports Almanac from Back to the Future II, but I didn't because that's a fictional movie and how would I get a copy of a fake sports almanac from a fictional movie? Although if I did have a copy, I'd make sure old-Biff doesn't get his hands on it and give it to 1955-Biff because no one likes 1955-Biff. 
Worst Pick: On the surface, I want to say my worst pick last week was picking the Eagles over the Cowboys. I'm not sure why I thought Nick Foles , who's 2-6 in his career as a starter, could beat anyone. But really, my worst pick was choosing to watch the Giants vs. the Vikings on Monday night. My brain still hurts. The person who invented tequila probably did it after watching something similar to the Giants-Vikings game on Monday. 
Straight up: 10-5
SU overall: 69-38
Against the spread: 6-9
ATS Overall: 49-58
---
Follow John Breech on Google+
Show Comments
Hide Comments
Our Latest Stories
The Patriots receiver may or may not be trying to clear his name

Gronk is interviewing people at the Daytona 500 and he's gone full Gronk

Tom Brady? Dez Bryant? Odell Beckham? Richard Sherman has them all
It looks like the two men have finally buried the hatchet

This is the most delicious version of Tom Brady that you'll ever see

It was a rough morning for the Ravens safety