NFL Week 9 Picks: Bengals over Dolphins, Packers over Bears
The highlight of Week 9 is Chicago visiting Green Bay on Monday, unless the cheerleaders decide to wear costumes in Miami, then it's the Bengals-Dolphins Halloween showdown.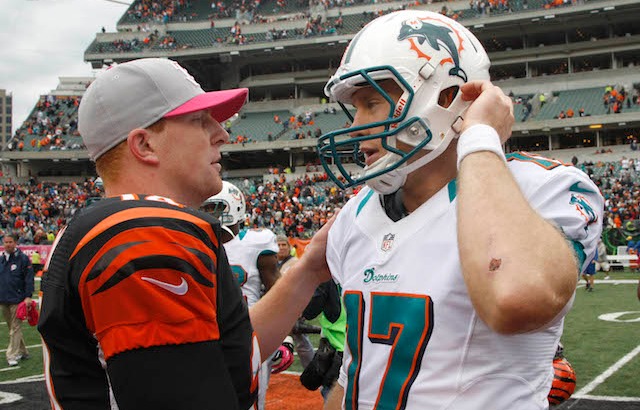 Before I get to my Week 9 picks, I need to talk about what I learned in Week 8: The Jacksonville Jaguars are just as bad in London as they are in America. I'm not sure what I thought was going to happen, but I think I was hoping that Jacksonville would be inspired by something in England and beat the San Francisco 49ers by 14 touchdowns. 
Instead, the Jaguars got embarrassed and I'm pretty sure the Queen is trying to negotiate a treaty that involves Jacksonville never coming to London again. 
I also learned that there's no stopping Calvin Johnson . I mean, I already knew that, but I re-learned it while watching the Dallas Cowboys - Detroit Lions game. When I wasn't watching Dez Bryant give overly intense pep talks on the Cowboy sideline, I was admiring Megatron's 329-yard receiving performance.
Anyway, lets get to the picks.   
If you want to make fun of me for all of the wrong picks I made last week or if you just want to tell me why you don't eat gluten, be sure to do that in the comment section or on Twitter. Also, if you're getting free DiGiorno pizza for the rest of the year like Lions wide receiver Nate Burleson and you'd like to share that pizza with me, please tweet me. I like pizza a lot. Only gluten-free pizza though. Who am I kidding, I love gluten. I inject it into my body three times a day. 
Enough gluten talk though, lets get to the picks. And don't forget, you can check out the weekly picks from every CBSSports.com NFL expert here.
Week 9 Picks
Cincinnati (6-2) at Miami (3-4), 8:25 p.m. ET (Thurs.): This game's being played on Halloween and the best thing about a game on Halloween is that you get to watch the game while wearing a costume. I'm going as Carrot Top this year and since one of Andy Dalton 's 17 nicknames is 'Carrot Top Cannon,' I think that means I have to pick him. If I was going as someone who looked like Ryan Tannehill , I would pick the Miami Dolphins . Actually, no I wouldn't because Tannehill's been sacked more than any other quarterback in the NFL this season and I have a feeling that number's only going to go up against the Cincinnati Bengals eighth ranked defense. Bengals 24-20 over the Dolphins.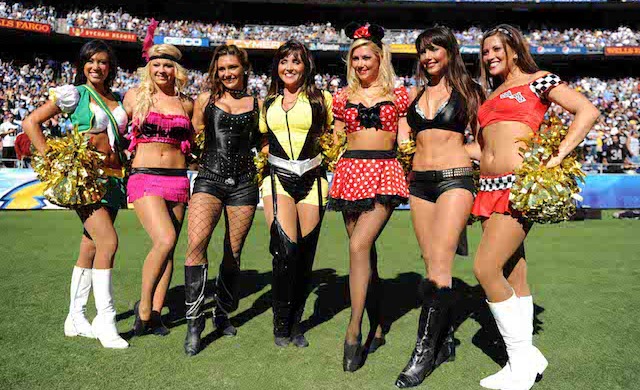 Kansas City (8-0) at Buffalo (3-5), 1 p.m. ET: No team has scored more than 17 points on Kansas City this season, so the formula for picking Kansas City Chiefs games is pretty simple for me: Do I think the other team is going to score more than 17 points? If the answer is yes, then I pick the other team. If the answer is no, then I pick the Chiefs. By the way, before I make this pick, click here and look at baby Andy Reid. There's no way in the world I'm picking against an adorable baby, especially if it's dressed like Andy Reid. Also, the Buffalo Bills are banged up and I expect the Chiefs defense to eat them alive. I also expect baby Andy Reid to eat plenty of broccoli-flavored baby food this weekend. Chiefs 20-17 over the Bills. 
New Orleans (6-1) at New York Jets (4-4), 1 p.m. ET: Jets fans, I have some good news for you: The last team with a winning record to lose a game by exactly 40 points was the 2008 Arizona Cardinals . After losing to the New England Patriots 47-7, the Cardinals didn't lose again until the Super Bowl. Now the bad news: I don't think the Jets are going to make an undefeated run to the Super Bowl. And the worse news: I don't think the Jets are going to beat the New Orleans Saints -- but I do think it will be closer than the Bengals game. Saints 34-17 over the Jets.    
Baltimore (3-4) at Cleveland (3-5), 4:25 p.m. ET: Since Joe Flacco became the Baltimore Ravens starting quarterback in 2008, here's a list of everyone who's started for the Cleveland Browns : Derek Anderson , Brady Quinn , Ken Dorsey, Bruce Gradkowski , Colt McCoy , Jake Delhomme, Seneca Wallace , Brandon Weeden , Thad Lewis , Brian Hoyer and now Jason Campbell . Anyway, the Browns defense is good, but I'll take the Ravens coming off a bye. Since John Harbaugh and Flacco showed up in 2008, the Ravens haven't lost coming off a bye week. Ravens 23-20 over the Browns.  
Chicago (4-3) at Green Bay (5-2), 8:30 p.m. ET (Mon.): I can't think of any situation where I'd pick a team quarterbacked by Josh McCown to beat a team quarterbacked by Aaron Rodgers . Well, maybe if the Chicago Bears were coached by mini-Ditka and mini-Ditka's offensive coordinator was baby Andy Reid. I bet baby Andy Reid would call 'Spider 2 Y Banana' a lot. And Jon Gruden would like it. Green Bay Packers 34-24 over the Bears.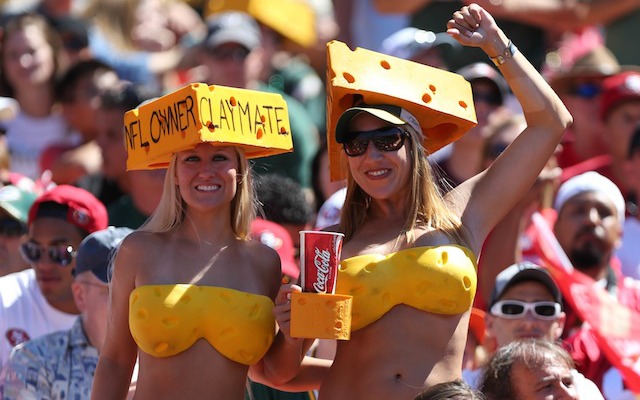 NFL Week 9 Picks: All the rest
Tennessee Titans 20-13 over St. Louis Rams
Cowboys 31-20 over Minnesota Vikings
San Diego Chargers 38-31 over Washington Redskins
Carolina Panthers 30-20 over Atlanta Falcons
Oakland Raiders 24-17 over Philadelphia Eagles
Seattle Seahawks 31-17 over Tampa Bay Buccaneers
Patriots 23-16 over Pittsburgh Steelers
Indianapolis Colts 31-20 over Houston Texans
Byes: Arizona, Denver, Detroit, Jacksonville, NY New York Giants , San Francisco
Last Week
Best Pick: Last week I picked the Patriots to beat the Dolphins by 10 and the Patriots beat the Dolphins by 10. Now, did I know that Ryan Tannehill was going to single-handedly lose the game for Miami by throwing two interceptions and losing a fumble? Actually, yes I did know that because I've seen Tannehill's last four games. Not to mention, the 'Ryan Tannehill interception alert' function on my cell phone has been going off a lot lately. I actually had to call my phone company and add to my 'Tannehill plan.'
Worst Pick: Even though 86 percent of Atlanta's offensive players are injured, I picked the Falcons to beat the Cardinals. I have no explanation for the pick. It's like going into a vegetarian restaurant and ordering the meat loaf special. It makes no sense and I don't even like meat loaf that much. I also don't like the the Falcons chances of winning anymore games this season. Wait, do they play the Buccaneers again? They do? OK, I like the Falcons to win at least one more game then. 
Straight up: 10-3
SU overall: 79-41
Against the spread: 6-7
ATS Overall: 55-65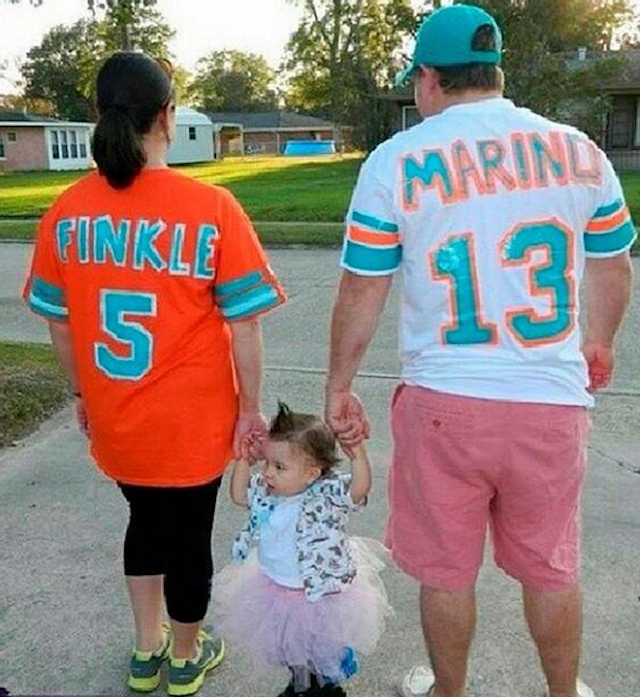 ---
Follow John Breech on Google+
(Wink of the CBS Eye to MattyDolphinz on Twitter for the Halloween picture)
Bell will still be the NFL's highest paid running back -- by $4 million -- next season

Meet Isaiah Crowell, one of the game's best backs who is stuck on the Browns

Welker played 12 seasons and suffered at least six concussions
Hardy was found in a river in his hometown of Fort Wayne, Indiana last month

Police say they haven't been able to contact the victim

The coach refused to comment, however, on the latest incident involving Elliott