NFL wild-card picks: Kaepernick will blast through Green Bay again
Can the Packers defense stop Colin Kaepernick this time? Josh Katzowitz examines that and a few other notable games in his wild-card picks.
• 3 min read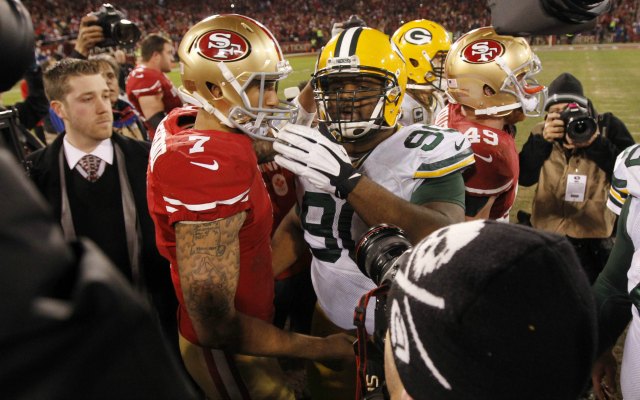 Each week, we'll take the best -- and most clever -- odds collected by Bovada for the upcoming week and give our take. This is important stuff, perhaps the most important post you'll read all week. Because if you can't lose money while watching a game in which you have absolutely no effect, what's the point of watching sports at all?
Note: Home team is listed first in Against the Spread.

Game One: Colts -2.5 vs. Chiefs
Saturday, 4:35 p.m. ET, NBC
2013 Against The Spread

Overall: 9-6-1
Overall: 9-7
Home: 5-3
Home: 2-6
Away: 4-3-1
Away: 7-1
2013 Team Rankings


Pass offense: 17th
Pass defense: 25th
Rush offense: 20th
Rush defense: 21st
Pass defense: 13th
Pass offense: 24th
Rush defense: 25th
Rush offense: 10th
Verdict: Despite their 11-5 record, the Colts have managed to play rather unimpressively for most of the season, falling behind in the first half by big margins before needing equally big comebacks or falling short of victory. Indianpolis has played better in the past three weeks, and I think the Colts will manage a repeat of Week 16 when they beat the Chiefs 23-7 in Kansas City. The Chiefs have been a great story this season, but they're 1-5 against teams that made the 2013 playoffs. Go with the Colts.
Game Two: Eagles -2.5 vs. Saints
Saturday, 8:10 p.m. ET, NBC
2013 Against The Spread

Overall: 8-8
Overall: 8-7-1
Home: 3-5
Home: 7-0-1
Away: 5-3
Away: 1-7
2013 Team Rankings


Pass offense: 9th
Pass defense: 2nd
Rush offense: 1st
Rush defense: 18th
Pass defense: 31st
Pass offense: 2nd
Rush defense: 9th
Rush offense: 24th
Verdict: Is this game as simple as the statement: "Well, the Saints really struggle on the road, so you have to like the Eagles in this one"? Not really, though New Orleans is 3-5 away from home this season. No, the bigger reason I like Philadelphia in this one is because the Eagles' defense has improved. Aside from a 48-point bloodletting against Minnesota in Week 15, Philadelphia's defense hasn't allowed more than 21 points since Week 4. Will Philadelphia shut down Drew Brees? Probably not. Will the Eagles' defense give the Eagles' offense enough chances to outscore New Orleans? Yes.
Game Three: Bengals -7.5 vs. Chargers
Sunday, 1:05 p.m. ET, CBS

2013 Against The Spread

Overall: 10-5-1
Overall: 9-6-1
Home: 8-0
Home: 5-3
Away: 2-5-1
Away: 4-3-1
2013 Team Rankings


Pass offense: 8th
Pass defense: 28th
Rush offense: 18th
Rush defense: 11th
Pass defense: 5th
Pass offense: 4th
Rush defense: 5th
Rush offense: 13th
Verdict: Since losing to the Bengals in Week 13, the Chargers have been on a hot streak, winning four straight and beating the Broncos and Chiefs. When you're peaking just in time for the playoffs, that's a very good thing. As for the Bengals, we still haven't seen much of Good Andy Dalton when Cincinnati is playing in a big-time game, and the team hasn't won a playoff game since 1990. So, you can understand why I'll go with the Chargers to cover the spread. Ultimately, I think the Bengals will win but not by much.
Game Four: Packers +3.5 vs. 49ers
Sunday, 4:40 p.m. ET, FOX
2013 Against The Spread
| | |
| --- | --- |
| | |
| Overall: 6-10 | Overall: 10-5-1 |
| Home: 3-5 | Home: 4-4 |
| Away: 3-5 | Away: 6-1-1 |
2013 Team Rankings


Pass offense: 6th
Pass defense: 7th
Rush offense: 7th
Rush defense: 4th
Pass defense: 24th
Pass offense: 29th
Rush defense: 24th
Rush offense: 3rd
Verdict: All week, I've been leaning toward picking the Packers in this game -- mainly because the weather is going to be frostbite cold and because Aaron Rodgers is back -- but the more I think about it, I'm not sure how Green Bay will stop 49ers QB Colin Kaepernick. The Packers didn't last year in the playoffs (Kaepernick threw for 263 yards and two touchdowns while rushing for 181 yards and two more scores), and they didn't in Week 1 of this season (Kaepernick threw for 412 yards and three touchdowns). Maybe Green Bay defensive coordinator Dom Capers has figured out Kaepernick since then. But I doubt it, and that's why I'm going with the 49ers. 

Last week: 1-2 against the spread; 1-3 on prop bets. Overall this year: 25-26 against the spread, 16-18 on prop bets (Two unresolved future prop bets: Dolphins to win the No. 6 postseason seed; Eli Manning to go over 28 interceptions on the season). Last two years: 51-61 against the spread; 50-35-1 on prop bets.
See my picks and all the CBSSports.com experts here.

Follow Josh Katzowitz on Google+
Show Comments
Hide Comments
Jones provided Cowboys tickets and travel accommodations to officers and their families

Romo played DJ at a charity event and got Ezekiel Elliott on stage for 'O.P.P.'

Kaepernick has spent much of his offseason helping others and now supporters will return the...
Beast Mode led a bicycle parade through his hometown and apparently didn't even have to pe...

The NFL won't punish Revis, who remains on the market as a free agent

The NFL is playing the long game on L.A., but it's taking a serious hit in the short term