NFLPA, Uber to provide technology for players who need ride home
The NFLPA has partnered with a company that can provide smartphone technology that hopefully will cut down on the NFL's DUI problem.
• 2 min read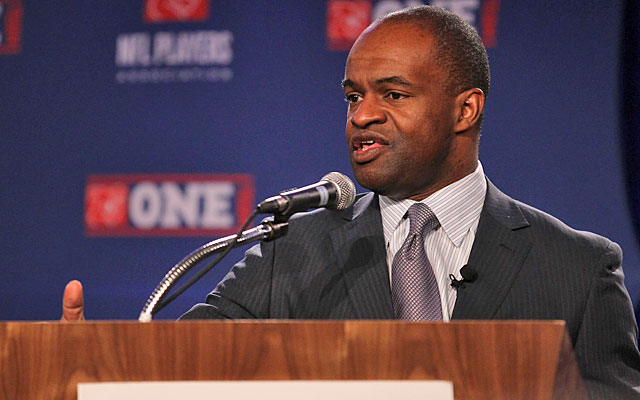 With the spate of DUIs by NFL players continuing to be a problem, the NFLPA has partnered with Uber Technologies to establish a program that will allow players who need a ride home to download an app on their smartphone that would allow them to commute safely.
DeMaurice Smith said in a Wednesday teleconference that the two reasons the NFLPA partnered with Uber was the issue of player and community safety and because Uber brings innovation and easy technology for players to use.
"The goal for us is to change behavior," Smith said. "You have increased enforcement, increased penalties. Obviously last year, we had a tragic accident in Texas [when the car driven by former Cowboys nose tackle Josh Brent was in a car accident that killed Cowboys linebacker Jerry Brown].
"When you start off looking at this, there are dramatic penalties, above what the commissioner can impose on the National Football League. People can be thrown in jail. Anytime you look at changing behavior on a large scale, the only way to change behavior is to use a myriad of vehicles to change that behavior. The partnership with Uber provides players with that quick access to great transportation, but the goal was to look at all the ways we can act to change behavior."
Uber founder and CEO Travis Kalanick said on the conference call that this technology is available in 17 of the 31 NFL cities. Some cities, though, are being held back by various state regulations and the lobbying in those states, Kalanick said.
"Uber prides itself on finding creative solutions to difficult challenges and being able to use our platform to create a safer environment for players and their communities was a natural fit," Kalanick said in a statement. "Many professional athletes love and have used Uber organically so this was a great opportunity to help raise awareness about our technology while helping the NFLPA tackle a serious issue."
As the union explains, "Beginning this month, NFL players will be able to summon a ride in any of Uber's international locations, including nearly 20 U.S. NFL team cities and Pro Bowl host Honolulu. Once a ride is requested via Uber's smartphone app, the software will display the car's location on a map and an Uber will arrive within minutes. … Uber and the NFLPA will distribute personalized keychain cards containing ride credits to every active NFL player. The partnership will also provide players with new rider gift cards for friends and family to promote responsibility to those closest to them."
Here's hoping those players use whatever technology is available to keep them off the roads when they shouldn't be driving.


Follow Josh Katzowitz on Google+
Show Comments
Hide Comments
The Cowboys' draft picks since 2002 have been to 17 more Pro Bowls than the next closest t...

The Cardinals, however, don't sound enthused about his return

According to NFL Network's Michael Silver, the Browns might want to trade up to draft a franchise...
The projected top-20 pick could fall out of the draft with teams having little time to gather...

Bryant will have his progress reviewed again before the coming season

From Jadeveon Clowney to Odell Beckham, here's the option year prognosis for each 2014 first-round...