Nnamdi Asomugha to officially retire as an Oakland Raider
Nnamdi Asomugha is done with football, and he's going out with the same team that drafted him.
by

Eye on Football staff

• 1 min read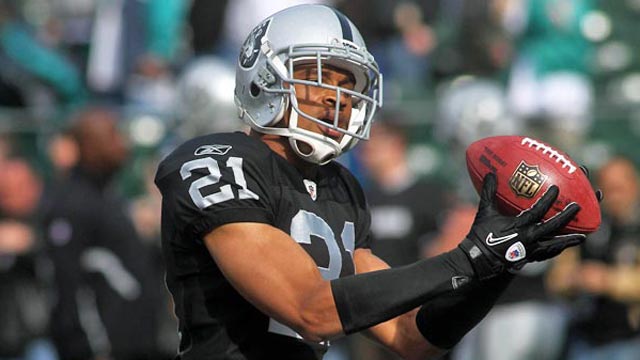 Former Pro Bowl cornerback Nnamdi Asomugha will officially announce his retirement as a member of the Oakland Raiders in a news conference scheduled for Friday.
Asomugha, 32, agreed to a big five-year, $60 million contract with the Eagles in July, 2011. He struggled for two seasons, rarely making an impact, before Philadelphia released him. The 11-year veteran latched on with the San Francisco 49ers this season but only appeared in three games.
Asomugha played eight seasons for the Raiders, who drafted him out of California in the first round of the 2003 draft. He made three straight Pro Bowls from 2008-10 before landing his giant free-agent deal.  He finishes his career with 15 interceptions and 72 passes defended.
For his retirement ceremony he will be accompanied by former Raiders defensive backs Willie Brown, Lester Hayes and Charles Woodson.
While disappointment has been common on the field, Asomugha is doing well for himself off it. He married star actress Kerry Washington this past summer.
Romo supported his former teammate, who has been involved in several off-the-field inciden...

Dez spent $16,000 on barbecue food to throw a party and a kickball game for people in his...

Oher signed a three-year extension with the Panthers last offseason
Harrison is a strong man that loves showing off how strong he is

Simpson drew money from his NFL player pension, which is protected by Nevada laws

Johnson will likely work once again as the primary backup to David Johnson