No tailgating, no limos, no taxis at Super Bowl XLVIII
If you're going to the Super Bowl, chances are you're going to have to deal with a whole bunch of restrictions.
• 2 min read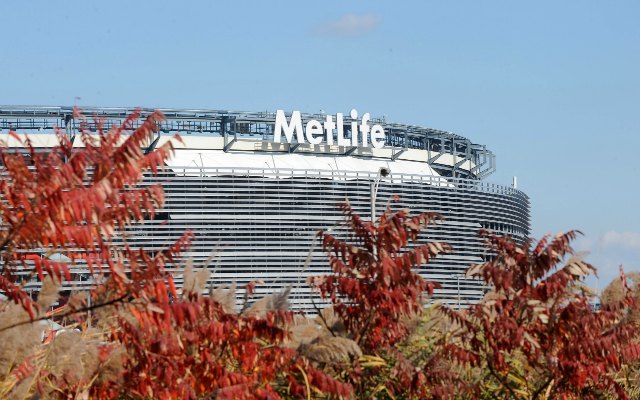 It doesn't matter if you've dropped thousands of dollars on tickets. It doesn't matter if you've traveled 3,000 miles to get there. And it doesn't matter if you offer to shovel the snow that's sure to come to the Meadowlands.
You will not be allowed to tailgate at Super Bowl XLVIII. Unless you literally stay inside your car while you do it.
"You will be allowed to have food in your car and have drink in your car," game committee CEO Al Kelly said during a Monday news conference. "And provided you're in the boundaries of a single parking space, you'll be able to eat or drink right next to your car. However, you're not going to be able to take out a lounge chair, you're not going to be able to take out a grill, and you're not going to be able to take up more than one parking space. And it'll all be watched very carefully."
No word yet on if you can strap your grill to the roof of your car and throw on a couple steaks  and some brats (though, on second thought, if you're using a gas grill, this might not be a great idea).
Oh, and NFL senior vice president of events Frank Supovitz doesn't agree that tailgating is banned.
Contrary 2 reports, there is no ban on TLG8ing at SBXLVIII. Just can't bring grills or take up an empty pkg space.

— Frank Supovitz (@SupEvents) December 9, 2013
I suppose if you consider drinking a beer and eating a ham and swiss sandwich while leaning against your car to be tailgating, well, then, I guess you're allowed to tailgate.
But that's not all. As laid out by ESPN New York, here are some of the things patrons won't be allowed to do.
-Don't even think about hiring a taxi or limo to drop you off at the front gates. If a car doesn't have a parking pass, it won't get near the stadium.
"Nobody's going to be dropped off by black car," Kelly said. "You can have a black car, a green car, a white car, a red car as long as you have parking, and the car needs to stay on the premises the entire time."
Oh and by the way, there are only 13,000 parking spots for the use of fans.
-Don't even think about walking to the Super Bowl either.
"You can get your hotel to drop you off at one of the New Jersey Transit locations or get the shuttle to take you to a Fan Express location, but you cannot walk," Smith said.
-Here's one thing you can do. Take public transportation, or as ESPN New York explains, you can take a charter bus called the Fan Express, "which will cost $51 and pick up and drop off passengers at nine locations around the region."
-If it snows, it's every man for himself. Hunger Games style.
Just kidding about that last one, but if you think it'll be easy to get to the Super Bowl even if there is no snow, well, this post likely is a big disappointment for you.
Follow Josh Katzowitz on Google+
Show Comments
Hide Comments
Our Latest Stories
Washington's John Ross outshines Christian McCaffrey, and the Huskies' defense shows its t...

Here's the latest update on all the Week 4 lines in the NFL

The Bills receiver is going to miss at least eight weeks and possibly the rest of the seas...
The best wide receiver in the game is paying homage to The King

The running back is supposed to get his first action against the Steelers

The Cowboys are going to play it safe with their star receiver, who's dealing with a knee...