NSYNC approves of touchdown dance by Lions TE Joseph Fauria
Lions tight end Joseph Fauria did an end zone dance against the Redskins on Sunday that *NSYNC fans or pop culture enthusiasts might have recognized.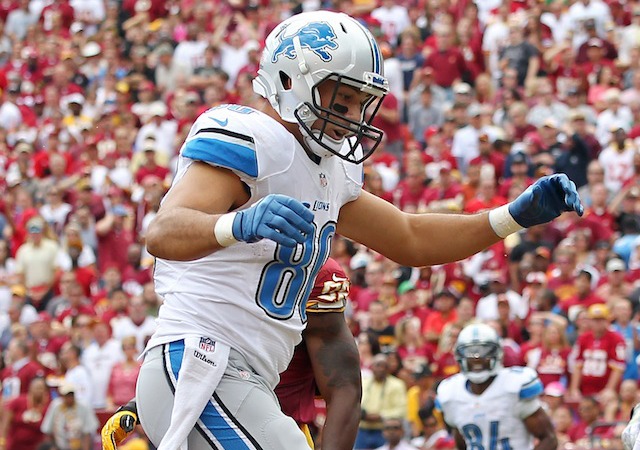 There probably weren't too many *NSYNC fans watching the Lions-Redskins on Sunday, but the ones that were watching may have noticed something slightly familiar in the first half.
After scoring a touchdown in the second quarter of Detroit's 27-20 win over Washington, Lions tight end Joseph Fauria unveiled his best boy band moves in the end zone and did a 'Bye, Bye, Bye' touchdown dance.
If you're unfamiliar with 'Bye, Bye, Bye' -- and I won't blame you if you are -- it's a hit song from *NSYNC that made it to No. 4 on the Billboard Hot 100 in 2000 and was also nominated for a Grammy. 
At least one person was impressed with Fauria's end zone dance: *NSYNC member Joey Fatone. Fatone tweeted to Fauria the day after the game. 
@BigJoeFauria my man !!!! Nice moves !

— Joey Fatone (@realjoeyfatone) September 23, 2013
Now you might be wondering, 'Why in the name of Justin Timberlake did Fauria do an *NSYNC dance in the end zone?' 
Lions quarterback Matthew Stafford has a theory on that one, "I think it had something to do with some late-night show. I think it was [Jimmy] Fallon," Stafford said, via MLive.com. "He and [Justin] Timberlake did a deal, 'The Evolution of the Touchdown Dance.' They said that if anybody copied their move and put it in the end zone, they'd put him on the show. So I think he was going for that."
It seems Stafford and Fauria both know their late night stuff. Fallon and Timberlake did do a skit called 'The Evolution of the Touchdown Dance.' The skit ran on Sept.10 and not only did Fallon offer to put an NFL player on the show if they did one of his dances, but he offered to pay their fines. 
Jimmy challenged NFL players to do one of these this weekend & offered to match their fines/donate them to charity: http://t.co/8PZ4eT9ill

— Late Night (@LateNightJimmy) September 14, 2013
Fauria is obviously aware of Fallon's offer and he seems kind of disappointed his 'Bye, Bye, Bye' end zone dance hasn't been shown on Fallon's show yet. 
Still waiting to hear what @jimmyfallon & @jtimberlake think about my execution of "Bye Bye Bye!" #EndzoneDance http://t.co/Xn2dnreaPt

— Joseph Fauria (@BigJoeFauria) September 23, 2013
Fauria says he has some more end zone dances up his sleeve. If Fauria's going to use one of the dances from Fallon's show, that could mean we see the 'I thought I just saw Aaron Hernandez' dance or the 'Manti Te'o on a date' dance. Both of those were featured on Fallon's Sept. 10 show, which you can see here. 
Show Comments
Hide Comments
The league appears fully prepared if the Browns decide to pull off a few unexpected trades

Jahri Evans is headed to Green Bay after spending 11 seasons in New Orleans

This is the biggest bird statue you'll ever see
Here's everything you need to know about the 2017 NFL Draft

Marshawn Lynch might not ever take off his Raiders' helmet

Where does your team need the most help? Check out this team-by-team breakdown to find out