Officiating crew blows call again, this time in Vikings-Browns game
For the second time in three weeks, referee Bill Leavy's officiating crew made a costly mistake in a game.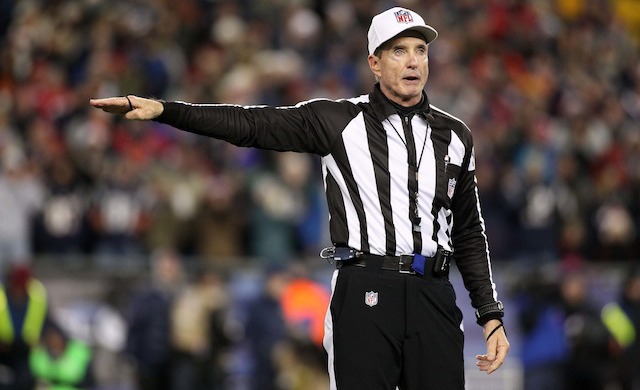 Referee Bill Leavy and his officiating crew may want to brush up on the NFL rulebook before Week 4. For the second time in three week's, Leavy's crew made an errant call in a game. 
During the second quarter of Sunday's game between Cleveland and Minnesota, Browns punt returner Travis Benjamin muffed a punt that Vikings linebacker Larry Dean picked up and returned for a touchdown. However, under NFL rules, muffed punts can't be advanced, so the officials correctly ruled that it would be Vikings ball at Cleveland's 26-yard line. 
That's when things went awry. Vikings coach Leslie Frazier challenged the call, hoping for a touchdown. However, coaches aren't allowed to challenge plays that are automatically reviewed, such as turnovers and touchdowns.
In 2012, the penalty for wrongly challenging a play was a 15-yard unsportsmanlike conduct flag. Lions coach Jim Schwartz was famously hit with this flag in a Thanksgiving game that Detroit ended up losing to Houston in overtime. 
However, the NFL changed the rule after the 2012 season so that a team wouldn't be penalized 15 yards. Instead, a team would just be charged a timeout. So the Vikings should have been charged a timeout, but that didn't happen.
"It turned out to be a muff, which you can't review," Frazier said, via the Associated Press. "Should've been a timeout (taken away), but they walked off 15. Not sure why. But I can't throw the red flag in that situation."
The 15-yard penalty was enforced by Leavy's crew and instead of having the ball first-and-10 at the Cleveland 26, Minnesota was given the ball at the Cleveland 41-yard line, facing a first-and-25.
"A timeout should have been charged instead of a 15-yard penalty," Leavy told a pool reporter after the game. 
"The ruling on the field was that there was no possession by the receiving player," Leavy said. "Therefore, it was a muffed kick and could not be advanced by the kicking team."
The Vikings ended up getting a field goal on the drive, but being 15-yards closer could have made a world of difference because a touchdown would've meant the Vikings finished with four more points in a game they lost by four points. 
Leavy's crew is the same crew that was downgraded after the officiating fiasco that occurred in San Francisco in Week 1. In that game, the NFL acknowledged that Leavy's crew made two incorrect calls. 
---
Follow John Breech on Google+
Show Comments
Hide Comments
The Cowboys' draft picks since 2002 have been to 17 more Pro Bowls than the next closest t...

The Cardinals, however, don't sound enthused about his return

According to NFL Network's Michael Silver, the Browns might want to trade up to draft a franchise...
The projected top-20 pick could fall out of the draft with teams having little time to gather...

Bryant will have his progress reviewed again before the coming season

From Jadeveon Clowney to Odell Beckham, here's the option year prognosis for each 2014 first-round...