One Steelers legend says Calvin Johnson isn't Hall of Fame worthy
Swann bases his argument on team success, which is largely out of Johnson's control.
Lynn Swann is a Hall of Famer. Through his nine-year career, he racked up 336 catches for 5,462 yards and 51 touchdowns. While those numbers may not sound massive, Swann did play in the 1970s, and they were quite good for his era. He was good enough to make the Pro Bowl three times and first-team All-Pro once, while he ranked 12th in both receptions and receiving yards, and third in receiving touchdowns, from 1974 through 1982.
Calvin Johnson reportedly is retiring. Through his nine-year career, he racked up 731 catches for 11,619 yards and 83 touchdowns. Those numbers may sound massive, and they are, even though Johnson played in an era where teams are throwing more than ever. He was good enough to make the Pro Bowl six times and first-team All-Pro thrice, while he ranked seventh in receptions, and first in both receiving yards and reciving touchdowns, from 2007 through 2015.
Still, Swann said he does not think Johnson should join him in the Hall of Fame when he becomes eligible in five years, if he does retire. "Hard to say he's going to be in the Hall of Fame when his team hasn't gotten to a Super Bowl, and they don't get a chance to get into the playoffs," Swann said, per the Detroit News. "And that's for a lot of guys across the board. If he had broken every passing record, like Danny Fouts, who didn't win the Super Bowl, then yeah, I think there's going to be consideration."
Basically, Lynn Swann doesn't think Calvin Johnson should be in the Hall of Fame because Johnson had the misfortune of playing for the Lions. It's a preposterous argument. The amount of impact one player can have on wins and losses is limited in football because players don't play offense and defense. (And even within their own side of the ball, impact is limited because of how interconnected the other 10 guys on the field's performance is to success. Calvin could be the best player of all time and it wouldn't matter if his offensive line couldn't protect the quarterback and the quarterback couldn't deliver an accurate throw.) How many points the Detroit defense allows is something that's almost entirely out of Johnson's control, while at the same time being one of the most important factors in whether the team wins or loses, and thus gets into the playoffs or to the Super Bowl. And during Johnson's career, only one team allowed more points than the Lions. 
Calvin was pretty clearly the best overall wide receiver over the course of the last nine years, and it sure seems like he should get into the Hall eventually, no matter what Swann says.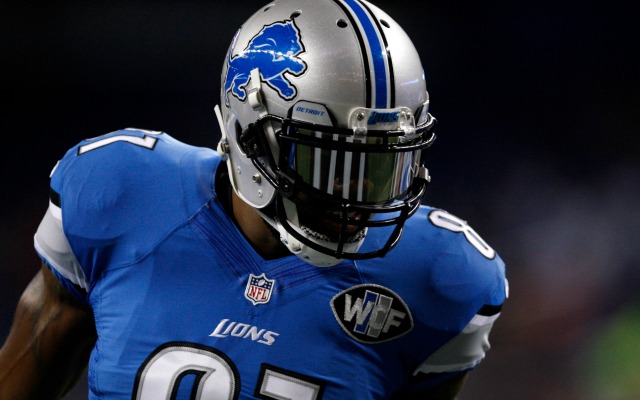 Show Comments
Hide Comments
Our Latest Stories
He just knows it won't be Tom Brady, and that's all that matters

Drew Brees and Matt Ryan might smash some records against two awful defenses

Bryant went to the ground awkwardly in the first quarter against the Bears but returned to...
The undermanned Vikings are relying heavily on their defense and so far it's paying off

Hall left the field during the second quarter of Sunday's win over the Giants

Of all the underachieving division winners from a year ago, Cincinnati is in the most trou...