Owners meetings musings: Cards hosting SB? Arians says they can
The next Super Bowl will be in Arizona, and bold Bruce Arians says the Cardinals could be the first host team. He's not out of line, either.
More NFL offseason: Mock Drafts | Prospect Rankings | Pro Days | Top free agents
ORLANDO, Fla. -- Coaches usually don't like to make bold, brash statements, often hiding behind clichés and coach-speak to avoid any type of attention. That's why it was stunning to hear Arizona Cardinals coach Bruce Arians saying what he said Wednesday morning.
"There's no reason we can't be the first team to play a home Super Bowl," Arians said here at the AFC coaches breakfast at the NFL annual meeting. "Absolutely no reason."
Only that his team plays in the toughest division in football. But I will say this: I don't think Arians is that far off, even with Seattle and San Francisco in the same NFC West division.
The Cardinals finished 2013 at 10­6, but missed the playoffs in Arians' first season as coach, and then watched as the 49ers and Seahawks played in the NFC championship game. Seattle won that, and went on to beat Denver in the Super Bowl with that beating leading many to say the league's two ­best teams were in the NFC West.
So what gives Arians this confidence now? It's how his team performed in two late games against the division foes. The Cardinals went to Seattle in Week 16 and beat the Seahawks 17­-10 in a tough, physical game. The following week they lost 23-20 to the 49ers on the last play of the game after rallying to tie it from 17 down.
It was the Seattle game, the Seahawks' only home loss, which shows where this team is heading. In that game, the Cardinals held Russell Wilson to 108 passing yards with an interception and a passer rating of 49.6. The defense sacked him four times and pressured him a bunch more. The Cardinals were so good on defense that day that they overcame four Carson Palmer interceptions to win.
They bullied the bully.
"That win in Seattle solidified that if you can win there, you can win anywhere," Arians said.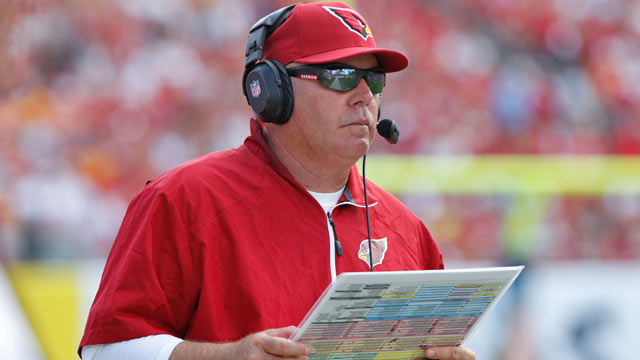 The Cardinals had offensive line issues in 2013, but they signed free­-agent left tackle Jared Veldheer from Oakland and they get back 2013 first-­round pick Jonathan Cooper to play guard. He suffered a season-­ending broken leg in the preseason last summer.
They also added a good man cover player in Antonio Cromartie, whose game was off some with the Jets last season because of a sore hip, as well as more speed with receiver Ted Ginn.
The one thing Arians needs if he wants to win more is for Carson Palmer to cut down on the mistakes. He threw 22 interceptions last season and lost three fumbles while being sacked 41 times.
But with the improved line play, expected growth of 2013 rookie runner Andre Ellington, and Palmer being more comfortable in the system, the offense should be much better.
The defense could be downright nasty. It was a unit that finished seventh in scoring defense and sixth in total defense.
So now we know why Arians isn't afraid of saying his team is good.
"We're there," Arians said. "You still have to go out and win. I am not afraid of saying I expect us to be good."
So do I. Can they become the first team to play a Super Bowl at home? Yes, but in that division it's going to be a long haul to get there. Seattle and San Francisco aren't going anywhere.
More from Orlando
• I thought Jared Allen was all about signing with a contender. He signed a four­-year deal -- really a two-year deal for $15.5 million -- Wednesday with the Bears, a team that missed the playoffs last season. So I guess contender means any team in the league that will pay him (see below) . Allen talked with Seattle, but it sounds like the Seahawks didn't meet his asking price. The Bears cut Julius Peppers and replaced him with Jared Allen, who is 31.
Allen had 11 1/2 sacks last season, but he isn't the player he was a few years ago. One thing he still does that Peppers doesn't is to play hard all the time. But that also takes a toll on the body. The Bears needed him, but they have a long way to go to become a Super Bowl-type defense.
• When Falcons receiver Julio Jones went down in the team's fifth game last season with a broken bone in his foot, he had 41 catches and was on pace for a huge season. His loss impacted Atlanta in a big way. So where is he now? "I think he's ahead of schedule," Falcons coach Mike Smith said. "He has started his running program. We anticipate he'll be ready to go 100 percent at some point here in the offseason. Our No. 1 goal is to have him ready to participate in training camp." Without Jones, the Falcons offense struggled to be what it was in 2012. "Julio is a special receiver," Falcons coach Mike Smith said. "He had 41 catches in five games and was on pace to have a monster season. His skill set it very special. There are very few guys who can do the things he can do."
• The league's owners didn't vote to change the playoffs at this league meeting, but it's coming. Get used to the idea. There will be a seventh playoff team in each conference. I love the idea. It puts more of a premium on the top seed, which will be the only one getting a bye, and it will mean more postseason football. How is that a bad thing? Coming next: 18­-game season. Watch.
• I like the idea of the goalposts going higher to get better views on field goals. But with all the talk about field goals and extra points, here's an idea: Eliminate special teams. It would make the game a lot safer.
• Ron Rivera is right: Steve Smith has slowed down. He isn't close to being the same big­-play threat he used to be. But he will help the Ravens, who have a deep threat in Torrey Smith. At least Rivera was honest.
• Talked to one general manager here who isn't sold on Texas A&M receiver Mike Evans. "I don't see a top­end speed guy," the GM said. Evans will work out with Johnny Manziel on Thursday in College Station at their pro day.
• So the Eagles would trade guard Evan Mathis? Why? He's coming off his best season and I doubt there would be much of a trade market higher than a fourth-­round pick.
Show Comments
Hide Comments
The Notre Dame coach clarifies his earlier comments about his former quarterback

The Cowboys owner says he's better now than ever

Sometimes it's hard to figure out what the Bills are doing
Peterson would join a formidable backfield that includes Mark Ingram and, of course, Drew...

John Schneider has a simple rule: He doesn't like lying to people

Kizer, the former Notre Dame standout, is one of the top QBs in the draft class