Ozzie Newsome: 'Ray Rice still a big part of what we plan to do in 2014'
Despite his arrest on Friday, it appears that Ray Rice's spot on the Ravens squad is not in jeopardy.
• 1 min read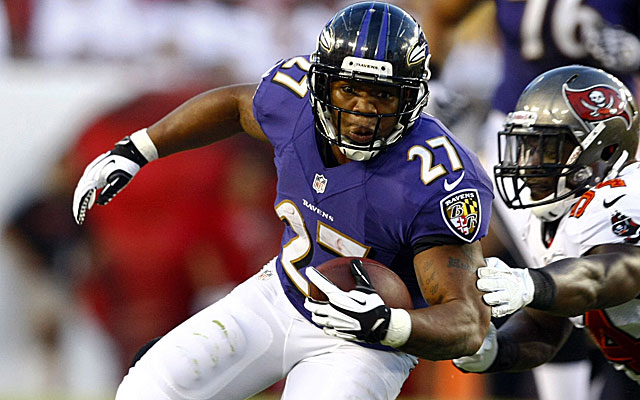 After he was involved in what his attorneys are calling a "very minor physical altercation" with his fiancée, Ravens running back Ray Rice was arrested Friday night in Atlantic City and charged with simple assault-domestic violence (as was his fiancée, Jenay Palmer).
On Monday, Baltimore general manager Ozzie Newsome met with coach John Harbaugh and other team officials, and Newsome told reporters, via the Baltimore Sun, the team still had Rice in its plans moving forward toward the 2014 season.
"When I left my office 20 minutes ago, and John had probably been there 15 minutes before then, Ray Rice was still a big part of what we plan to do in 2014," Newsome said.
Newsome said he hadn't talked to Rice since the arrest but that he planned to do so soon. According to the police complaint, Rice and Palmer were seen striking each other with their hands. Both declined medical treatment at the scene.
"I don't know the situation," Newsome said. "I've only gotten what has been written. I have not had a chance to talk to Ray. I have had a chance to talk to [director of team security] Darren [Sanders]. I really don't know that situation. With me, I get all the answers. Then that's when we make decisions within this organization, once we get all the information we can get."
After five straight seasons of gaining at least 1,140 yards, Rice had the worst year of his career in 2013, recording 660 yards on a 3.1 yards per carry average to go with four touchdowns.
Show Comments
Hide Comments
Our Latest Stories
Four teams in all find their quarterbacks of the future in this updated mock draft

The 49ers receiver is not the only person taking the NFL to task for its handling of Josh...

The team believes Brown's hamstring issues were actually the result of his sickle-cell tra...
Beckham took off his helmet after scoring and now has to give the NFL some money back

Suh has a history of skirting the line of dirty play but won't draw a fine this time

The sheriff in King County, Washington took exception to being blamed for a lack of eviden...