Packers LB Clay Matthews could return in Week 10 vs. Eagles
Packers linebacker Clay Matthews could return to the lineup after missing Green Bay's past four games with a broken thumb.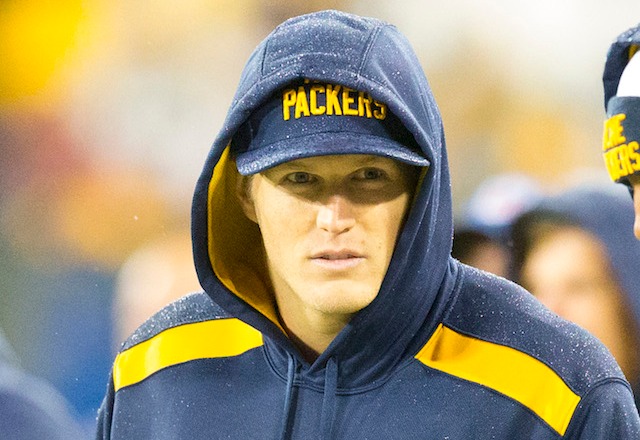 The Packers won't have offensive leader Aaron Rodgers on Sunday, but they could get back one of their defensive leaders. Linebacker Clay Matthews, who hasn't played since breaking his thumb against the Lions in Week 5, wants to play against the Eagles. 
"Obviously it's going to be coach's decision, but you know, I'd like to be out there. As to what extent, I don't know," Matthews said on Thursday, via ESPNWisconsin.com. "I've just got to get used to playing a little more with one hand and obviously being comfortable with throwing it in there. I'm taking baby steps in coming back to practice [on Wednesday] and today, trying to get a few more reps, and become more comfortable throwing it in there when it's live action."
If Matthews is going to play on Sunday, he'll have to do it with a club on his hand to protect his injured thumb. "I've been in a cast before for games but not a club, so we'll see come Sunday," Matthews said. 
Playing linebacker in the NFL with only one healthy hand isn't easy, according to Matthews. "I feel like in my position, obviously, you need to have great hands, and when you take one away, it definitely hinders your game a little bit," he said. "You just try to use it as much as you can [as] a normal hand, sticking it in there and being comfortable with it. I'm more comfortable than I was [Wednesday] but I need to continue to be able to stick it in there a little bit more."
The Packers still have one more practice on Friday, which gives Matthews another day to get used to his clubbed hand, "Hopefully by the time Sunday rolls around it will be as if playing with two hands, just one is clubbed up," Matthews said. 
Green Bay could also have linebacker Nick Perry back on Sunday too. Perry broke his foot in Week 6 against the Ravens and finally returned to practice this week. "I'm hoping Nick can go this week," coach Mike McCarthy said. 
The Packers will need all the defense they have on Sunday against Philadelphia. The Eagles will be bringing the NFL's fourth-ranked offense to Lambeau Field. 
Show Comments
Hide Comments
Our Latest Stories
The Gronkowskis are about to have a mini-family reunion in New England

Kaepernick's protest isn't going over so well in some parts of the country

Bradshaw seems to be a big fan of Dak Prescott
The bye week looks like it's going pretty well for Carson Wentz, but not so well for this...

The Redskins corner is probably going to want to get out his checkbook

The Stanford star could stay in the Bay Area and would add another dimension to the Oakland...