Packers OL Josh Sitton rips Jim Schwartz, calls Lions D 'scumbags'
Packers offensive lineman Josh Sitton didn't have anything nice to say about the Lions defense on Tuesday, In a radio interview, Sitton said the defense is a 'bunch of dirtbags' who 'take cheap shots.'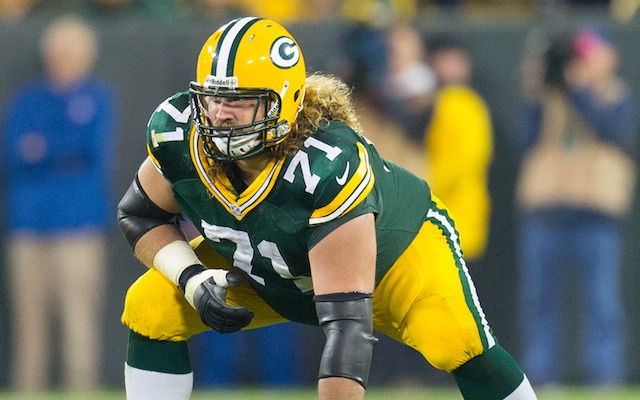 Sometimes NFL players decide to take their filters off and say what they really think and one of those times was Tuesday when Packers offensive lineman Josh Sitton went on radio in Milwaukee and called the Lions 'scumbags.'
During an interview with WSSP-AM, Sitton didn't hold anything back as he took jabs at the Lions defense, the Lions defensive coordinator and even Lions coach Jim Schwartz. It all started when Sitton was asked if he thought the Detroit defense would try and take out Aaron Rodgers if Rodgers were to suit up and play on Thursday. Rodgers isn't expected to play. 
"Absolutely. They go after quarterbacks, their entire defense takes cheap shots all the time. That's what they do, that's who they are," Sitton said. "They're a bunch of dirtbags or scumbags. That's just how they play. That's how they're coached."
Sitton didn't stop there either, he also had some choice words for Schwartz, defensive coordinator Gunther Cunningham and even Lions defensive line coach Kris Kocurek.
"That starts with their frickin' coach. That starts with their head coach, Schwartz. He's a dick, too," Sitton said. "I wouldn't want to play for him. It starts with him and their D-coordinator and their D-line coach. They're all just scumbags and so are the D-line."
The Lions defensive line is made up of starters Ndamukong Suh Nick Fairley and Willie Young, three guys that Sitton will see a lot of on Thursday as the Packers starting left guard.
Complaining about the Lions defense has been a popular thing to do this month. In mid-November, Bears wide receiver Brandon Marshall said that the Lions defense plays 'borderline illegal.' Marshall also added that their style of play is 'kind of disgusting.'
Of course, Marshall made his comments after the Bears played the Lions for a second time, meaning he knew he most likely wouldn't be seeing Detroit on the field again until 2014. Sitton's comments come two days before the Packers play the Lions in a huge NFC North showdown. Here's guessing he probably won't be shaking hands with anyone on the Lions defense after the game. Or before the game. Or anytime. 
Show Comments
Hide Comments
Sometimes it's hard to figure out what the Bills are doing

Peterson would join a formidable backfield that includes Mark Ingram and, of course, Drew...

John Schneider has a simple rule: He doesn't like lying to people
Kizer, the former Notre Dame standout, is one of the top QBs in the draft class

Can the Browns get it right? Can the Cowboys and Raiders build dynasties?

The versatile safety/linebacker could slip out of the first round