Packers QB Aaron Rodgers pulls off Christmas photobomb
Aaron Rodgers isn't just a good quarterback, he also has another unique talent: Photobombing.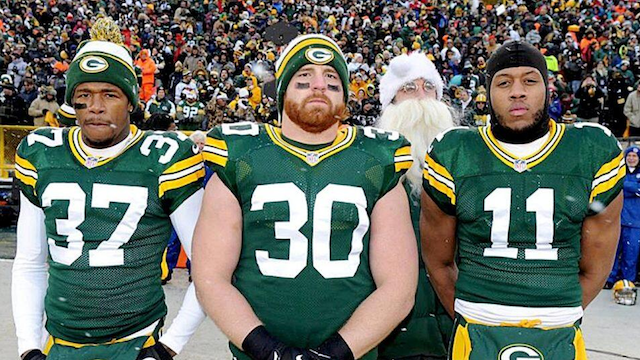 Aaron Rodgers didn't invent the photobomb, but he seems to have perfected it. The Packers quarterback didn't suit up for Sunday's game agains the Steelers -- actually, he did suit up, he just wasn't wearing a Packers uniform. 
Just before the coin toss, Rodgers slipped into a holiday-themed disguise and photobombed Green Bay's team captains. Rodgers is the guy in the photo above who isn't Sam Shields, John Kuhn or Jarrett Boykin. 
Rodgers has photobombed his teammates so many times that there's a site devoted to Rodgers photobombing people. That's right. An entire website devoted to one thing and that one thing is Aaron Rodgers doing things that sometimes involve muppets.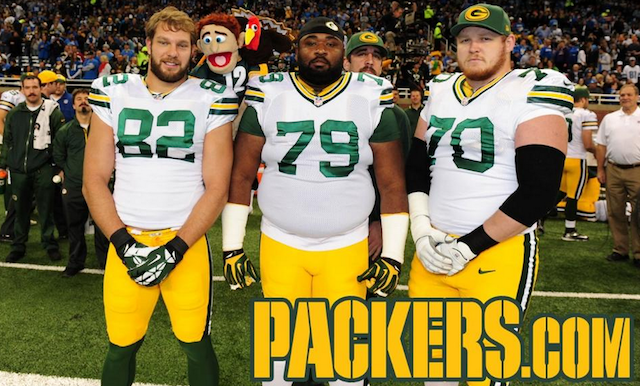 Show Comments
Hide Comments
Our Latest Stories
Packers cornerback Makinton Darleant is also charged in incident early Sunday morning

Panthers owner Jerry Richardson won't be in attendance as he continues to battle health is...

The Raiders vote is expected as early as Monday, and 'pace of play' is also high up on the...
Translation: The Browns want to upgrade at the quarterback position

Oher missed the final 13 games of the 2016 season

The new Packers tight end says he was inspired by his brother, Seahawks defensive end Michael...