Packers RB DuJuan Harris had surgery to remove fist-sized cyst
After discovering a fist-sized cyst in his lung, Packers running back DuJuan Harris underwent surgery Tuesday to get it removed.
• 1 min read
When Packers running back DuJuan Harris underwent his team physical Monday, he probably didn't get the results he expected. Instead, this is what happened.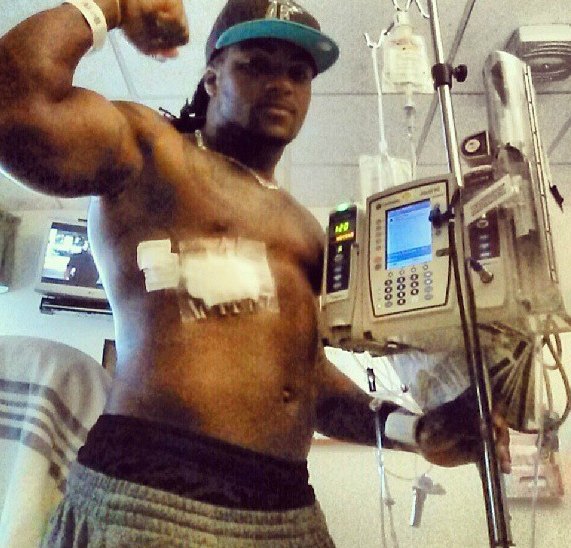 DuJuan Harris had to undergo unexected surgery. (Instagram/ol_sly_foxx)

Yes, that's an incision underneath Harris' right pectoral, and it's patched up because he had to undergo surgery Tuesday to drain and remove a fist-sized cyst from his lung that the Packers medical staff discovered.
"Thank God for team physicals!!!" Harris tweeted Wednesday.
As the Associated Press points out, the cyst was not cancerous, and though he'll need to let the incision heal, Harris, who rushed for 157 yards and two touchdowns in four games for Green Bay last season, is expected to be back by training camp.
More from the AP:
The cyst, which doctors believe Harris has had his entire life, was pressing on his lung, reducing its capacity, [Harris' agent, Dave] Lee said. After doctors discovered it, Harris told them he'd occasionally felt pressure in his chest, but assumed it was indigestion.

Now that it's been removed, Harris will have full lung capacity.

"The good news is, it might help him in the long run," said Lee. "He should be able to have more endurance. I'm not going to say he'll be quicker, but he could last a few more plays. That's the silver lining of it: He's actually going to come out physically in better shape than when he went into the surgery."
As for Harris' reaction to coming home after surgery, he dispensed some pretty good advice on his Twitter account.
"EVERYTHING IS FINE, dr.s found a fist sized cyst on my lung next to my heart. Shows the importance of getting routine check-ups, GET YOURS!"
According to a police report, he faces six years in jail and/or a $10,000 fine

Floyd has claimed that he failed the test due to drinking too much kombucha
Fairley will miss the season due to a heart condition, and his career is in jeopardy

The Chiefs went 43-21 under Dorsey's guidance

He definitely doesn't skip leg day