Panthers LB Luke Kuechly has mastered the body slam tackle
The NFL might have to make body slam tackles an official stat if Luke Kuechly's new tackling style catches on.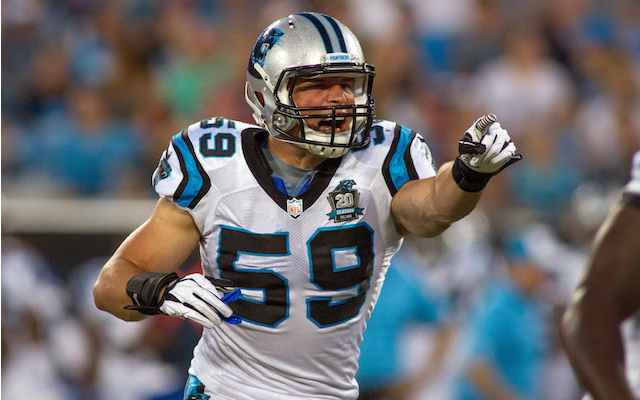 If anyone needed any reminder why Luke Kuechly was voted NFL defensive player of the year last season, the Panthers linebacker gave us that reminder on Friday. 
On a first-and-10 play from the Patriots 49-yard line, New England quarterback Ryan Mallett handed the ball off to Stevan Ridley -- and then this happened. 
Luke Kuechly has been working out. http://t.co/ymrs3eU592

— SB Nation GIF (@SBNationGIF) August 23, 2014
That is Kuechly stopping Ridley dead in his tracks and then slamming him to the ground. This is probably Kuechly's way of telling us that he's going to be winning a few more defensive player of the year awards. 
Show Comments
Hide Comments
The Notre Dame coach clarifies his earlier comments about his former quarterback

The Cowboys owner says he's better now than ever

Sometimes it's hard to figure out what the Bills are doing
Peterson would join a formidable backfield that includes Mark Ingram and, of course, Drew...

John Schneider has a simple rule: He doesn't like lying to people

Kizer, the former Notre Dame standout, is one of the top QBs in the draft class