Panthers overcome 'tight butts' to beat Seahawks: 11 things to know
The Panthers started hot and overcame a couple of 'tight butts' to win on Sunday.
CHARLOTTE, N.C. -- A 31-point lead never felt less safe. Despite strolling up to the Seahawks in front of the entire cafeteria, shoving them down and stealing their lunch money, the Panthers -- in all their tight-butted glory -- nearly gave away an opportunity to host the first-ever NFC Championship Game at Bank of America Stadium. 
The Seahawks, the NFL's most notorious playoff zombies, weren't interested in rolling over despite the historic deficit. 
Holding a lead is hard, and Charlotte nearly found out in the most painful way possible, with Seattle climbing within a touchdown and squeezing the seats of everyone in attendance. 
"We needed a little bit more of [good execution] in the second half. A lot of guys playing with their butts tight," Cam Newton said. "Coaches with their butts tight. At one point, fans and myself with our butts tight too. You've got to find ways to get your groove back on."
Cam and Co. never started grooving, per se, but they did do enough to win the game, successfully stymieing an attempted rally from Seattle with a goal line stand and an onsides recovery from the perpetually underrated Thomas Davis. 
But the game really shouldn't be about Carolina coming close to coughing up a 31-point lead. After all, you can't lose a 31-point lead if you didn't have a 31-point lead in the first place. And Carolina's first half was something to behold from a 15-1 team that somehow provided an endless chip on its shoulder because no one believes in them.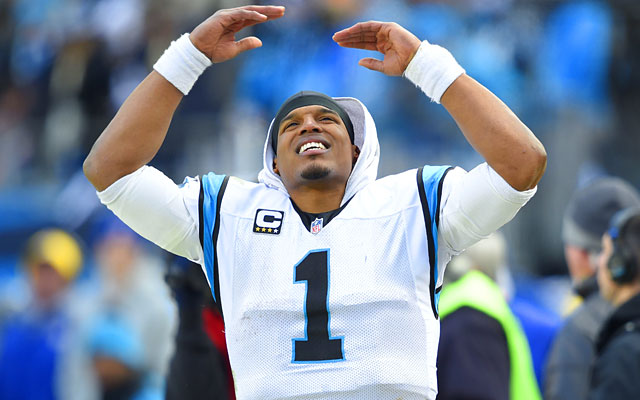 "We ain't proved nothing. We already knew how we would have played," Newton said. "This time we're just trying to get cool points from you guys. We know you guys didn't pick us. We don't play for you guys."
He wasn't being rude. He was just echoing what you hear from the entire locker room. The entire Panthers roster is convinced the country doesn't think the Panthers are any good. Running back Mike Tolbert got a little testy about all the media showing up for this game when they weren't in Charlotte all season long. 
This is where I could point out to Tolbert that it's the playoffs -- not quite as many options. Or that Raleigh is really far away from Charlotte. Or that you can't have it both ways, getting mad when no one cares and getting more mad when everyone cares.
But this team doesn't really care if anyone's picking them. In their mind, no one's buying Carolina. Even though they were installed as a 4-point favorite of the NFC Championship Game at HALFTIME Sunday, the Panthers are convinced the world looks at them as the underdog, a playoff party crasher unworthy of the biggest scene the NFL can offer. 
Are the second-half struggles a concern? Sure, especially with the number of comebacks Carolina coughed up this year: to the Colts at home on Monday night, the Packers at home, the Giants on the road and Seattle during the playoffs. But it's also a byproduct of the way the game is played in 2016 and going against good offenses. 
"That is a part of the nature of the game, especially when you get that kind of lead against a good offense," Ron Rivera said. "You look at who all those came against, and those came against very good quarterbacks who were able to do things against us. Part of it is when you get a big lead like that, one of the things you have to do is learn not to relax. You have to learn to continue to attack."
Carolina didn't do that. Anyone saying the Panthers were just as aggressive in the second half is fooling themselves. But maybe it'll give the world an excuse to question their legitimacy again. Which is exactly what they want. It's a vicious cycle playing right into the Panthers' hands.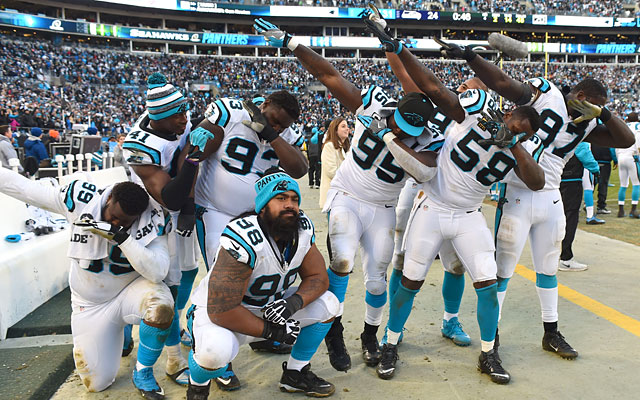 Here are several more takeaways from the Panthers' 31-24 win Sunday:
2. Seattle felt like they would win: Newton talked about tight butts and it's easy to understand how people were tensed up. It felt like, with Carolina leading by 10, they were basically tied. It's obviously not the case but there was almost never a question about Seattle getting some kind of shot to possess the ball down one score. 
Seattle clearly felt it was about to win the game as well.
"If we had one more drive, we would have won it we felt like," Russell Wilson said.
Safety Earl Thomas echoed the sense pervading the entire stadium. The momentum shifted and if Carolina didn't recover the onside kick, it was in a major-league danger zone.
"I felt like this: if we would have gotten it to overtime, I was just thinking, 'Overtime, overtime … it's over,'" Thomas said.
3. Speaking of the onside kick: Panthers tight end Greg Olsen said the hands team spent Saturday night watching the infamous onside kick the Seahawks recovered against the Packers in last year's NFC Championship Game. And they used that tape to plan for Sunday's game, setting up just a single guy to recover the ball while everyone else blocked.
Thomas Davis did his job, snaring the onside kick (because of course it was Thomas Davis, the guy Newton called the "sweetheart of Charlotte") and successfully ending the game. 
4. Emotions running high: It wasn't difficult to see the momentum shift following halftime for the Panthers. With Seattle starting to put up points and Carolina unable to move the ball the way they did in the first half, Cam and the Panthers embarked on a drive, up 31-14, to try and ice the game. 
But as Carolina started to march a little bit, they stalled out near midfield, with Newton being forced to use a timeout on a critical third down. He was not happy.
The next play was a disaster too, with Newton losing 5 yards on a busted scramble. The Panthers were pretty tight, needless to say. 
5. Broken streak: Jonathan Stewart kicked off the party with a 59-yard rush on the Panthers' first play from scrimmage and later scored a touchdown on the same drive. He'd eventually end the day with 106 rushing yards on 19 carries,  the first running back with more than 100 yards against the Seattle defense since Jamaal Charles in November 2014. 
The Seahawks didn't sound particularly thrilled about giving up the streak.
"A lot of that came from that first play, which was just a mistake," Richard Sherman said.
Or maybe just annoyed at the idea of it being a part of a struggle-worthy day on defense. 
6. Rise and shine: The Seahawks kicked off at 10 a.m. PT for the second-straight week and more than a few people questioned whether they were getting a raw deal from the NFL for having to travel and play early, with other East Coast teams available for the 1 p.m. Sunday slot.
Give it a rest. No one on Seattle would ever make that excuse and it's part of the whole "reward the higher seed" idea in the NFL. Carolina gets to play at its "normal" time because it won its division and secured the No. 1 overall seed. The Broncos and Panthers were the tops in their respective conferences and got an extra day of rest before the divisional round. They lose a day on the conference championship week but they also don't have to travel.
If Seattle doesn't want to play at 10 a.m., it can win its division. The Seahawks would tell you the same thing. 
7. Tale of two halves: Carolina's 31-point lead was enough to hold up. But goodness they didn't look aggressive. Again, don't let anyone tell you they just played their normal game. 
Just look at their drive chart from the first half:
And then their drive chart from the second half:
Credit Seattle for stepping up and stuffing the run. Credit Seattle for being more aggressive. But Carolina played the second half trying to play, as Cam Newton said, "keep away."  
"The time was against those guys. A lot of plays were eliminated due to our philosophy was just to play keep away," Newton said. "We don't have to take shots down field nor do we have to come up with this guru of a play call." 
Anyone being realistic knows it could've cost them.
8. Fashion forward: Cam didn't rock the foxtail on Sunday (boo) but he did show up with a really impressive poof-ball hat! 
Marvelous poofball hat for Cam Newton though pic.twitter.com/UXMKdJHihj

— Will Brinson (@WillBrinson) January 17, 2016
9. Disappointing season: Everyone in the NFL will tell you a season is a disappointment if it doesn't end in a Super Bowl victory. Few teams can actually legitimately claim that year after year. The Seahawks are one of those teams and it came across when you hear them talking about coming up short.
"For me personally, if we don't win the Super Bowl it's not a success," Sherman said. "We fought hard and played our butts off, but we lost."
Russell Wilson agreed wholeheartedly.
"I think, yeah, it's true. Anytime you don't win it, and you don't win it all, it's a disappointment," Wilson said. "I don't think it's a useless year. I think you can use it for positive growth for the next opportunity, the next experience." 
10. One massive play: Every freaking week Luke Kuechly shows up in ways he shouldn't be showing up. Just a middle linebacker making a rangy play on a pass way down the field to help save the day. No big deal. 
Huge play. #SEAvsCAR pic.twitter.com/YJw3GDqVAr

— NFL Network (@nflnetwork) January 17, 2016
Luke says NOPE ? #SEAvsCAR pic.twitter.com/38EeG2CCEF

— NFL Network (@nflnetwork) January 17, 2016
11. What's next: The Panthers (-4) host the Cardinals in the NFC Championship Game, the Cards' second-straight trip to Bank of America Stadium for a playoff game, losing in the opening round last year with Ryan Lindley under center.
Show Comments
Hide Comments
Our Latest Stories
Davis is a former first-round pick

The Cowboys lineman reportedly has a torn ligament in his right foot

Ryan gets another shot to beat Belichick when the Bills and Patriots face off Sunday on C...
Ben McAdoo wants his star wideout to focus his energy on the game, not kicking nets

The ex-Cowboys DE is charged with possession of a controlled substance

Three days after being released, the Jets claim the tight end off waivers