Panthers place franchise tag on DE Greg Hardy
The Panthers told Greg Hardy that he'll get the franchise tag.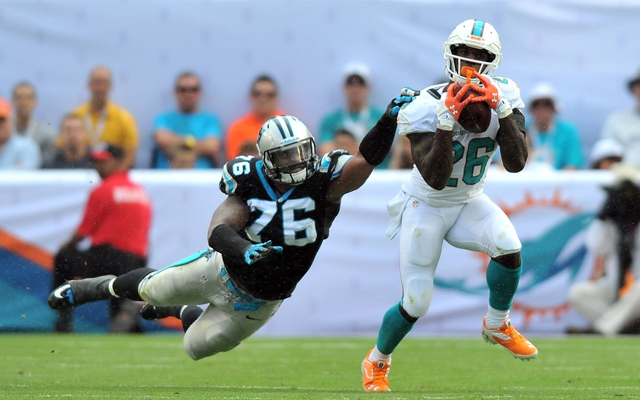 More NFL offseason: NFL Mock Drafts | Prospect Rankings | Top free agents
The Kraken isn't going to get loose on the free agent market just yet. The Panthers have informed defensive end Greg Hardy they'll use the franchise tag on him, the team announced Friday.
Hardy was slated to be a free agent after this season, but there's no way the Panthers were going to let him stroll into the open market. He's a dynamic defensive end, he's coming into his own as a player, he's just 25 years old and he was a big part of the reason the Panthers defense became so dominant last year.
"We are very pleased that Greg will be back with the Panthers next season," Ron Rivera said. "He was a big reason we were able to lead the league in sacks last year and keeps our defensive line intact."


Under the tag, Hardy will get a one-year, fully-guaranteed contract worth somewhere in the $12 million range, depending on where the salary cap ends up settling.
Carolina is already short on money when it comes to the salary cap so it's unlikely they want to pay Hardy the full $12 million this season. Instead, they'll likely either a) trade him or b) work out a new deal.
The latter seems much more likely (and is the real spirit behind the tag). The Panthers will have until July 15 at 4 p.m. ET to negotiate a new contract with Hardy, otherwise nothing can be worked out until after the 2014 season. (Hardy could also receive a second franchise tag, although the price gets pretty prohibitive when that starts happening.)
"The franchise mechanism gives us time to secure the services of a very good player while we continue to look at the future of Greg with the Carolina Panthers," GM Dave Gettleman said. "We have had great dialogue with both Greg and his agent. It was important to keep our defensive front together."
Hardy's going to command a bunch of money. His defensive end partner in crime, Charles Johnson signed a $76 million deal with Carolina once the lockout ended. You can imagine that Hardy, who's represented by the same agent in Drew Rosenhaus, would look at that as a starting point. 
It may be unrealistic but Carolina set the market. Unfortunately for Dave Gettleman, he's not the guy who picked the price of his original defensive end. He is, however, the guy who has to work cap magic in order to get Hardy under contract.
Hardy, a sixth-round pick out of Ole Miss in 2010, finished the 2013 season with 15 sacks, giving him 26 over the last two years.
The HOF will not stop the Juice from showing up at the ceremony to honor the new inductees

Raiders fans are probably going to be jealous of Tiger's pool table

The Juice isn't quite loose yet
Dallas receiver's offseason ends on a rocky note

Someone in America actually thinks the Jaguars will be going to the Super Bowl

The 36-year-old receiver is one of the biggest names left on the free agent market