Panthers release longtime DE Charles Johnson, save $11M against the cap
Johnson has been with the Panthers since 2007 and is second on the team's all-time sacks list.
Charles Johnson has been a good player for the Carolina Panthers for a long time. He was selected in the third round of the 2007 draft and, after an initial season that saw him play sparingly (2 of 16 games), he missed only 13 games over the next eight years. He has been a full-time starter since 2010, but his time with the team is now up. The Panthers announced Tuesday they have released the veteran defensive end. 
GM Dave Gettleman: "His statistics speak for themselves, and as a team captain he led the way you want your leaders to lead – by example."

— Max Henson (@PanthersMax) March 3, 2016
Johnson racked up 63.5 sacks in his nine seasons with Carolina, second-most in the history of the Panthers franchise. From 2010 to 2014, he totaled 52.5 of those sacks, which tied with Tamba Hali for the fifth-highest total in the NFL during that time period. Teaming first with Julius Peppers and then with Greg Hardy, Johnson was part of one of the strongest pass-rushing defensive end combos in the league for a while, and he was also an excellent run defender.
But his game has begun to slip the last few seasons as he has moved into his late 20s. Johnson's sack total has dropped from 12.5 in 2012, to 11.0 to 8.5 to finally to just 1.0 this year. He missed seven games due to injury this season, but he was still not quite as productive while on the field as he was in years past.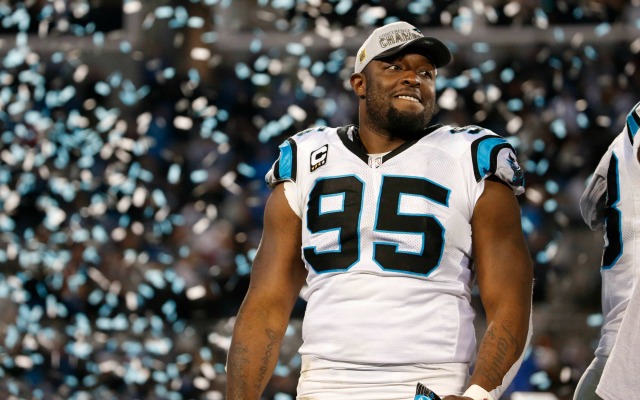 It just did not make financial sense for the Panthers to bring him back for the 2016 season at his cap figure. As it stands, he will count for just over $4 million on the cap in dead money, while the Panthers will save nearly $11 million by ditching his large base salary. The Panthers now have just over $21 million in cap space heading into free agency, per Spotrac. One would assume that offensive line and wide receiver will be priority positions, but that was also the assumption last year and things did not work out that way. GM Dave Gettleman has earned the benefit of the doubt at this point, so it will be interesting to see how he allots that cash.
As for Johnson, he seems likely to catch on somewhere else. Pass-rush needy teams looking for a flier on a proven player could do worse. The Cowboys, Giants, Lions, and Rams spring to mind as potential fits, and the Dolphins could be interested as well if someone signs Olivier Vernon away from them. He's not going to be the top rusher on the market, but Johnson should find a home eventually.
Show Comments
Hide Comments
Our Latest Stories
The Saints couldn't buy a stop and ended up falling 45-32 to the Falcons

Jones, who survived Katrina, races 90 yards for a TD to all but seal a win for the Falcons

The Falcons running game is becoming difficult to predict
The Cowboys could have landed Josh McCown for Ron Leary but stood pat with Dak Prescott

Players and coaches from both teams come together at midfield to hold hands

The 49ers don't provide an explanation in statement announcing the move