Panthers' Steve Smith downgrades himself from 71 to 57 percent
Panthers wide receiver Steve Smith downgraded himself on Thursday. One day after saying his knee was 71 percent, Smith says it's now 57 percent.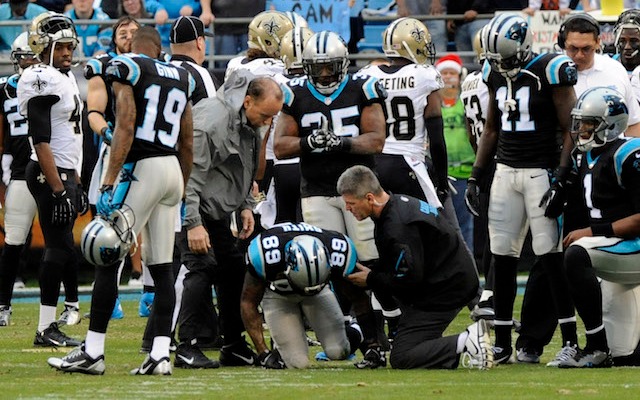 Earlier this week, Carolina wide receiver Steve Smith made it clear that he's going to play on Sunday in the Panthers divisional playoff game against the 49ers. What's not clear though is how healthy Smith is going to be when he takes the field. 
After practice on Wednesday, Smith said that his injured knee was feeling about '71 percent.' The last 24 hours must have been rough on Smith though, because after practice on Thursday, the Panthers wide receiver said his knee was feeling 57 percent. "It didn't go as well as I thought it would," Smith said of Thursday's practice, via ESPN.com. "It will be all right. A little treatment. I did everything. I just probably overdid it."
Smith was then asked if he felt like Thursday's practice was a setback, "If we're on a curve, no," Smith said. "If we're on a curving grading system there is no setback. If there's no curve then it's a setback." 
You can try and decipher that one yourself. 
Smith strained his PCL in Week 16 and ended up sitting out the Panthers regular season finale on Dec. 29. The Panthers all-time leading receiver then got an extra week of rest thanks to Carolina's first-round bye in the playoffs. Thursday's practice marked the 18th day since Smith's injury. 
Panther coach Ron Rivera was also asked what he thought Smith's health was following Thursday's practice. "Fifty-seven percent," Rivera said. "That's what he told me. But he looked good. He moved around pretty well. He's not his normal self yet, but he was out there. He did things he was supposed to do. We'll see how he feels tomorrow. He came in and felt a little sore."
It's hard to imagine any scenario where Smith doesn't play on Sunday, mainly because it's been awhile since he's got a chance to play in the postseason. The Panthers game against San Francisco will be Carolina's first playoff game in five years.
Show Comments
Hide Comments
Our Latest Stories
Can the Cowboys win without Romo and Bryant in the lineup? That will likely be answered Su...

Kelly has defended Kaepernick's right to protest during the national anthem

The Bengals can't afford to fall to 1-3 if they hope to return to the playoffs for a sixth...
Mike Tolbert pays his debts, even if he considers the services rendered less than exemplar...

The Patriots are going to hammer the Bills and four underdogs to win outright

Bryant has a hairline fracture on one of the bones in his knee and it's unclear if he will...