Pat Summerall, NFL broadcasting icon, dies at age of 82
Pat Summerall, the legendary NFL play-by-play man who worked a record 16 Super Bowls, has died at the age of 82.
• 4 min read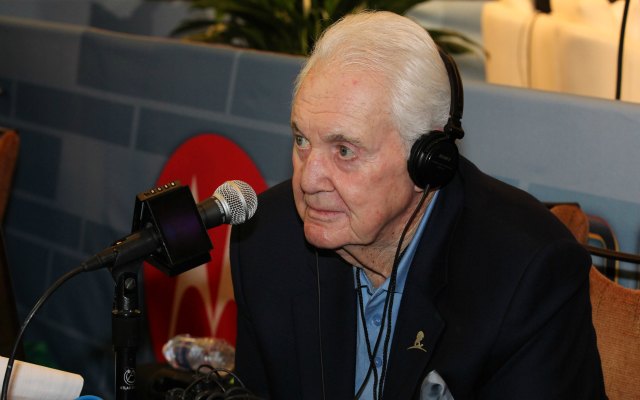 Pat Summerall, the legendary NFL play-by-play man who worked a record 16 Super Bowls, has died at the age of 82 from cardiac arrest.
He began working for CBS in 1961 and stayed there for 31 years before moving to Fox for the final eight years of his career.
Summerall spent much of his time honing a fantastic chemistry with the most famous football analyst ever, John Madden, and tributes have begun pouring in on social media from those who associate Summerall with the big-time football games of their youth.
Summerall worked his final Super Bowl in 2002 and then retired from the broadcast booth.
Here's a quick taste of Summerall's talent on the mic. Skip to the 43-second mark of this Cowboys-Dolphins game from 1996 in which Summerall and Madden discuss Burt Reynolds and his football talents. (Soon after, there's a cameo by current Cowboys coach Jason Garrett when he was a clipboard-carrying backup quarterback.):



(H/T to Aaron Nagler for the video)
Before he was an iconic broadcaster, Summerall played a variety of positions at the University of Arkansas, but he was good enough at place-kicking to spend 10 years at that spot in the NFL, playing with the Lions, Chicago Cardinals and Giants. He also spent a little time playing defensive end for the Cardinals in 1956-57.


 
0-19
20-29
30-39
40-49
50+
Tot
 
Year
Tm
Pos
FGA
FGM
FGA
FGM
FGA
FGM
FGA
FGM
FGA
FGM
FGA
FGM
FG%
1952
DET
 
 
 
 
 
 
 
 
 
 
 
 
 
 
1953
CRD
K
 
 
 
 
 
 
 
 
 
 
24
9
37.5%
1954
CRD
K
 
 
 
 
 
 
 
 
 
 
18
8
44.4%
1955
CRD
K
 
 
 
 
 
 
 
 
 
 
19
8
42.1%
1956
CRD
K/RDE
 
 
 
 
 
 
 
 
 
 
22
10
45.5%
1957
CRD
K/RDE
 
 
 
 
 
 
 
 
 
 
17
6
35.3%
1958
NYG
K
 
 
 
 
 
 
 
 
 
 
23
12
52.2%
1959
NYG
K
 
 
 
 
 
 
 
 
 
 
29
20
69.0%
1960
NYG
K
5
4
5
2
7
4
8
3
1
 
26
13
50.0%
1961
NYG
K
6
5
6
3
11
3
10
3
1
 
34
14
41.2%
Career
 
 
11
9
11
5
18
7
18
6
2
 
212
100
47.2%

As soon as his pro career ended, Summerall went to work with CBS as a color analyst. Twelve years later, he was moved to the play-by-play spot, and that's where he became a legend.
"Pat Summerall was one of the best friends and greatest contributors that the NFL has known," NFL commissioner Roger Goodell said in a statement. "He spent 50 years as part of our league, first as a player on the legendary New York Giants teams of the late '50s and early '60s and then as a Hall of Fame broadcaster for CBS and FOX. His majestic voice was treasured by millions of NFL fans for more than four decades. Pat always represented the essence of class and friendship. It is a sad day in the NFL. Our hearts go out to Pat's wife Cheri and the entire Summerall family. Pat will always be an important part of NFL history."
Aside from his NFL work, Summerall also called 26 Masters and 21 U.S. Open tennis championships for CBS.
"There is no one more closely associated with the great legacy and tradition of CBS Sports than Pat Summerall," CBS chairman Sean McManus said in a statement.
Said CBS Sports' Verne Lundquist: "Pat was a friend of nearly 40 years. He was a master of restraint in his commentary, an example for all of us. He was also one of the great storytellers who ever spoke into a microphone."
More on Pat Summerall
Related links
More NFL coverage
Summerall also was a hero to Jim Nantz.
"I treasured the gift of friendship that I had with him," Nantz said in a statement. "I was his understudy for 10 years. He could not have been more generous or kind to a young broadcaster. He was a giant and one of the iconic figures in the history of the CBS Television Network."
Summerall was a recovering alcoholic, and though he had been sober for 12 years after people like former NFL commissioner Pete Rozelle and former CBS Sports president Peter Lund insisted he go to rehab at the Betty Ford Clinic, Summerall still needed to undergo a life-saving liver transplant in 2004.
"I had no intention of quitting, I was having too good a time," Summerall said in a 2000 Associated Press story. "The prescribed stay at Betty Ford is 28 days. They kept me 33 because I was so angry at the people who did the intervention, the first five days didn't do me any good."
Said Madden on Tuesday, via the AP: "He always had a joke. Pat never complained and we never had an unhappy moment. He was something very special."
Williams is currently a free agent

Eight members of the Cowboys' defensive front-seven have been suspended since 2015

After being scammed, Portis contemplated murder until his friend dissuaded him
Two months after a woman earned a football scholarship, the AFFL says 'everything is on the...

The quarterback nearly retired this offseason but opted to return for his 15th NFL season

One of 2016's breakout rookie stars says he and Romo have a strong relationship