Patriots early favorites in AFC title game, Panthers favored in NFC
If oddsmakers are right, we're going to get a Patriots-Panthers Super Bowl.
The oddsmakers in Las Vegas have tabbed the New England Patriots as the early favorites for Sunday's AFC Championship game. 
Despite the fact that the Patriots lost to the Broncos in Denver back in Week 12, oddsmakers at William Hill US in Nevada have made them a 3.0 point favorite for their return trip on Sunday, which will be televised on CBS (3:05 ET) and streamed online.
A big part of New England being favored has to do with the fact that Patriots are finally healthy now. When the Patriots lost back in week 12, Tom Brady didn't have Danny Amendola or Julian Edelman.
Edelman played a huge part in the Patriots' divisional playoff win over Kansas City, catching 10 passes for 100 yards. 
On the other hand, if you're looking for a reason to pick against New England, Tom Brady is 2-6 all-time in Denver and has a 1-2 career record against Peyton Manning in AFC title games. 
On the NFC side, the Panthers have been installed as early 3.0 favorites over the Cardinals. In a game matching up the two best teams in the NFC, oddsmakers clearly liked the way that Carolina dominated Seattle during the first half on Sunday. The Panthers jumped out to a 31-0 lead and then hung on for a 31-24 win. 
For the Cardinals, they almost didn't earn a trip to the title game after Aaron Rodgers connected on a 41-yard Hail Mary at the end of regulation. Arizona ended up winning the game in overtime, though, thanks in large part to two huge plays from Larry Fitzgerald. 
If you're wondering who's favored to win the Super Bowl, that honor belongs to New England. 
CBSSports.com colleague Will Brinson ranked the potential Super Bowl matchups from best to worst on Sunday night and put Patriots vs. Cardinals on top. However, the Vegas oddsmakers don't see Brinson getting his dream Super Bowl. 
Oddsmakers have Panthers-Patriots as the most likely Super Bowl, followed by Cardinals-Patriots.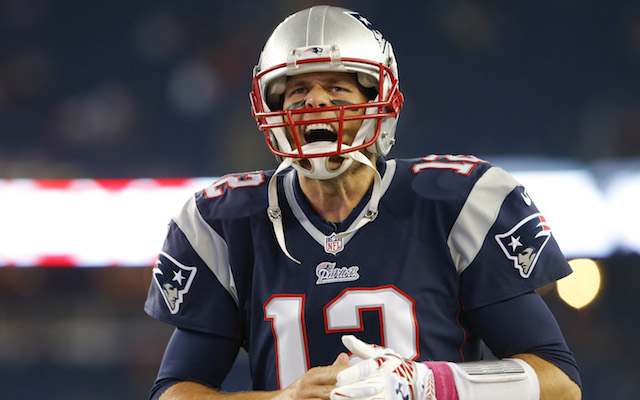 Show Comments
Hide Comments
Kaaya will battle for the right to back up Matthew Stafford

Jets trade down five times after GM Mike Maccagnan made it known they were looking for extra...

Spencer Hall grades every seventh-round pick of the 2017 NFL Draft
Spencer Hall grades every sixth-round pick of the 2017 NFL Draft

He's also better at football than you

Brantley was regarded as a second-round talent before he allegedly knocked a woman unconsc...