Patriots' Gostkowski calls missed PAT a nightmare, takes blame for loss
Stephen Gostkowski took all the blame for the Patriots' AFC title game loss on Sunday.
When the NFL decided to change the extra point rule before the 2015 season, the main reason the league did it was to add some excitement to a previously boring, and seemingly automatic play. 
The new rule didn't just add excitement though, it also added some serious anguish, especially for Stephen Gostkowski and the New England Patriots.
Going into Sunday's AFC title game, Gostkowski had connected on 523 consecutive extra points dating back to December 2006. Unfortunately for the Patriots though, that streak ended in shocking fashion against Denver. 
A missed extra point in the first quarter by Gostkowski proved to the difference in an AFC title game that went down to the wire.
After the 20-18 loss, the Patriots kicker didn't make any excuses for the miss. 
"I feel like I lost the game, it's a sickening feeling," Gostkowski said, via the Boston Globe. "I feel sorry for myself, but I don't expect people to feel sorry for me." 
Stephen Gostkowski hadn't missed an extra point since 2006. Strange things are afoot: https://t.co/TRwb0Lfpq2 pic.twitter.com/F4AoZSt8ef

— SB Nation (@SBNation) January 24, 2016
Gostkowski described the situation as a nightmare.
"I feel terrible," Gostkowski said, via the Boston Herald. "It's a nightmare scenario. That's how I feel. I let a lot of people down."
The 33-yard kick went wide right in the first quarter and kept the Patriots from tying the game up at 7. Instead, the Patriots trailed 7-6 after Steven Jackson's first quarter touchdown run.
"I never thought missing a kick in the first quarter would be the difference in the game," Gostkowski said. 
The kick really hurt because after Jackson's score, New England would never tie the Broncos or lead for the rest of the game. The closest the Patriots would come to tying the game after the first quarter would be after their final touchdown of the game. 
New England cut the lead to 20-18 on a Tom Brady to Rob Gronkowski touchdown pass with 12 seconds left. If Gostkowski had hit his extra point in the first quarter, the Patriots wouldn't have had to go for a 2-pointer in that pivotal situation. 
"I just feel awful about it. It was my fault, 100 percent," Gostkowski said, via ESPN.com. "I just didn't hit a good kick."
There were a lot of reasons the Patriots lost -- they couldn't convert on third down, they couldn't run the ball, they couldn't protect Tom Brady -- unfortunately for Gostkowski though, a missed extra point is easy to remember and that's what most fans will remember about New England's loss.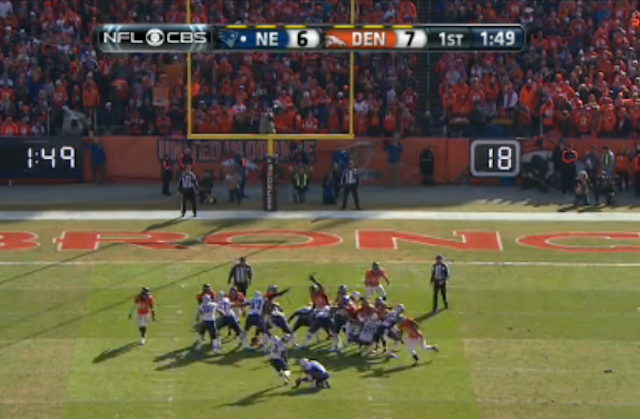 Show Comments
Hide Comments
Our Latest Stories
The Browns special teams coach reportedly didn't want to sign Cody Parkey

Drew Brees and Matt Ryan might smash some records against two awful defenses

The Chargers just lost another starter to injury
Peyton Manning? Yup. Brett Favre? Yup. Jim Kelly? Yup.

The suspended Patriots quarterback decided to spend Week 3 of the NFL season in Europe

This is not how you run a two-minute drill