Patriots re-sign WR Austin Collie
Austin Collie is returning to New England. The Patriots announced on Thursday that they're bringing the wide receiver back, just one month after cutting him.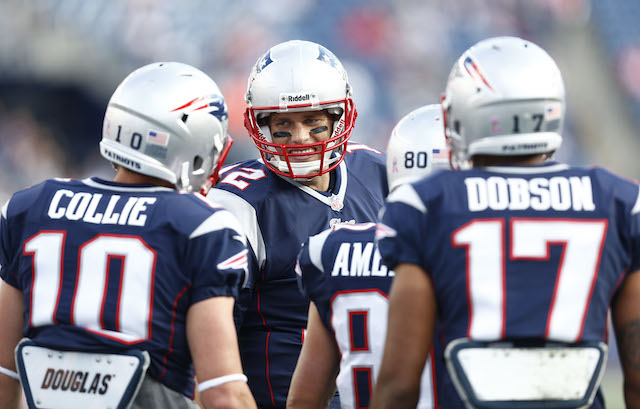 Austin Collie has a new team and it's the same as his old team. The wide receiver re-signed with New England on Thursday, just four weeks after the Patriots released him. Collie originally signed with New England in October and lasted about a month with the team before being cut on Nov. 5. 
During his first stint with the Patriots, Collie played in four games and caught three passes for 34 yards. The 27-year-old wide receiver suffered a knee injury in New England's 55-31 win over Pittsburgh in Week 9 and was cut two days later. Collie was released with the vested veteran injury designation, which means his knee likely played a role in New England's decision to release him.
Collie's knee isn't the first injury he's dealt with in his career, he's suffered a number of concussions and he also suffered a ruptured patella tendon last year. The fifth-year receiver has only caught four passes and played in a total of five games over the past two seasons.
Show Comments
Hide Comments
Marshawn Lynch will probably appreciate this shout out by his new quarterback

The legal battle in the Aaron Hernandez case is still ongoing, despite the former tight end's...

The Eagles quarterback was recently hanging with Josh Duhamel and Fergie
The Raiders quarterback has one problem: Oakland doesn't have the thing he wants to splurge...

What happens in Mexico City doesn't stay in Mexico City

Cord-cutters are probably going to like what the Patriots owner has to say