Pats OC Josh McDaniels confirms he interviewed for Browns job
Though he didn't expand much on it, Patriots offensive coordinator Josh McDaniels said he interviewed with Cleveland.
• 1 min read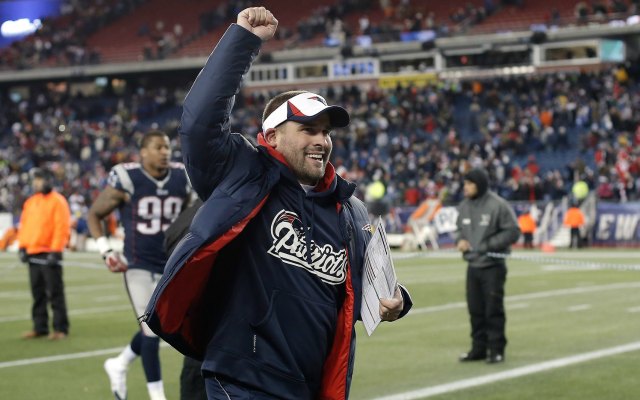 Ever since the Browns fired Rob Chudzinski after just one season in charge of the team, it's seemed apparent that their top candidate for the open head coaching job was Patriots offensive coordinator Josh McDaniels.
On Monday, McDaniels confirmed to reporters that he had, in fact, interviewed with Cleveland during New England's playoff bye week. And that's really all he had to say about that.
"We met and that's about all there is at this point," McDaniels told Patriots reporters on a conference call, via the Cleveland Plain Dealer. "Nothing, nothing further."
McDaniels didn't expand on his possible interest in the job, and really, I suppose there's not much upside to doing so (I also don't really understand why any supposedly top-tier candidate would have an interest in the Browns, just because that franchise doesn't seem to have a clue as to what it's doing). But McDaniels is from northeast Ohio, and a homecoming for him might be a nice spot for his second head-coaching job.
Already, the Browns reportedly have interviewed Seahawks defensive coordinator Dan Quinn and Cardinals defensive coordinator Todd Bowles.
McDaniels, you'll recall, had a disastrous two-year run with the Broncos when he lost 17 of his last 22 games and was embroiled in a cheating scandal stemming from the team's London trip.
But for now, all McDaniels wants to focus on this week is the Colts defense (and perhaps worry about what kind of information Deion Branch might divulge to his new team).
"I appreciate the question, and I understand it," McDaniels said. "I know that's something that comes up each time this year for other coaches. The opportunities are certainly flattering if they come up.
"That being said, I am going to try to keep my focus on the Colts and our preparation this week. Like I've said in the past, I'm fortunate to have the job I have, and I love being here. I love doing what I'm doing. Each opportunity that comes along is a little different, and I'm going to leave it at that and continue to put my effort and attention into the Colts this week."
Follow Josh Katzowitz on Google+
Show Comments
Hide Comments
The top three-technique prospect in the draft could see his name not called at all

The former Florida football player was expected to be a second-round pick in the NFL Draft

This much is certain: The Browns desperately need a quarterback
The man who signed Romo is happy to see him move on from playing the game

Roger Goodell typically announces all the first-round picks, but he'll make an exception this...

NFL teams find out their schedule on the same day you do