Peyton Manning buys perfect gift for practice squad player who helped him
Peyton Manning bought a much-needed gift for a Broncos practice squad player who helped him in December.
Jordan Taylor's production won't show up in the stat book, but he was a vital receiver for the Denver Broncos in 2015. That's because the undrafted rookie out of Rice had a pivotal job: He caught passes from Peyton Manning.
These weren't just any passes either, these were passes that Manning was throwing early in the morning while he was rehabbing from his foot injury in December. The Broncos quarterback needed a throwing partner, so he recruited Taylor, who would show up and catch passes before other players were even at the team's facility.
Basically, the practice squad receiver was doing a midseason two-a-day because he'd have his practice with Manning and then his practice with the team.
"I feel bad because I was running him into the ground and he hadn't even started practice yet," Manning told USA Today this week. "I have a bad habit of saying, just one more, and one more can turn into 10 more. I don't think I could have gotten though my rehab and gotten back if it had not been for him. I am very grateful for his help."
As a matter of fact, Manning was so grateful that he ended up buying Taylor a gift.
Just before the Super Bowl, Taylor sent Manning a text to ask if he could borrow a suit to wear for the flight from Denver to San Francisco. As an undrafted rookie who makes practice squad money, buying a suit wasn't something Taylor had done.
"He texts me back and all he said was, 'I'll get you set up,'" Taylor said. "I didn't know what that meant."
The 23-year-old soon found out exactly what that meant: Manning brought a guy to the Broncos' practice facility and that guy took Taylor's measurements for a suit -- and then boom, Taylor had his first custom suit, which was paid for by Manning.
"He may have been one of the best-dressed players on the team coming out here," Manning said.
Manning also bought Taylor two shirts and two ties to go with his new suit. Clearly, Manning was extremely grateful for all the help Taylor gave him.
"I don't think I could've gotten through my rehab and gotten back if it hadn't been for him," Manning said.
Broncos team employee Phil Milani got a picture of the suit, which you can see below.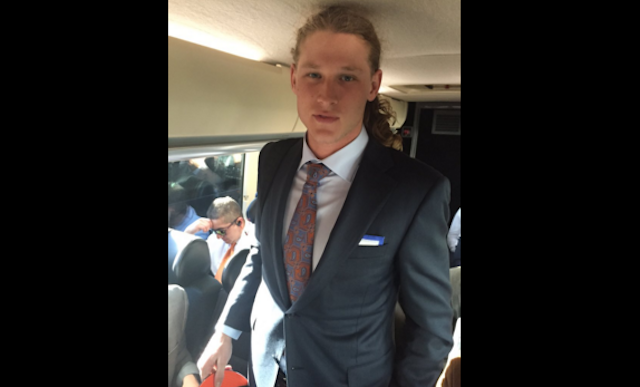 Show Comments
Hide Comments
Plus the Bills grab multiple starters and Jets add talent but may still struggle in our AFC...

A little more than 29 percent of early declarees went undrafted, a small raise from recent...

No teams did bad enough to earn an 'F,' and give credit where it's due to the 49ers(!) and...
CBS Sports NFL Insider Jason La Canfora reports the Bills could be making a change at GM

College players who didn't get drafted are now free to sign with any team in the NFL

According to Sean McDermott, Taylor, Peterman and Cardale Jones will compete for the starting...