Peyton Manning: Cam Newton 'was extremely humble' after Super Bowl
The Broncos' quarterback thanked Newton for his kind words after the Broncos' win in Super Bowl 50.
• 1 min read
In the 12 or so hours since Super Bowl 50 ended in a crushing defeat for the Panthers, Cam Newton's gotten killed by just about everybody. He struggled mightily against a stiff Broncos' pass rush and made the situation worse when he stormed out of his postgame press conference. Now, the league's MVP is under attack.
One player didn't pile on, though. Broncos quarterback Peyton Manning defended Newton's attitude after the game, saying he "couldn't have been nicer to me. He was extremely humble."
"He was very nice to me. And I really appreciated that." -Peyton Manning talks convo with Cam Newton, post-#SB50https://t.co/j2h9sc7YTM

— TODAY (@TODAYshow) February 8, 2016
"He'll be back in that game, I can promise you," Manning added. "I've been on that side of it. It is tough, it is not an easy pill to swallow. But he was very nice to me and I really appreciated that."
On Sunday, Newton completed just 18 of his 41 pass attempts for 265 yards and an interception. His passer rating? Just 55.4. He also lost two costly fumbles, both of which led to Denver touchdowns. Still, the poor showing wasn't entirely his fault, as the Broncos' pass rushers had their way with the Panthers' offensive line, continually hitting and harassing Newton.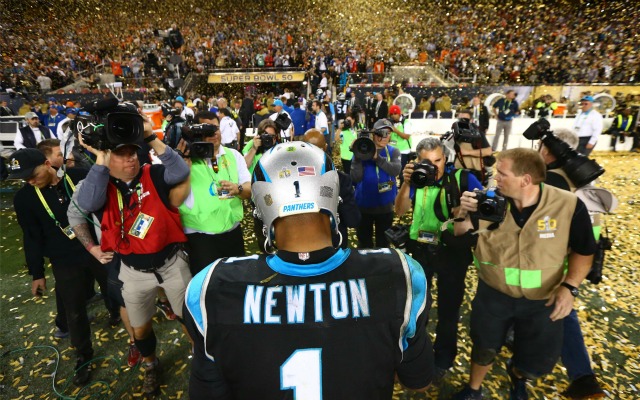 Regardless, Newton will get killed for his performance and the way in which he handled his press conference. Some Broncos didn't even hesitate to call him out after the game for his alleged selfishness.
But Manning's account of their postgame meeting at midfield provides another side to the story -- one that doesn't portray Newton as the villain.
Show Comments
Hide Comments
Our Latest Stories
Washington's John Ross outshines Christian McCaffrey, and the Huskies' defense shows its t...

Here's the latest update on all the Week 4 lines in the NFL

The Bills receiver is going to miss at least eight weeks and possibly the rest of the seas...
The best wide receiver in the game is paying homage to The King

The running back is supposed to get his first action against the Steelers

The Cowboys are going to play it safe with their star receiver, who's dealing with a knee...