Peyton Manning expected to return Sunday with new job he's never had
Peyton Manning will be likely be carrying a clipboard on Sunday.
After seven weeks off, Broncos quarterback back Peyton Manning is expected to return to the field Sunday. However, he won't be getting his old job back.
Broncos coach Gary Kubiak announced Wednesday that Manning will serve as the Broncos' backup quarterback against the Chargers if he doesn't have any setbacks with his health this week.
"[Manning] being healthy is a great thing for this football team, him being available," Kubiak said via the Broncos website. "It's the next step we need to take. He hasn't played in [nearly two] months."
As recently as three weeks ago, Kubiak had said that Manning would be the starter when he returned; however, that won't be the case. The Broncos coach made it clear that there's no quarterback controversy in Denver and that Brock Osweiler will remain the team's starting quarterback.
"Brock's our quarterback -- nothing has changed from that standpoint," Kubiak said. "[Osweiler's] our guy. He's doing a hell of a job. We'll keep moving forward."
The move means that Manning will serve as a backup quarterback for the first time in his 18-year career. Manning has been the starter in each of the 265 regular-season games in which he has played over that span.
Not to mention, at $15 million, Manning will be an expensive backup.
Kubiak's decision to make Manning the backup Sunday could obviously backfire if Osweiler struggles against San Diego.
The Broncos have a lot on the line -- they could drop to the AFC's sixth seed with a loss -- and if Osweiler were to throw one or two interceptions in the first half against the Chargers, fans might start booing him and start clamoring for Manning.
The Broncos were in a similar situation in Week 10. Manning was benched for Osweiler after a disastrous two-and-a-half quarters against the Chiefs where he threw four interceptions.
As for this week, Manning sounds like he's ready to accept his new role.
"I will do what I can to help Brock and the team," Manning said on Wednesday.
Over the weekend, Manning had said he would like to start, but he also added that he would do what's "best for the team."
"I got to do whatever coach feels is best for the team," Manning said. "It's been an interesting year, I'm not going to lie about that. I've had a good attitude about it. ... I've learned a lot about myself. I've been a good teammate. I've tried to help Brock in anyway I can. It's new to me. It's new to me. So I'll do whatever is best for the team come next week."
Although Osweiler might not get benched during the game Sunday, Kubiak did leave the door slightly open for a possible Manning return in the postseason if Osweiler should struggle.
"If something would change, the players would know first and you all would know second," Kubiak said Monday. "I told you guys that this week, but our football team is moving forward. Our mindset right now goes to San Diego and we've got to get ourselves good and freshened up, ready to play."
The bottom line though is that unless Osweiler gets hurt, we've probably seen the last of Manning as a starter in a Broncos uniform, which means he's going to have to decide if it's time to retire or try and give it one more season with another team.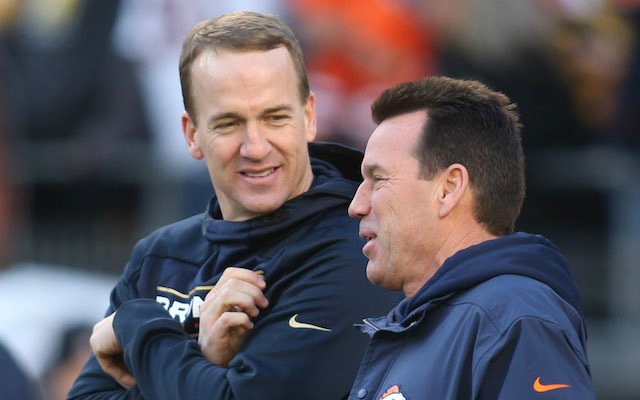 Show Comments
Hide Comments
Our Latest Stories
The Bengals beat the Dolphins, 22-7, to improve to 2-2 on the season

It doesn't look like the Texans will be getting back their star pass rusher by December

Run-ins with the police are becoming all too common for the Tide's top prospects
Green made rookie cornerback Xavien Howard look like a fool

Stills ended up wide open deep down the field and waltzed into the end zone to give Miami an...

Who hates the Dolphins to make them wear those orange duds? Twitter wants to know