Peyton Manning jokes on 'Late Show' about insulting Roger Goodell
Peyton Manning doesn't like being mic'd up and he thinks he might have a way around it. The Broncos quarterback told David Letterman his plan during a 'Late Show' visit on Monday.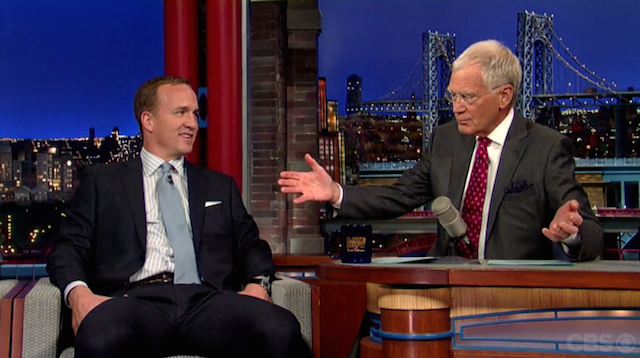 If you watched the NFL playoffs, you probably noticed that Peyton Manning kind of likes to use the word 'Omaha.' Manning used it 44 times in the divisional round against the Chargers and 31 times in the AFC title game against the Patriots. 
If it were up to Manning though, we'd never hear him say 'Omaha' because players on the field wouldn't be mic'd up. Manning visited the 'Late Show' on Monday and joked with David Letterman that he has a way to fix the problem.  
"These TV mic's pick up everything and I don't like it. I'm not a fan of it," Manning told Letterman. "It reveals terminology that the other opponent can use and I don't like Bill Belichick hearing our plays that we're using -- and I think I know how to fix it. I think you have to get up there and say some really negative things about the commissioner Roger Goodell. 'Blue-20, Roger Goodell's a no-good, you know what...' And I think they'll just kind of turn that volume down a little bit."
Or Goodell will ban Manning for five lifetimes. That's also possible. 
Anyway, you can see the full clip below. If you want to check out Manning's entire appearance, you'll have to watch the 'Late Show' on CBS at 11:35 p.m. ET or remember to set your DVR. 
Show Comments
Hide Comments
Our Latest Stories
Run-ins with the police are becoming all too common for the Tide's top prospects

Green made rookie cornerback Xavien Howard look like a fool

Stills ended up wide open deep down the field and waltzed into the end zone to give Miami an...
Who hates the Dolphins to make them wear those orange duds? Twitter wants to know

Houston will be going Gaga for the pop superstar on Super Bowl Sunday

Maxwell is being replaced by second-year corner Tony Lippett.