Peyton Manning wants you to guess the color of his training camp football
Peyton Manning has a special football for training camp. Guess what color it is?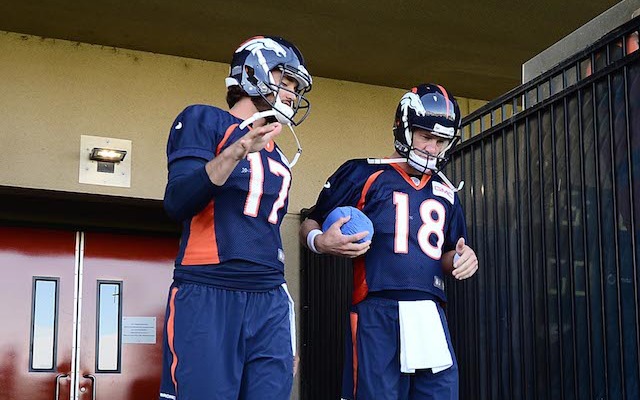 More NFL: Photos |   Videos & GIFs |  Stories | Training Camps | Johnny Manziel watch 
During OTAs and minicamp, Broncos quarterback Peyton Manning was using a green ball that was supposed to help the team cut down on fumbling. 
Manning didn't bring his green ball to training camp though, he brought a different colored ball. You can see his new ball in the picture at the top of the page. 
Do you know what color that is? 
Manning knows what color that is, he just wants to know if you know. 
The Broncos quarterback spent part of his press conference on Thursday trying to get a reporter to identify the color of his new football. (Quotes via For The Win)
Manning: Last thing, I know you wanted to know [about] the ball security thing. Did [Head Coach John Fox] give the answer?
Reporter: Same as the green he said.
Manning: It's a different color because of training camp, does that make any sense?
Reporter: So will it be green for the regular season?
Manning: It won't be blue during the regular season, but it's training camp. What color are they during training camp?
Reporter: Blue ball.
Manning: There it is.
Yes. There it is.  
Show Comments
Hide Comments
Drafted to give the Jets a deep threat, Smith leaves New York with 10 career receptions

The Browns owner says there's a different vibe in the building, despite just four wins in two...

The former first-round pick hasn't had a market for his services since being waived by the...
Matt Elam, the Ravens' 2013 first-rounder, was also arrested in February

Other candidates include Jameis Winston, Blake Bortles and, of course, the Patriots

Jones provided Cowboys tickets and travel accommodations to officers and their families