Peyton Manning's mom wants him to retire, dad says he's done in Denver
Peyton Manning's parents don't think he'll be back in Denver next season.
SANTA CLARA, Calif.-- After the Broncos beat the Panthers 24-10 in Super Bowl 50 on Sunday, Peyton Manning was mum about his future. The 39-year-old said that he was going to drink a lot of beer and "reflect" on things with his family. 
If Peyton ends up reflecting on things with his mom and decides to take her advice, then don't look for the Broncos quarterback to return next year because Olivia Manning wants Peyton to hang up his cleats.  
"I want Peyton to retire," Olivia Manning told ESPN.com after the Broncos win. 
Olivia's husband, Archie Manning, isn't sure what Peyton's going to do, but he did seem pretty sure after the game that whatever Peyton does, it won't involve a return to Denver. Basically, Archie thinks his son will either retire or play for a team that's not the Broncos next season. 
"I think Peyton's done in Denver," Archie Manning told NFL Network after Denver's win. "I think Peyton's done in Denver. He may be done everywhere. I don't know that. But that's my guess."
If Peyton does decide to return in 2016 and the Broncos don't want him, there's a chance he would end up on the West Coast. The Rams are reportedly interested in Peyton and will most likely try to lure him to Los Angeles if he decides to play another year.
The good news for Manning is that he doesn't have to decide anything now. The Broncos quarterback can take a week or two off and simply bask in what will definitely go down as one of the most improbable Super Bowl wins of all-time.
The Broncos were able to beat the Panthers despite the fact that they only put up 194 yards of offense, the lowest total by a Super Bowl winner in NFL history.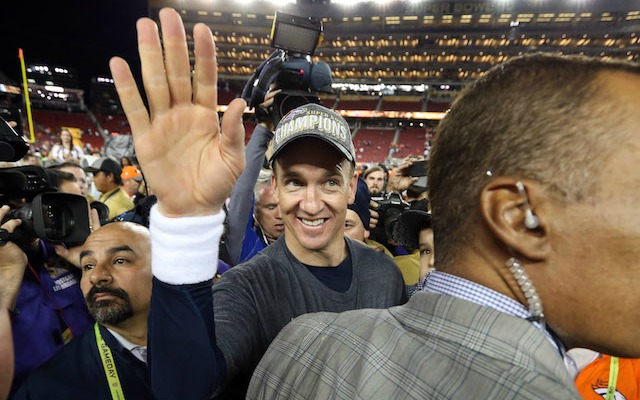 Show Comments
Hide Comments
Our Latest Stories
Players and coaches from both teams come together at midfield to hold hands

The 49ers don't provide an explanation in statement announcing the move

The Cowboys lineman reportedly has a torn ligament in his right foot
Ryan gets another shot to beat Belichick when the Bills and Patriots face off Sunday on C...

Ben McAdoo wants his star wideout to focus his energy on the game, not kicking nets

The ex-Cowboys DE is charged with possession of a controlled substance