Peyton Manning's postgame drink of choice: Bud Light
After beating the Chargers on Sunday, Broncos quarterback Peyton Manning had something on his mind and that something was the refreshing taste of Bud Light on his mind.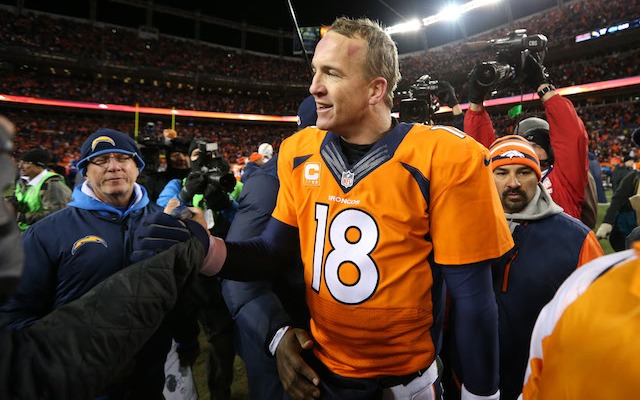 After winning his first playoff game in five years on Sunday, Peyton Manning didn't want to talk about the San Diego Chargers or the upcoming AFC Championship game against New England or what's in store for him in the future. There was only one thing on Manning's mind and it's not what you think it is, unless you think it's beer.  
"What's weighing on my mind is how soon I can get a Bud Light in my mouth after this win," Manning said. 
The brain trust at Bud Light heard about the quote and as you can imagine, they acted on it quickly. Bud Light's Twitter account sent out a tweet just after midnight with a vine of Manning's quote included in it. 
Proud to be Peyton's refreshment coordinator. #18WantsBudLight https://t.co/K714vWWX9w

— Bud Light (@budlight) January 13, 2014
Manning seems to be trying to inadvertently pitch as many products as possible this week. Almost every other word Manning yelled on Sunday was 'Omaha,' something Omaha Steaks and the city of Omaha, Nebraska seemed to take great joy in. 
ICYMI: How many times did Peyton Manning yell Omaha on Sunday? WATCH: http://t.co/2vaAjPx4gG #NFLPlayoffs

— NFL (@nfl) January 13, 2014
Bud Light probably needed the good press the most though, especially after they made a blunder on Twitter involving the NFL's final four playoff teams. As you can see below, Bud Light only got half of them right in a tweet on Monday that has since been deleted. 
At least Bud Light got 50 percent of the teams right: pic.twitter.com/ZTQzomAdfF

— John Breech (@johnbreech) January 13, 2014
Show Comments
Hide Comments
Anderson will be keeping track of the linebackers who get picked before him on draft night

Tennessee could be on the move again, and here are four possible suitors

The Browns take a QB, but it isn't who you think, while RBs are left out of the first roun...
With the draft starting Thursday, here's some trade fodder to gnaw on in the interim

The two sides appear to be making a deal happen to bring the retired running back to Oakla...

The Cowboys' draft picks since 2002 have been to 17 more Pro Bowls than the next closest t...