PHOTO: Benched Robert Griffin III is on Redskins Week 16 ticket
Tickets to Washington's final home game on Dec. 22 will feature a picture of a smiling Robert Griffin III.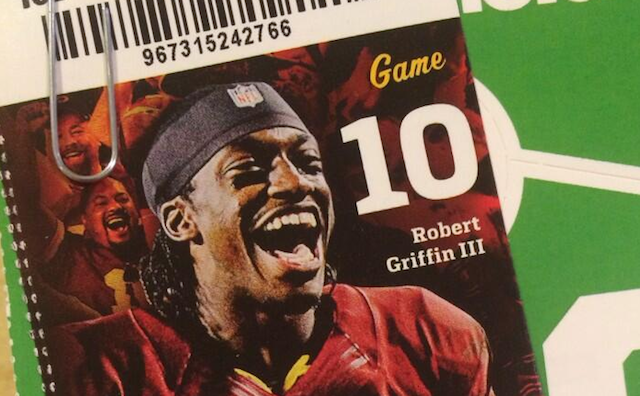 Washington Redskins coach Mike Shanahan obviously didn't consult with the team's ticket office before deciding to bench Robert Griffin III this week. Actually, it doesn't seem like he really consulted with anyone, his own son, who happens to be the team's offensive coordinator was against the move. 
Anyway, even though no one's showing up for Washington's games, the team is still going to hold its final home game of the season on Dec. 22. As if an empty stadium isn't awkward enough, the Redskins will be taking the awkwardness up a notch because RG3 is on the ticket for the final home game.
@dcsportsbog @kevins980 The Dallas ticket showcases the only guy intentionally benched... pic.twitter.com/aUDPifAR9r

— Andrew Lockman (@lockmanboy) December 11, 2013
Will the ticket be a collector's item? Probably not, but Redskins fans may want to call their Buccaneers fan friends just to be sure. The same thing happened to Tampa Bay in Week 4 when Josh Freeman was on the Buccaneers tickets.   
(Wink of the CBS Eye to the DC Sports Bog)
Show Comments
Hide Comments
Our Latest Stories
The Super Bowl era's losingest coach latches on with Los Angeles' new little brother

If the Falcons are going to reach the Super Bowl, they'll need to knock Aaron Rodgers arou...

Even if you're not a fan of Brady & Co., there's one very simple reason to pull for New En...
The Patriots quarterback was in no mood to talk about the 45th president

Johnny Manziel and Ray Rice are being invited to make a return to football

Versatility, patience, great run-blocking ... Bell has the pieces in place to succeed in any...