PHOTO: Bills fan votes for Kiko Alonso to win every public office
Would Bills linebacker Kiko Alonso make a good family court judge? Maybe not, but he got at least one vote for the job in Buffalo on Tuesday.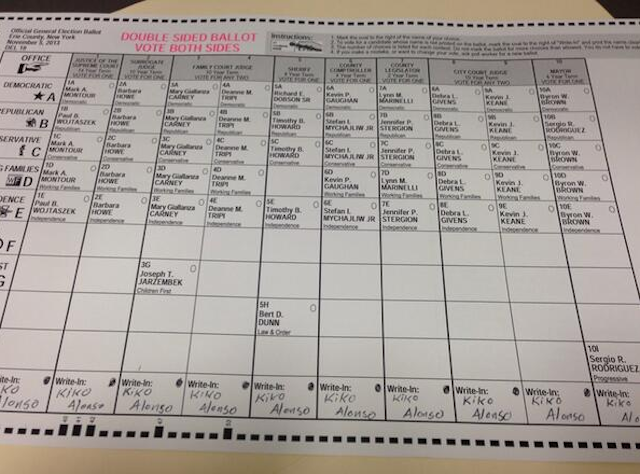 It's Election Day and if you live in Buffalo, that means one thing: It's time to vote for Bills linebacker Kiko Alonso to win every political office in the city.
At least, that's what this guy on Twitter did. He gave Alonso a write-in vote for 10 different public offices on his ballot. 
If this one-man Kiko Alonso campaign takes off, Alonso could be a surrogate judge, a family court judge and a county legislator by the time all the votes are tallied on Tuesday night. Of course, this plan could backfire because if Alonso is too busy trying to work 10 different government jobs, he might not have time to play for the Bills.  
Alonso is also getting votes in Pennsylvania, which doesn't make much sense because I don't think he's eligible for office there. 
It's confirmed #KikoForEverthing has spread to PA!!! 1st confirmed vote for Alonso as tax collector in district 2 pic.twitter.com/u1fQwwLX3G

— #BuffaloBillsRV (@CircleThisWagon) November 5, 2013
The Buffalo news team below was not amused at all with this story. 
(Wink of the CBS Eye to Deadspin and CircleThisWagon on Twitter)
Show Comments
Hide Comments
It's kind of hard to tell just how much weight the Packers running back lost

Players jump behind the counter at Bojangles, Krispy Kreme and the Beacon to sling chicken,...

Dino Babers seems to think the Patriots' backup will do just fine filling in for Tom Brady
Lynch thinks he still has a shot to start at some point during his rookie season

The Seahawks' management team is now locked in long-term

We take a look at the player on each AFC team facing a pivotal season for a variety of rea...