PHOTO: Chuck Noll standing among fellow HOFers in 1954
Chuck Noll was a good enough player to last seven seasons in the NFL
• 1 min read
Since he died on Friday, so much of the conversation surrounding the legendary status of Chuck Noll has been about his outstanding run as the Steelers coach.
He won four Super Bowl titles in the 1970s, the only NFL coach ever to accomplish that, and he helped turn a Pittsburgh organization that hadn't made the playoffs in a quarter-century into a franchise that has been one of the league's most dominant in the past 50 years.
But did you know Noll also had a seven-year playing career with the Browns under coach Paul Brown?
Need photographic proof? OK, here you go.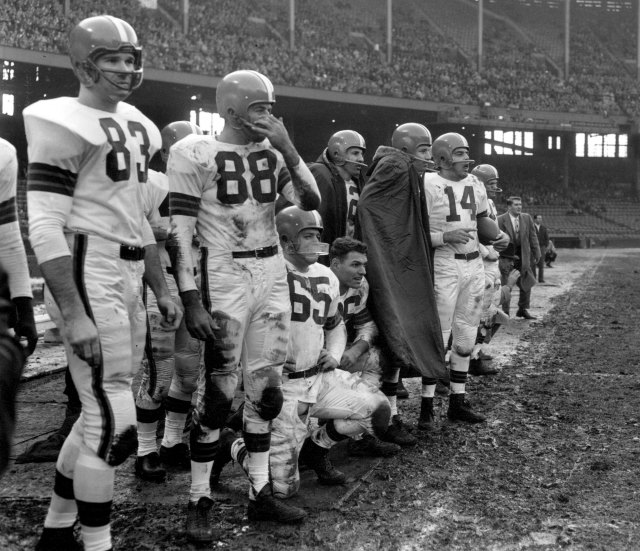 Noll is No. 65, the one squatting down, and he's among future Hall of Famers like Doug Atkins (No. 83), Dante Lavelli (86, next to Noll) and Otto Graham (14). All are standing on the sidelines watching Cleveland finish a 56-10 beatdown of the Lions in the 1954 NFL title game at Cleveland Municipal Stadium.
Noll -- who played linebacker, guard and center during his career -- had one of his best seasons in 1955, accumulating five interceptions. Then, as you might know, he went on to a pretty decent career as a head coach.
Show Comments
Hide Comments
Plus Seahawks eschew needs on the line and Rams seek help for Goff as we hand out NFC West...

Plus Saints and Falcons load up on defense as NFC South gets a massive boost in talent

Lions draft for now, Packers run down their checklist and Vikings find a runner in our NFC...
Plus Giants do a lot with a little and Eagles and Redskins face durability concerns in our...

Plus Broncos and Chargers help their QBs while Raiders gamble big in our AFC West grades

Texans pin hopes to Watson, new Jaguars must focus and Titans help Mariota in our AFC South...