PHOTO: Colts punter tweets half-naked picture of Andrew Luck
Colts punter Pat McAfee tweeted out a picture of Andrew Luck after Saturday's win over Kansas City. The only problem? Luck wasn't really wearing any clothes.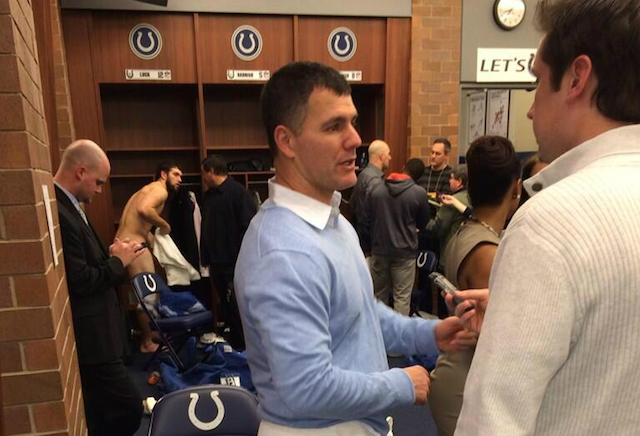 Things got pretty exciting in the Colts locker room after Indianapolis came back from a 38-10 halftime deficit to beat Kansas City 45-44 on Saturday. Colts punter Pat McAfee wanted to share that excitement with his almost 170,000 followers on Twitter, so he tweeted out a picture of Indy's locker room. 
The only problem is that McAfee didn't stop to check if there were any half-naked quarterbacks in the picture before he tweeted it out. As you can see above, Andrew Luck wasn't quite finished putting his clothes on when McAfee took the photo. Actually, it looks kind of like Luck hadn't even started putting his clothes on.
Taking pictures was about all McAfee did on Saturday, because he only got to punt the ball once.  
For what's it worth, McAfee does feel bad about posting the picture of his half-naked quarterback and he quickly deleted it after posting it. Of course, this is the internet, so nothing's ever actually deleted.  
I feel awful for that Luck photobomb.. Really thankful all his parts were covered.. And now I'm hoping the future HOFer forgives the mistake

— Pat McAfee (@PatMcAfeeShow) January 5, 2014
Next week I'll talk about whether or not punters should be banned from Twitter.
(Wink of the CBS Eye to Busted Coverage)
Show Comments
Hide Comments
Our Latest Stories
Washington's John Ross outshines Christian McCaffrey, and the Huskies' defense shows its t...

Here's the latest update on all the Week 4 lines in the NFL

The Bills receiver is going to miss at least eight weeks and possibly the rest of the seas...
The best wide receiver in the game is paying homage to The King

The running back is supposed to get his first action against the Steelers

The Cowboys are going to play it safe with their star receiver, who's dealing with a knee...